ALO Audio Studio Six Headphone Amplifier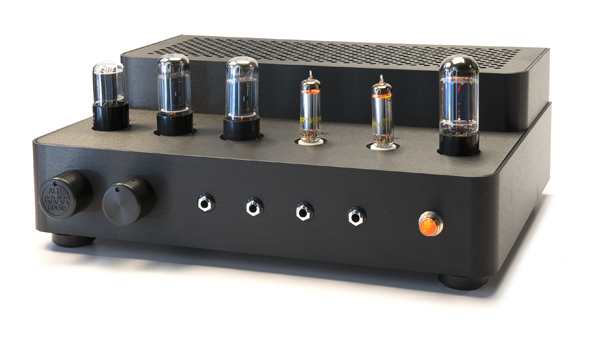 Let's get right to the point, Motown style, and put the hit on the first track.  The Studio Six from ALO Audio redefines what headphones are capable of delivering, from the least expensive to the most exotic cans in your collection.  Even the modest Grado SR-80is turn in a head turning, or perhaps head banging, performance when using the Studio Six to provide the signal.  And that's immediately after powering it up, fresh out of the box.  About 50 hours later, it improves even further, with still more frequency extension, delicacy and low level detail available.
Yes, $5,000 is a lot of money for a headphone amplifier, but the Studio Six delivers a level of performance well beyond all of the headphone amplifiers in the $2,000 – $5,000 [1] range that we have auditioned.  Don't give this one a listen unless you're ready to plunk the gold card down on the table.  It will spoil you for anything else.  On the bright side, compared to what high-end two channel separates cost these days, with world class separates commanding five- and six-figure price tags, the Studio Six truly is a bargain, delivering the best your headphones are capable of.
To assure top quality source material, the $110,000 dCS Vivaldi digital player was used for digital files, and the AVID Acutus Reference SP turntable with TriPlanar tonearm and Lyra Atlas cartridge via the Indigo Qualia phonostage provided equally primo analog tracks, making it easy to get down to serious listening.
A wide range of music from reggae to classical, and everything in between was sampled to find out exactly where the rocks in the road are, or aren't.  About 15 pairs of headphones from the Grado SR-80i to the Audeze LCD 3 put the Studio Six though its paces, along with the notoriously difficult to drive HE-6 phones from HiFi Man.  Nothing in our headphone collection presents a challenge to the Studio Six, which delivers stellar performance with whatever is plugged in.
Out of the can
"Natural" describes the Studio Six in one word. I am typically not a headphone listener (though at last glance I do have 15 pairs of reference headphones) because of that cooped up, claustrophobic feeling – not unlike putting on a motorcycle helmet – that always keeps me away from this experience.  Yet from first listen, I've been hooked on the Studio Six; this was so much more exciting than my previous headphone experiences that it was easy to just get into the music.  The funky intro to Curtis Mayfield's "Pusherman" from the SuperFly sound track, with bongos floating around the soundstage, punctuated with horns, guitar and fiery cymbal shots is truly mind expanding.  This amplifier becomes addicting as the listening sessions continue, often late into the evening.
Just as I would suggest that serious analog listeners have a solid foundation and purchase the best turntable and tonearm they could possibly afford, upgrading the phono cartridge as their budget allows, I submit you do the same with your headphone collection – buy a great amp first as the rock to your system.  I'd rather listen to the Studio Six with a pair of budget Sennheiser HD 414s than my Audeze LCD 3s with a modest amp.
Though about 20 pairs of phones were plugged into the Studio Six during the review period, every one gave its top performance in comparison to every other amplifier we've had the privilege to use.  Where many headphone amplifiers, both tube and solid state, tend to favor one type of headphone design, the Studio Six delivers top fidelity with everything.  Phones you thought previously tough to drive (the HE-6, some AKG models, etc.) sail through without issue.
Thanks to the four output jacks on the front panel, you can even drive them all at once.  A group listening session, using the AKG-701, HE-6 and LCD-3 all playing simultaneously proved effortless for the Studio Six, with no difference in sound quality as the other phones were plugged in.  Truly amazing.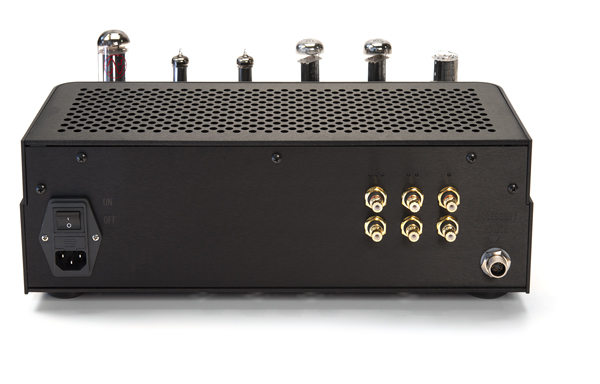 It's all in the details
Listening to a six-figure reference system on a regular basis spoils one for low level resolution, and while often donning a pair of headphones reveals an additional level of low level resolution, it does so at losing the glorious sense of soundstage and three dimensionality that a big pair of speakers in a big room provides.  Utilizing the Studio Six goes further to convince me that I'm doing just that, without resorting to any kind of channel crossfeed circuitry that is starting to become commonplace with other headphone amplifiers.
This is a great tube amplifier, executed to perfection.  The amplifier delivers one watt of pure SET power, with output transformers capable of delivering about 20 watts of power, had they been utilized in a standard amplifier circuit.  Who knows, maybe ALO will venture into another direction in the future?  A low powered amplifier based on this circuit would be equally enticing.
Revisiting well-worn tracks continuously delivers previously unnoticed gold.  Berlin's "Sex (I'm A…)" is a treat; the additional layers of cool synthesizer and vocal information now on tap combined with a seemingly endless amount of decay gets you further into the music than you might have thought possible – and makes it so easy to forget you actually have headphones on, that you might not notice until you get up and realize you are, in fact, tethered.  This is headphone listening at its finest.
Regardless of whether you are listening to Daft Punk or Miles Davis, your music collection becomes a new world again, and this is what makes the Studio Six worth the price asked.  Vocals take on incredible clarity, and the massive soundstage now available goes well beyond the normal confines of the head space.  Richard Thompson's vocals on The Old Kit Bag come through solidly placed out in front of the listening position, with backing vocals creeping in softly from the outside edges of the soundstage, just behind your head, while the drum and bass tracks remain firmly anchored – those worshiping the concept of pace and timing will have found a new haven with this amplifier.
The Studio Six not only provides big bass, essential to those listening to a steadier diet of electronic music, but a level of control and texture, again usually limited to high-end speaker systems driven by stellar electronics.  The amount of control provided is impressive, whether listening to deep synth bass or acoustic.  You may actually hear for the first time what your phones are truly capable of.  Again, we were constantly surprised at how much bass detail even modest phones could provide with the Studio Six driving them.  There's plenty of speed on tap, too – the title track of Stanley Clarke's If This Bass Could Only Talk features bass runs that are quicker than most lead guitar players, punctuated by Gregory Hines tap dancing in the background as percussion.  Both are reproduced with stunning accuracy.
Last, the sheer dynamic range of this amplifier goes a long way in eliminating that last bit of sensation that you are listening to headphones instead of speakers, and is an area in which so many others fall short.  Again, because this headphone amplifier is built more like a power amplifier to drive loudspeakers, it has drive to spare.
Robustly designed to last a lifetime
As good as the Studio Six sounds, it looks like a premier audio component inside and out.  Precisely hand wired, with a combination of point-to-point and PCB topology, it follows in the tradition of classic gear from McIntosh and Marantz, with everything overbuilt.  Top quality parts are used throughout, with an impressive amount of good taste, paying homage to current and classic design cues.  The somewhat large, jeweled power lamp speaks old school, yet the rounded corners on the casework and the laser-cut volume and input knobs are firmly rooted in the 21st century.
The complement of glowing tubes on deck make this a pleasure to look at as much as listen to, but again, it all follows function.  A 5AR4 tube rectifier and pair of OB2 gas regulators add additional delicacy to the presentation and provide an organic soft start function as well.  The amplifier circuit utilizes a 6SN7 driver tube, powering a pair of 6V6 output tubes.  While this tube will be more familiar to the guitar players in the audience, here it provides a level of drive and cleanliness, rather than the crunch that might normally be associated with it.  But the best news is that this tube is readily available, and at reasonable prices.  You could tube roll until your ADD gets the best of you, but rather than chase the rabbit, I suggest you just enjoy the Studio Six as it comes from the factory.
This attention to detail and numerous circuit revisions over the last two years before settling on the design you see here underline the commitment that went into this product.  When pestering ALO's Ken Ball for a review sample for the last year, he would calmly say, "It's almost there."  The end result has been well worth the wait.
While not an issue for this headphone user, the lack of a balanced headphone output may raise an eyebrow for some.  For most, it should only be a matter of affixing a different cable to your favorite phones, as I did with my HE-6s.  I did not  consider this to be a shortcoming – the sound quality and incredibly low noise floor (actually, make that nonexistent noise floor) never had me wanting for a balanced option.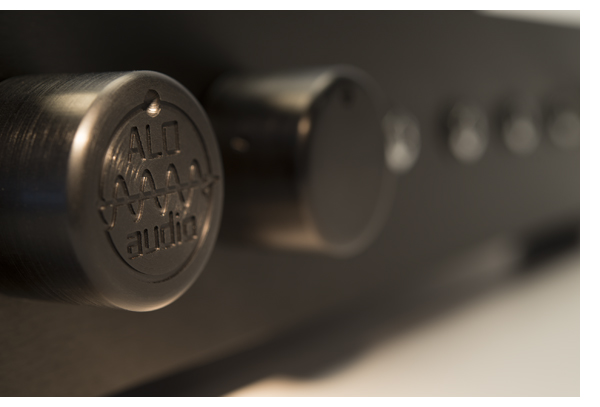 It's made a headphone lover out of me.
I've always been lukewarm about headphone listening – until the Studio Six entered my reference system.  Completely floored by how much resolution and musical accuracy can be extracted from even the least expensive headphones, I'm convinced that these qualities make the Studio Six a true destination amplifier as the foundation of a headphone system that should never need replacement.
Its ability to drive every type of headphone also makes the Studio Six an incredibly versatile tool as a reference component, so expect to hear more about this landmark product in the issues to come as it will be my reference amplifier by which to evaluate all other personal audio gear.  -Jeff Dorgay
ALO Audio Studio Six
MSRP:  $5,000
Peripherals
| | |
| --- | --- |
| Digital source | dCS Vivaldi stack    Sooloos Control 15    Aurender S10 |
| Analog source | AVID Acutus Reference SP Turntable w/TriPlanar arm and Lyra Atlas cartridge |
| Phonostage | Indigo Qualia |
| Power | IsoTek Super Titan |
| Headphones | HiFi Man HE-6    Cardas EarSpeaker    Grado GS500, GS1000, RS-1   Koss Pro  Audeze LCD 2 & LCD 3    Sennheiser HD 414, HD 650 (w/ALO Audio cable), HD 700    AKG 701 |