Monster Turbine Pro Copper Edition earbuds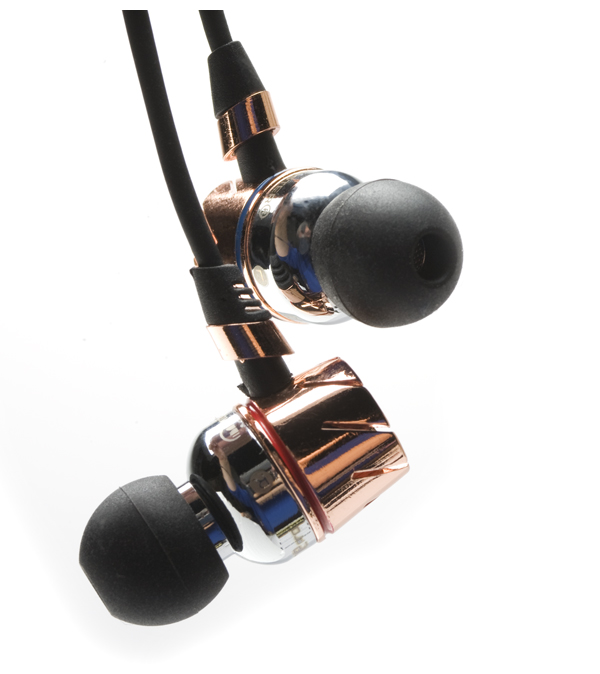 Monster Cable, believe it or not, lies at the forefront of power in the earbud industry, and the 31-year-old manufacturer based just south of San Francisco refers to its models as "in-ear speakers" for good reason. The dynamic drivers employed in its range of earbuds models, especially the top-of-the-line Turbine Pro Copper Edition, deliver a powerful response throughout all frequency ranges, though listeners will be most impressed by the punch on the low-end. This is likely due to the fact that Monster's 2009 foray into the earbud market sprung out of its partnership with rapper and music industry magnate Dr. Dre, who undoubtedly encouraged the company's engineers to develop its earbud models to have a staunch low-end output able to accurately reproduce bass-heavy rap and hip-hop tracks.
Taking full advantage of such a wide-bandwidth driver requires delivering a pure signal, which Monster has done by employing its expertise in cable and connector production. The 24-karat gold corrosion-resistant contacts ensure the purity of the signal transfer from the source, while Monster's patented Magnetic FluxTube cabling, the same technology implemented throughout the brand's lines of speaker cables, delivers the signal to the drivers at maximum strength.
The durability of the Turbine Pro Copper Editions are best exemplified in its all-metal driver housings—made of copper, of course—which give the buds a very sturdy feel and serve to minimize internal resonance. This sense of stability, however, is also the Turbine Pros greatest downfall. These earbuds tip the scales at 20.5 grams, making them monstrous in terms of weight and, thus, they may not provide the on-the-go comfort that the majority of earbud wearers seek.
Monster does compensate for this by offering a variety of ear tips, including what the brand calls SuperTips, which are composed of a silicon composite material that creates a superb seal to deliver a very high-level of noise isolation. Monster also includes a pair of convenient cases for its Turbine earbuds—one with a nifty snap-open mouth for extra ear tips and Monster's weighty quarter-inch converter, the other a durable pouch with a magnetic-button-clad flap for the earbuds themselves.
Monster obviously went the extra mile and spared no expense to create the Turbine Pro Copper Editions, and while they certainly produce sound appropriate to Monster's labeling of them as in-ear speakers, most users are looking for earbuds that don't feel like loudspeakers in their ears. –– Bailey S. Barnard
Monster Turbine Pro Copper Edition
MSRP: $399
www.monstercable.com