Astell&Kern AK120 Mobile Music Player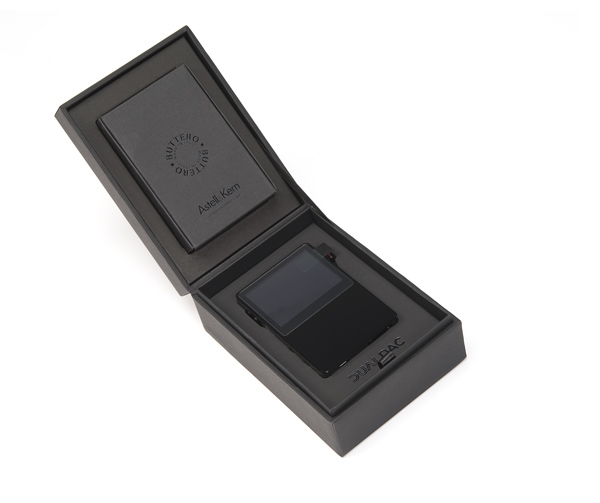 By now, you've likely heard of Astell&Kern. The sub-brand of Korean electronics manufacturer iRiver launched late last year, with its $700 AK100 mobile touchscreen player capable of delivering 24-bit/192-kHz music, thanks to a single Wolfson WM8740 DAC and the ability to store up to 96 gigabytes worth of audio files.
The AK100 is not the first portable hi-fi player to market— HiFiMAN has some worthy players based on Sabre DACs—but it is certainly the first one to have successfully married high-resolution playback with iPod-like usability and simplicity. With its new AK120 portable player, Astell&Kern has upped the ante.
At $1,300, the AK120 is not for everybody. It is about a grip more expansive than the 160-gigabyte iPod classic, but the 5-ounce AK120 is slightly smaller than an iPod classic and only 3 grams heavier. Also, with a brushed-aluminum shell and a complimentary Italian leather sheath, the AK120 has the look and feel of a luxury product. Its 2.4-inch touchscreen—no, you can't watch movies or look at photos—allows you to easily browse your music, with a proprietary Astel&Kern interface that is every bit as easy to use as Apple's iOS. A sturdy side-mounted volume knob and buttons for power, play/pause, forward and rewind supplement the touchscreen controls. The AK120 does offer Bluetooth connectivity, but with wireless playback you will of course lose most of the fidelity you gained when forking over a paycheck to have full-resolution music in your pocket.
Double the Fun
The AK120 offers two of the Wolfson DACs (one per channel), as well as twice the capacity of its predecessor. The new player has 64-gigabytes of internal storage, plus slots for two 64-gig microSD cards, bringing its total capacity to 192 gigabytes. That's twice as much storage space as the AK100, 32 gigs more than an iPod and 64 gigs more than HiFiMAN's top-of-the-line player. That translates into about 1,000 tracks with 24/192 resolution.
Music is supremely easy to load onto the AK120. You can use iRiver's iTunes-like software to organize and upload your music, or you can simply drag and drop files onto the device, as you would with an external hard drive. When not using the iRiver software, just have the AK120 do a library scan and it will find the music you uploaded, organizing everything by artist, album, genre, etc. After a 6.5-hour charge (via a supplied Mini-USB-2.0 cable), you've got as many as 14 hours of consecutive listening to look forward to.
If you're so inclined, you can also use the AK120 as an external DAC. Just connect the Mini-USB cable to your computer and connect the device to your home system using AK120's 1/8-inch optical output located next to the headphone jack.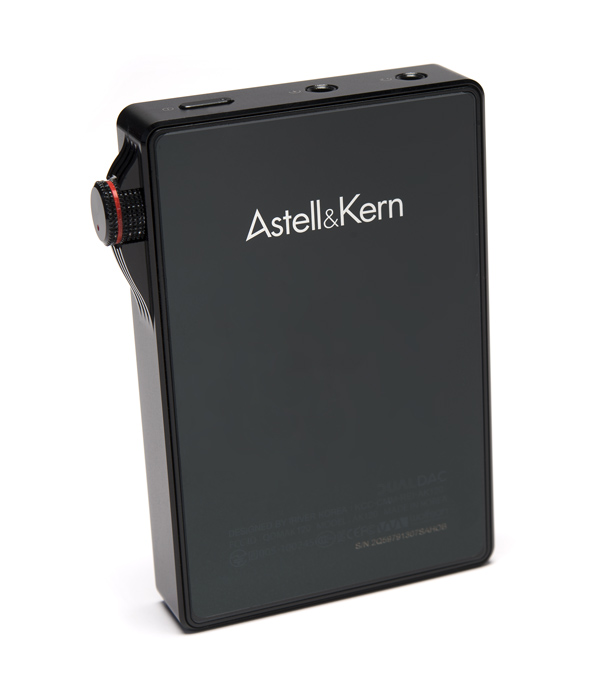 Just Add (Good) Headphones
You wouldn't play your five- or six-figure home stereo system through a pair of speakers you bought at Walmart, so get yourself a decent set of ear cans or buds to pair with the AK120. Astell&Kern recently announced its first headphones, a $200 pair of ear buds, which I haven't heard yet, but I imagine they'll do the job just fine.
The Grado GR-8 ear buds ($300), quickly reveal the extra depth and detail that the AK120 delivers. A 24/192 version of Pet Sounds from HDtracks (www.hdtracks.com) has levels of clarity and precision that I've never experienced without being glued to a listening chair. Anxious to take this obviously remarkable player to an even higher level of performance, I reach for my reference AKG 3003 ear buds ($1,300). This now $2,600 portable music system has me dancing around my apartment, with my girlfriend and her little Bichon Frisé looking at me like I've lost my mind. (If they could only hear the musical realism being delivered to my eardrums…)
On "I've been Waiting for the Day," Brian Wilson and the boys sound as good as I've ever heard them. The complex vocal harmonies are easily identified, as well as being distinct from one another; yet, they still remain a cohesive part of the overall mix. The low doo-doos in the left channel and the high ahh-ahhs in the right channel are crystal clear and detailed, with Wilson's lead vocals still prominently front and center. Then, during the bridge, the flute dances around my head, displaying the ability of the AK120 to portray a real three-dimensional soundstage. As the strings lead out of the final verse, an anticipatory silence ensues that is then interrupted by the bang of the floor tom before the gusto of the whole arrangement explodes back in. With the right headphones, the AK120 will change your perception of portable audio.
"You didn't think that I could sit around and let him work…"
TONE publisher Jeff Dorgay has confessed to me on a few occasions that Pet Sounds is not his favorite album. While this iconic record may not suit his musical tastes, I have a feeling that the AK120 will at the very least have him oohing and aahing at the extremely detailed and nuanced production, which the HDtracks version highlights even further. Jeff also has bigger and better full-size headphones at his disposal, so he'll be able to take the AK120 to even higher levels of fidelity. Let's see if this player wins him over like it has won my affection. -Bailey S. Barnard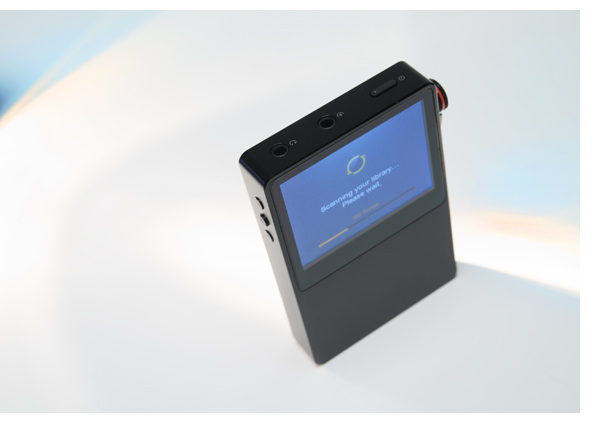 Additional Listening
By Jeff Dorgay
Not on a boat not on a goat. I still hate Pet Sounds. Even the $110,000 dCS Vivaldi can't get me closer to this rock classic that it seems everyone but me adores.  Now listening to the HD Tracks 24/192 version of Roberta Flack and Donny Hathaway, that's a different story.
The AK120s $1,300 pricetag has a lot of people freaked out. It's been a topic of incideary discussion on many an audio forum, but I submit those people don't get the product.  It's not a $1,300 iPod, and yes you could buy a Mac Book Air and have a bigger screen, but that won't give you a pocket sized player with high res capability and the sound of a much more expensive desktop player.
You are paying a premium for the size and cool factor, but the AK120 does deliver the goods in terms of sound quality. Comparing it directly to my favorite reasonably priced digital player, the Oppo 105 (also about $1,300) the AK120 holds its own.
Goin' Mobile
Personally, I've enjoyed the AK120 the most on the road, demoing high performance audio systems from Burmester, Meridian and Naim.  A recent test drive of the new Range Rover Sport, with the 23 speaker Meridian system proved breathtaking, now able to take full advantage of what high resolution audio can deliver.  Equally exciting results were had on a recent short trip in a new Porsche Cayman S, decked out with the latest Burmester system.
While it might disappoint my fellow Porsche aficionados, the Burmester system can overpower the mighty Porsche six cylinder engine behind the seats and really rock.  Cranking up the latest HD Tracks release of the Rush catalog at speed, taking full advantage of the additional resolution was fantastic.
And that's really what the AK120 is all about.  It's a high tech, high performance marvel that's priced accordingly.  You'll either love it or hate it.  Love it and bought it.  Check and mate.
Astell&Kern AK120 mobile music player
MSRP: $1,300
www.astellnkern.com (available for purchase through iRiver: shop.iriverinc.com)