Astell&Kern AK10 Portable Smartphone DAC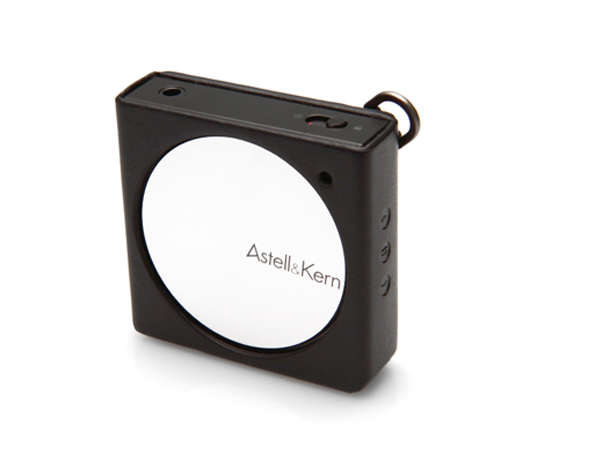 In the past year, a healthy section of the audiophile headphone community has gone gaga for iRiver's Astell&Kern AK100 and AK120 portable media players. And rightly so—they're both terrific. But what if you are committed to music playback on your phone or you want to extract better sound quality from MOG, Spotify, Rdio or Pandora?
Cheekily borrowing from KEF's exhortation to "Hi-fi your computer," Astell&Kern is now inviting us to hi-fi our smartphones. The South Korean manufacturer has essentially gutted its AK100, stripped out the file storage and playback and shrunk it down to the size of a matchbox. The result? The $299 Astell&Kern AK10—a super-portable headphone amplifier and DAC for your existing iPhone 5/5S/5C, 5th-gen iPod touch, Samsung Galaxy S3/S4, or Galaxy Note 2/Note 3. Users of iPhone 4/4S note: Support for a 30-pin connector is apparently coming soon.
An elastic band straps the AK10 to the back of your phone, and the device's diminutive size doesn't impede taking a phone call while on the move. The AK10 offers iPhone folk onboard transport controls: the silver disc on the face attenuates volume; buttons for play/pause, previous and next are found along one side. Inside, a Wolfson WM8740 chip takes care of digital decoding, while the all-important headphone socket output impedance is reportedly much lower than the AK100's 22 ohms—the Astell&Kern engineers have the AK10's output down to a very respectable 1.1 ohms, so it will play nicely with a broader range of headphones.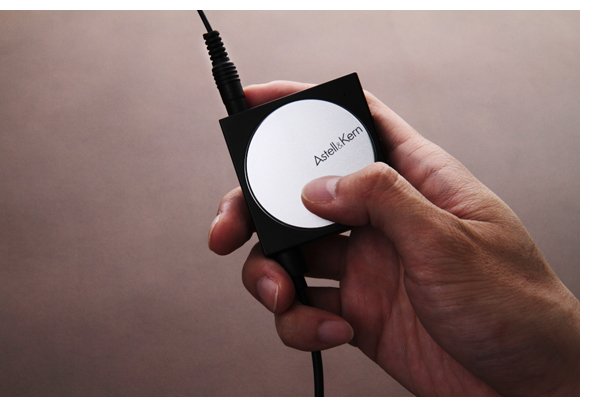 There's just enough juice on tap for Mr. Speakers' Mad Dogs over-ear headphones, and the circuit is sufficiently quiet to accommodate C-Ear X custom in-ear monitors. However, I note the biggest improvement with V-Moda's Crossfade M-100. With the AK10 on digital decoding and headphone duties, Laurie Anderson's "Only an Expert" comes across as more refined and better separated than when listening via my iPhone's headphone output, which is washed out and congealed compared to Astell&Kern's natty digital audio interpreter.
Astell&Kern supplies a USB OTG (on-the-go) cable for Android phone users. Google's latest Nexus 5 doesn't recognize the AK10—such is the hit-and-miss nature of Android's USB audio code. No such recognition issues are present with a Galaxy S3. The AK10 affords the Samsung smartphone greater sound-quality amelioration than the iPhone. Samsung smartphones aren't the best-sounding units around, tending to deliver a softer, more diffuse musical presentation. Astell&Kern-ing the S3 allows James Murphy's epic, pulsing remix of David Bowie's "Love Is Lost" to regain its poise and definition, even when played back via a Spotify stream—terrific.
With iOS 7 now leaking digital audio to Lightning or camera-kit-connected USB DACs, the AK10's competition is rapidly stiffening. Case in point: An iPhone 4 with Apple's Camera Connection Kit has no trouble parsing ones and zeroes to an HRT microStreamer or Resonessence Labs Herus. The Herus is tonally the meatiest of the three but has been largely rejected because it draws too much power from the iPhone when volume levels are pushed close to maximum. The less power-hungry HRT presents no such troubles; it sounds crisper, relying more heavily on transient incision than the AK10, which sounds smoother and more laid back.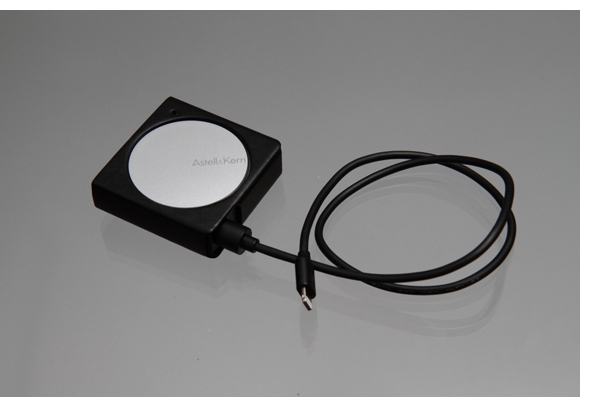 The AK10's internal rechargeable battery means it won't burden your smartphone with power draw. Users will find themselves listening for longer with the Astell&Kern dongle than with the aforementioned USB DAC hacks. And onboard transport controls ice the Astell&Kern cake.
Powerful, well-featured rivals to the AK10 include Cypher Labs's Theorem 720 DAC and CEntrance's HiFi-M8, and while they might be ideal for the Audeze or Hifiman user about town, their brick-like size prohibits them from being slipped into pants pockets. If on-the-go portability is of high priority and you're prepared to compromise a little on raw power, the AK10 could be the phone solution you've been waiting for.  -John Darko
AK10 portable smartphone DAC
MSRP: $299