Apogee ONE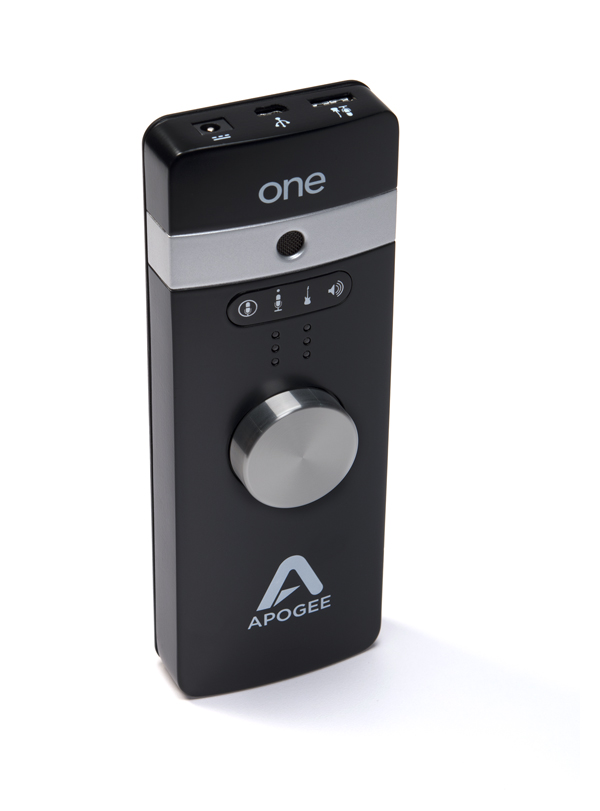 Those not well versed with the world of professional audio may not be familiar with the name Apogee. Founded in 1985, Apogee Electronics is highly regarded by audio professionals and recording musicians for its advanced, high-performance AD/DA converters and audio interfaces. Apogee's award-winning audio interface, the Symphony, is widely considered to be a reference standard in major recording studios around the world.
The new ONE is the latest portable audio interface and microphone from the company, which is based in Santa Monica, Calif. The original Apogee ONE is packed to the gills with pro-friendly features: A/D and D/A conversion at 24 bit/44.1 kHz (or 24 bit /48 kHz); a 1/8-inch stereo output for headphones or unbalanced powered monitors; an internal reference condenser microphone; line-level instrument outputs; and microphone connectivity via breakout cable—not to mention Apogee's legendary recording quality. But it only works with Mac computers.
The new ONE, priced at $349, is designed to interface with most Apple products, including the iPad, iPod touch, iPhone, and Mac computers, and it comes with all the necessary accessories and interconnects in the box. The device—which is just over 6 inches tall and 2 inches wide and less than an inch thick—is encased in die-cast aluminum housing for improved durability. It boasts recording and playback at 24/44.1 and 24/96, and it also allows for battery operation, so you can create studio-grade quality recordings wherever you go.
Why, ONE, Why?
Now, you may be wondering why TONEAudio, a consumer audio magazine, is reviewing a device made for professionals—or amateurs who want an easy and convenient way to record their music? While there is often crossover between the people who make music and the people who listen to it, we audiophiles always have our eyes out for new pro technology that might trickle into our home or mobile systems at some point. Recent examples of this occurrence include Benchmark's DAC1 and DAC2—studio-grade DACs that made the crossover to the home hi-fi world.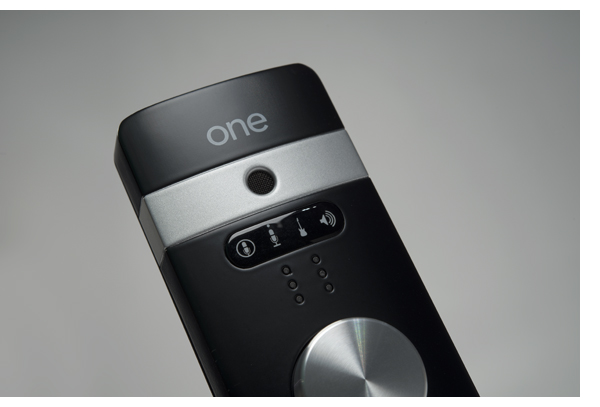 Setting up of the ONE requires running Apogee's Maestro 2 application on your Mac computer, but that's it—you don't need the software after the initial setup configuration. When using the ONE as a DAC/amp with headphones and your Mac computer, no batteries or external power are required. It is bus-powered via USB for this configuration. For iOS mobile devices, a pair of AA batteries is all you need to power the ONE.
If you haven't already noticed, there's been no mention of Windows so far. That's because, like all current Apogee products, the ONE runs on Apple devices exclusively. Sorry, Windows fans.
And the Sound?
While there are a lot of DAC/amp combos on the market today, most are not iOS compatible—and most aren't also a microphone. But for the purpose of this review, we're more concerned with the audio output than the input.
So how does is sound? When paired with my iPhone 5 and Focal's new Spirit Classic headphones, the sound from the ONE is absolutely stunning. It has no trouble driving the headphones well beyond my comfort level, doing so with plenty of headroom to spare. The ONE has a, dare I say it, ruler-flat response. Its performance is on par with some desktop DAC/amps that are many times more expensive. Mind you, the ONE is powered by a pair of AA batteries with an iPhone as the source—and the whole rig fits comfortably in my front pocket.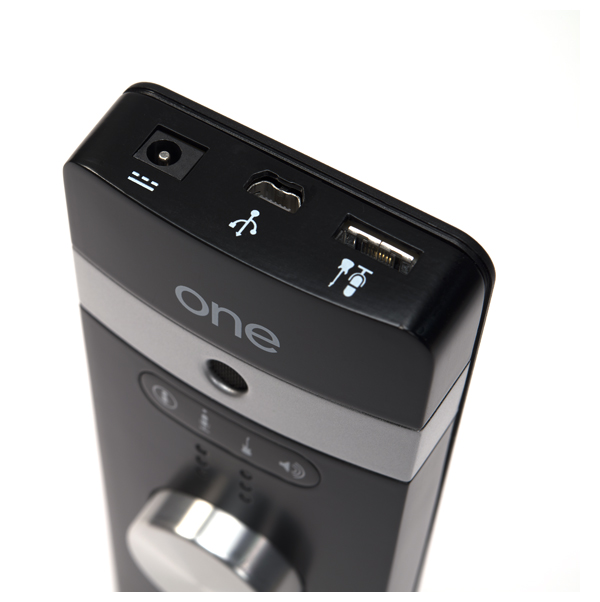 Moving on to balanced-armature in-ear headphones—the 8-ohm Sony XBA-4 in-ear monitors—I do not hear any noise or hiss, which is also the case when the music is paused and the volume all the way up. It's just dead quiet! Through the ONE, Lady Gaga's new album Artpop sounds alive and dynamic. Its low noise floor allows the music to come through with depth, dimension and just the right amount of decay.
Get Up and Go!
What I love most about an iOS DAC/amp system is that I can travel with my 64-gigabyte iPad (128-gig iPads are also now available) as my main computer. With the help of the ONE, I can listen to high-quality music files from my iPad—and it sounds great. It's a no-brainer for audiophiles who travel a lot and don't want to lug around their MacBook. Not a road warrior? Not a problem. The ONE also works great as an audio engine for a clean and simple rig on your bedroom nightstand—or anywhere. -Mike Liang