posted: January 30, 2012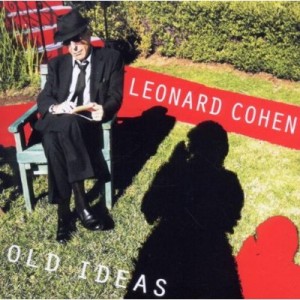 The title of Leonard Cohen's latest album—his first since 2004′s Dear Heather—applies not to his advanced age (the singer turned 77 in September) but to the musings on human frailty, religion, sexuality, and mortality that have defined his work since he gave up poetry for a music career when he was still in his 30s.
In those early days, Cohen was a relatively young man who merely sounded ancient, his voice conjuring Old Testament imagery even when he looked like an uncomfortable kid in his dad's suit. Nowadays he's grown fully into that glorious instrument—not to mention the finely tailored threads that have become his signature look. Indeed, if god has a singing voice, one would imagine it sounds something like Cohen's deep, graveled baritone. It's a concept that doesn't seem outside the realms of possibility considering the Book of Revelations vibe that often runs through the Canadian native's best material.
Interestingly enough, Old Ideas, Cohen's finest work since 1988′s I'm Your Man, opens with "Going Home," a graceful number that successfully punches a hole in this godly image. The singer chides himself as a "lazy bastard living in a suit" before surmising, "He will speak these words of wisdom/Like a sage, a man of vision/Though he knows he's really nothing." While still a carnal being—"I ain't had much lovin' yet," he sings coyly on "Anyhow"—it's clear his fascination with the pleasures of the flesh have somewhat dulled with escalating age. "I'm tired of choosing desire," he sings pointedly atop minimal acoustic strumming on "Crazy to Love You."
Instead Cohen, who was born into Judaism and later lived in seclusion in a Zen monastery before being ordained a Buddhist monk, spends much of the album exploring more universal issues of spirituality. On "Amen" he sings of angels and vengeful gods, delivering his weighty words like Moses handing down the Ten Commandments. A softer side surfaces on "Come Healing," a string-kissed psalm awash in angelic female voices and subtle church organ.
The musical arrangements are carefully considered, framing Cohen's words rather than driving the action—a welcome departure from the drippy synthesizers that unfortunately defined his work for more than two decades. Perhaps inspired by two years of intensive touring, the singer stretches out, flirting with menacing blues ("Anyhow"), dusty Ennio Morricone film scores ("Lullaby"), and shuffling country rock ("Banjo").
Throughout, Cohen sounds keenly aware of his own mortality ("I know my days are few," he cautions on "Anyhow"), making Bob Dylan's 1997 album Time Out of Mind a clear reference point. Still, the singer-songwriter doesn't sound like he's settling up his earthly affairs in anticipation of that final journey, whatever form it might take. If anything, his curiosity, wit, and humor have only been sharpened by the passing of time. Consider Old Ideas more of a return to form than a parting shot of any kind. It's good to have you back, old friend.
–Andy Downing