Channel Islands PEQ 1 mk.2 Phonostage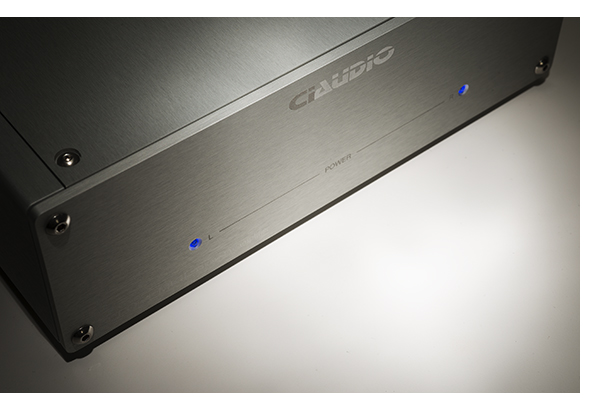 Tracking through an old MoFi favorite, Yes' Close to the Edge, via the nearly $60,000 combination of Grand Prix Monaco 2.0 turntable, TriPlanar tonearm and Lyra Etna cartridge, it's hard to believe it's all playing through a $995 phonostage.
The soundstage is massive, and the dynamics convincing, with a great deal of fine detail. The musical presentation here is hardly budget. After a long listening session, accompanying audiophile pals are all left stunned.
With so much excitement surrounding the mega phonostages, with five figure price tags, it's easy for those of us in the press that have so many cool toys at our disposal that not everyone can drop twenty thousand dollars on a whim. It's equally easy to think that you can't enjoy vinyl without taking a second mortgage on their house, or deny your kids a college education.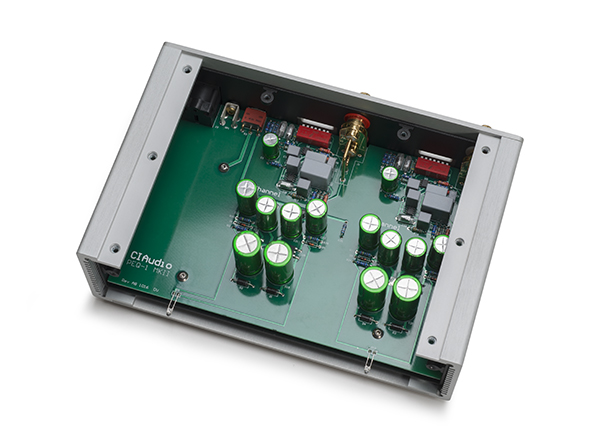 Dusty Vawter, the man behind Channel Islands Audio has always built first rate gear at reasonable prices, but he's outdone himself on the PEQ 1 mk.2. At just $995, this tiny phonostage offers performance way beyond what you might expect from the price tag, or the size of the enclosure. Talking to Vawter on the phone, it's clear he's pulled out all the stops on this one. "It's super quiet," he says in his typical understated fashion. Handpicking some very special op amps and meticulous attention to board layout is what gets the job done here.
Quality touches are everywhere, from the carefully machined chassis (quite a few steps up from what CI has done on past products) to the Cardas input and output jacks. The power supply features Nichicon Muse capacitors along with Vishay 2% polypropolyne caps in the signal path along with Takman metal film resistors. This is the kind of stuff you see under the hood of five-figure components.

All Business
What you don't get is a huge chassis, an elaborate display, and the ability to change settings from the comfort of your listening chair. If you're a music lover on a tight budget, you want performance, not goodies and the PEQ delivers. A bank of DIP switches on the back (CI even includes the tool to set them – nice touch) give you 100, 1000, 10k and 47k loading options, along with 100pf, 270pf and 370pf capacitance loading. Two more switches adjust gain for MM(45db) and MC(60db). Finally, a subsonic filter is also available.
Some of you might snipe about the limited loading options. You can only get so much for $995, and if you're putting a system together, there are plenty of cartridges that will work within these parameters, so choose accordingly and you'll be just fine. Or, for a nominal charge, CI can provide custom gain and loading. Call them for an up to the minute quote. In addition to the Gold Note cartridges on hand, the Lyra Delos, Grado Statement Platinum 2, and Ortofon Quintet Blue cartridges all turned in marvelous performances with the PEQ at it's standard settings.
This little box is heavy – eight pounds to be exact. And that's without a power supply. Utilizing a wall wart for now, Vawter says that the new, upgraded AC-15 MK111 dual mono power supply for just $299. Experience with past CI products has shown that their upgraded power supplies are always a great thing. Watch the TONE website for a follow up, as he's promised to get us one as soon as they are available.
Moving to a more reasonable system, the PEQ is used with a Rega Planar 3/Elys 2 combination as well as my new personal favorite, the Technics SL-1200G with Gold Note Machiavelli cartridge. Fleshed out by a pair of Quad 2812 speakers and the PrimaLuna Dialogue HP integrated amplifier, the PEQ is still a stunner.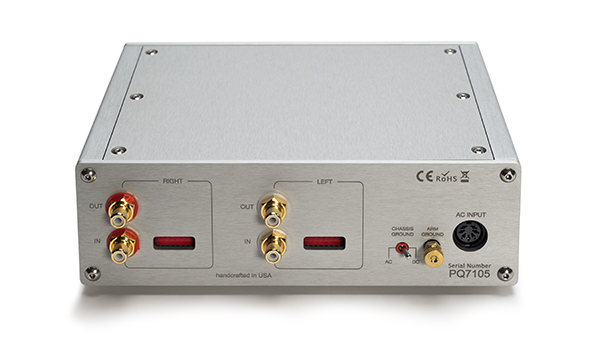 Nothing you Don't Want
As with most solid-state components, the PEQ needs about two days to fully stabilize. It sounds great out of the box, but you will notice a slight relaxation to the mood after it's been on for two days. Upper mids and highs all become much more homogenous in their presentation, and you'll be wowed again.
The low noise floor makes the task of digging maximum information from marginal records a breeze. Of course, the PEQ does a lovely job with your favorite audiophile pressings, but on really dreadful, slightly compressed records, there is still a bevy of detail at your disposal. Todd Rundgren's Something/Anything? is a perfect example of this. Reaching for the MoFi version of this, the PEQ deftly reveals the multitrack wizardry here, and there's even some bass! TR fans know what I'm saying.
Of course, the PEQ does not replace my Pass XS Phono. You get what you pay for with the big box in every aspect of musical reproduction. However, the Channel Islands PEQ goes about the business of amplifying low level analog signals effortlessly, and without drawing attention to itself; visually or audibly. Regardless of your musical taste, there is nothing it can't handle with aplomb. When the listeners from the beginning of this article were asked to describe the PEQ in one word, they almost all unanimously said "balance." The second word was "value."

The level of musical finesse and enjoyment that the PEQ does offer is unmatched by anything I've yet experienced at anything near this price. Even if you were planning on spending close to $3k on a phonostage, give the PEQ a spin. If your love affair begins here, that's a lot of extra money for a better cartridge or some more records. Channel Islands factory direct model (with 30-day return guarantee) assures maximum value. All CI products carry a 5-year warranty, and I can speak from personal experience, CI gear doesn't break.
I can't wait to hear this with the upgraded power supply, but even on the merit of the box stock PEQ 1 Mk.2 phonostage, we award it one of our Exceptional Value Awards for 2017. I'm keeping the review sample as our $1,000 – $3,000 reference.
The Channel Islands PEQ 1 Mk.2 Phonostage
MSRP: $995