Grand Prix Audio's Parabolica Turntable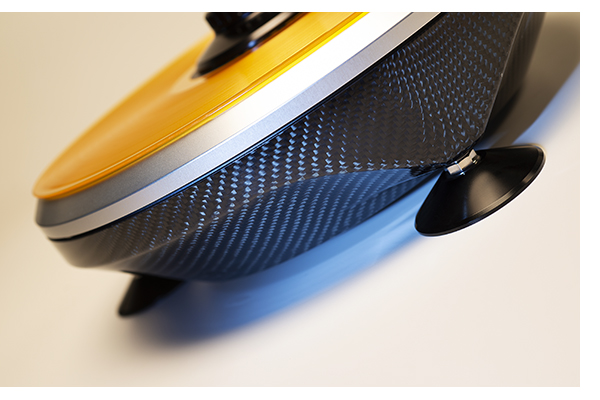 Last year, I had to curb my enthusiasm for the Grand Prix Audio Monaco 2.0 turntable, boldly calling it the best turntable I'd ever heard – a claim that I don't make lightly.
If you got $10 for every time I've out and out called something the best in nearly 90 issues of TONEAudio, you'd have about 20 or 30 bucks in your pocket. Not even enough cash to buy dinner at Applebees. A year later, I stand behind my judgment of the Monaco 2.0. It's still the best turntable I've heard. And by that, I mean it reveals more music with less alteration of the signal contained in the record grooves than anything else I've experienced. And I've been doing the turntable thing seriously for about 35 years now if that's worth anything.
However, not everyone has $37,000 plus tonearm and cable to spend on a turntable. Grand Prix Audio's other turntable, the Parabolica (named after one of the fastest curves in Formula One) tips the scale at a much lighter $17,000, offering many of the strengths of the flagship table. Granted, that's still a fair amount of cash for a record player, but those of you already owning a table in the $3k – $10k range, looking to increase the resolution of your analog setup, (especially if you're closer to the higher part of this range, and just happen to have a fantastic tonearm already) this is nowhere near the same financial stretch the 2.0 represents.
To save those of you crunched for time wanting to know the answers to the big questions, they are yes, yes, and no. Is the Parabolica awesome? Is it an incredible value? Is it just as good as the Monaco 2.0 for less than half the price?
Many of the features that make the Monaco 2.0 so inspiring are present on the Parabolica. The sexy, carbon fiber construction and the precision direct drive encoder that gives this table its phenomenal speed accuracy, but the more expensive table benefits from an even higher quality motor, power supply and a superior record clamping system as part of a more advanced platter. No, you can't update the Parabolica's clamp with the clamping pressure indicator system from the Monaco, in case you are wondering.
Keeping in the spirit of the Monaco review, I began the listening sessions of the Parabolica with the same TriPlanar 2.0 tonearm used for the prior table. Staffer Jerold O'Brien was kind enough to let me snag his Lyra Etna cartridge for a week, so the review could begin where we started on the Monaco 2.0, but the rest of my listening was done with the Grado Statement 2.0 and a few other cartridges. Thanks to its quick release tonearm board, swapping arm/cartridge combos with the Parabolica is incredibly easy. This operation is not quite as effortless with the Monaco 2.0, so if you are someone wanting to do this on a regular, keep this in mind.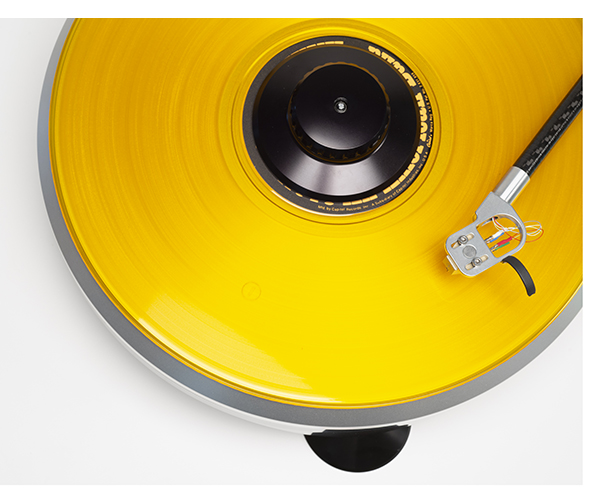 Simple setup
Still, the Monaco 2.0 and the Parabolica remain two of the easiest tables to set up that I've experienced. Thanks to the direct drive motor (click here to get the full tech analysis here at the GPA website), there's no platter to fuss with, no belts to string. GPA mentions that removing the platter voids the warranty and will probably damage the direct drive system. Unbox it, put it on top of its three feet, and install your tonearm. A small, external power supply plugs in at the back. Unlike the Monaco 2.0, which controls power and speed from its larger, external supply, the Parabolica hides the computer inside the base and uses a simple capacitive switch to control power and speed. I like the simplicity of this better.
Because this turntable retrieves such a high level of detail, it requires commensurate care in tonearm setup and as Mr. Lloyd says in the manual, "Patience and perfectionism are the order of the day. It is not OK unless it is perfect." If you have a relatively high-performance car and you've spent the extra money to have a four-wheel alignment done, you know what I'm talking about.
Lloyd also talks about the importance of a proper platform to put his turntable on. As I've been using his outstanding Monaco equipment racks for the last year, that base is covered. Moving the Parabolica to a standard wood rack will shrink the size of the three-dimensional picture somewhat; so be warned, you just might need to spend a little more dough to get the most out of your GPA table. As you would with any premium turntable.
Though the TriPlanar arm has been here for a while, and I'm comfortable setting it up, former TONE contributor Richard Mak's new Analog Magik software suite and test record had just arrived at the beginning of this review. Mr. Mak is the most capable analog setup tech I've ever met. He stopped by to set up a few of our tables last year, and it was like having Michael Schumacher bring the Ferrari pit crew over to tune and align your car, with a driving lesson afterward.
Mak has done the analog community a tremendous service by making the personal software tools that he has custom designed available with a proprietary test record with Analog Magik. (www.analogmagik.com) Combining this with the ASR Smart Tractor (review here) that was a TONE product of the year in 2014, brings the Parabolica/TriPlanar setup to perfection. Ever since the SmartTractor arrived, we have standardized on the Uni-Din alignment geometry, resulting in even more data retrieval in our configurations. Of course, you can use whichever of the other alignments you prefer.
Thanks to Analog Magik and the Smart Tractor, I was able to optimize the setup in about an hour, working methodically. I can't recommend these two tools to the serious analog enthusiast highly enough. You wouldn't let the guys at Costco put tires on your Porsche, don't use substandard tools on a high-performance turntable, or you're not getting what you paid the big bucks for. Rant over.
Now the bliss begins
Capable as this table is with A+ recordings, the amount of musical detail it pulls from records you thought were naff will startle you. Way too many of my audiophile buddies have this stack of 50 records worthy of their attention, yet at the same time I'm guessing we all have records falling into that "I really love the music on that album, but it kind of sucks sound-wise" category. The Parabolica shifts this curve dramatically, moving a lot of those records into the "love em" category. That alone justifies the asking price.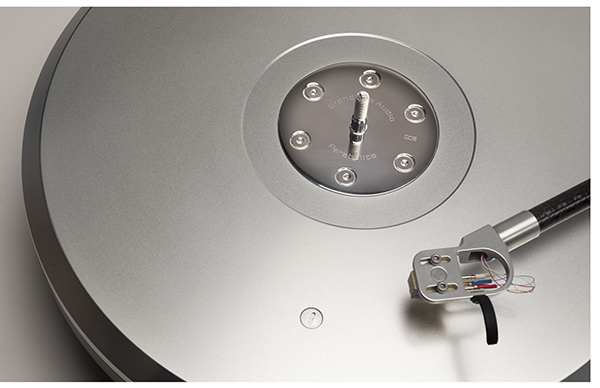 But, damn. Superior records sound amazing when played on the Parabolica. Because of the highly evolved direct drive system in the GPA turntables, they both possess incredible speed accuracy. More so than in any other table I've experienced. This translates into a musical foundation that is similar to listening to the best digital recordings, yet the additional tonal saturation that is more often than not a highlight of analog comes through as well.
As mentioned earlier, this is what allows so many more records to fully engage you. The Parabolica's perfect pitch makes for a much more solid musical pace and foundation to your records. The resulting ease and smoothness feels like analog tape the way the music effortlessly unfolds from your speakers. There's nothing quite like it, other than listening to a master tape. Combining this level of speed accuracy with a phenomenally low mechanical noise floor gives all of your recordings more punch and dynamic drive too. Musical instruments float between your speakers in a way they did not before.
Just as I experienced with the Monaco 2.0, the Parabolica keeps me glued to the listening chair for hours, for days. It provides such an engaging experience; I never think about anything else when I'm in the listening chair – that's the highest compliment I can pay any audio component. The Grand Prix Audio Parabolica stops time and commands your attention. This is what analog is all about. This is truly what a great high-end audio system is about.
Most of you know I'm a car guy. Alvin Lloyd is a race carguy. In racing, there's no room for error. You make a mistake and championships are lost, or even worse, people get hurt. The level of precision in build and execution of the Grand Prix Tables has to be seen and touched to be believed.
I've often compared hi-fi components to various cars because it's a good metaphor that many can wrap their heads around. The Grand Prix tables are both like race cars in the sense that there is nothing unnecessary. The only criticisms I've heard is that they lack the bling that some of the $100k – $200k tables offer. Do you want bling or do you want to win the race? Bling adds weight and complexity. The Parabolica, like the Monaco 2.0 is all business and its job is to extract musical information. If that is your mission as well, there's no better way to accomplish it.
Which to choose?
If you want a piece of art that happens to play music, (and you have crazy money) buy one of those other tables. I won't call you a bad person; there's room for everyone. However, if you want the ultimate expression of form meets function, with nothing unessential to the task of playing a record, I suggest the Grand Prix Turntables.
Think of the Parabolica as a Porsche 911 GT3 and the Monaco 2.0 as a GT2RS. Both tables have such an extraordinary level of performance you'll be blown away. But if only the 700hp GT2RS will do, and you've got the system and record collection…
And I don't mean this to make the Parabolica feel "less than." Just as the Monaco 2.0 is at the top of the money no object class of turntable, the Parabolica is at the top of the range for everything else. As long as you never experience the Monaco 2.0, you'll probably never want anything else. There are a lot of happy Porsche GT3 owners that will never experience a GT2RS. And so it goes.
Purchasing a product at this level means a commitment to the medium. I not only give the Grand Prix Audio Parabolica my highest recommendation, I hope that you will take one for a test drive and see if you like it as much as I do. I think you will find it irresistible. I'm keeping this one, so plan on a long-term revisit in a year.  -Jeff Dorgay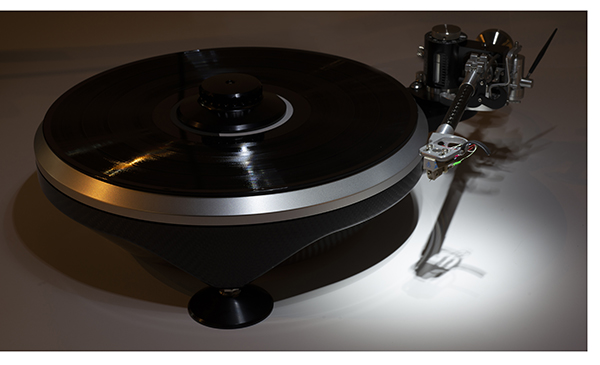 The Grand Prix Audio Parabolica
$17,000 (minus tonearm)
Peripherals
Preamplifier        Pass Labs XS Preamplifier
Phonostage        Pass Labs XS Phono
Amplifier        Pass Labs XA200.8 monoblocks
Speakers        Focal Sopra no.3 with 2- REL 212SE subwoofers
Cable            Cardas Clear
Isolation        Grand Prix Audio Monaco Racks