iFi Audio iPhono Mini Phonostage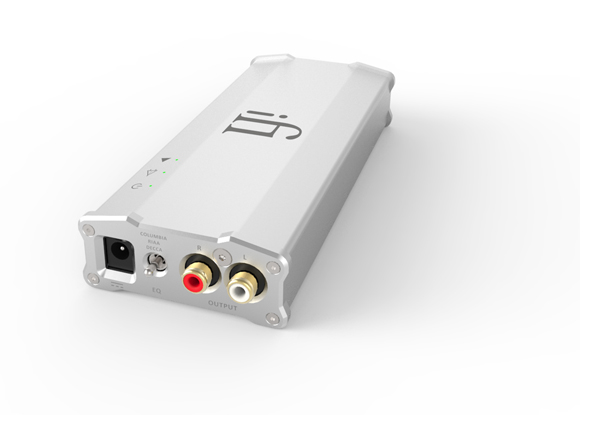 When the little iFi iPhono box first landed on my desk, I thought it was my wife's new iPhone. From its outer appearance to its packaging to its name, the iPhono could indeed be mistaken for an Apple product. The $399 iPhono is part of the iFi Microline series of affordable palm-sized products made by the U.K. firm Abbington Music Research (AMR). It was designed by Thorsten Loesch using technology trickled down from AMR's nearly $12,000 Reference PH-77 phonostage. The iPhono may be small, but it is loaded with features that you will be hard pressed to find in other similarly priced phonostages.

The iPhono offers both MM and MC inputs with 40 dB and 60 dB of gain, respectively. The underside of the device has three banks of DIP switches that offer myriad adjustments. You can even add an extra 6 dB of gain to the MC inputs, for compatibility with 0.3 mV output cartridges. The MM section features five capacitance choices (100 to 500 pF) to help match your phono cable, and the MC loading choices have an equally wide range, with settings at 22, 33, 75, 100, 250, 300, 1K and 47K ohms. Don't know which settings to use? Let your ears be your guide.
Furthering its appeal and flexibility, the iPhono makes the RIAA, Columbia and Decca curves available. This is a feature rarely seen on phonostages priced less than $5,000 and is very impressive in this application. As many users may not be familiar with these curves, start your journey with the DIP switches located at the rear for the standard RIAA setting, since the vast majority of modern LPs are produced with this equalization. In general, unless you are playing a pre-mid 1950s recordings, you should be safe with the standard RIAA setting. As with all things audio related, it is better to spend time enjoying the music, so if a particular record sounds better to your ears with any given equalization setting, there is no harm in using it. (Once you get comfortable and feel more adventurous, you may want to research the various online descriptions of the different EQ curves.)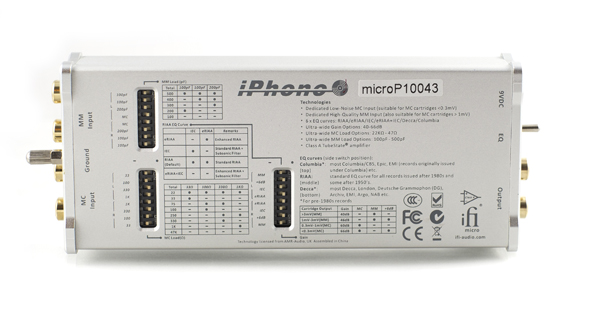 In terms of performance, the iPhono meets my number one requirement of a great phonostage: It is quiet. Unlike most phonostages in the sub-$500 category, the iPhono does not portray noticeable white noise or hum. However, the iPhono is not without its imperfections. While it can run MC cartridges as low as 0.3 mV, it failed to deliver enough dynamic contrast and rhythmic pace when playing large-scale orchestral performances via my 0.29 mV Sonic Lab Ultra Eminent BC cartridge. The results were much better when paired up with the Dynavector XV-1T (0.35 mV) and the Clearaudio Goldfinger (0.9 mV). I found that cartridges with an output level upwards of 0.4 mV provided the most favorable response.
The iPhono does have a couple of other minor shortcomings. Its diminutive size positions the RCA inputs extremely close together, making some RCA plugs difficult to insert. Also, the owner's manual is overly simplified, making it difficult to decipher the various DIP switch combinations.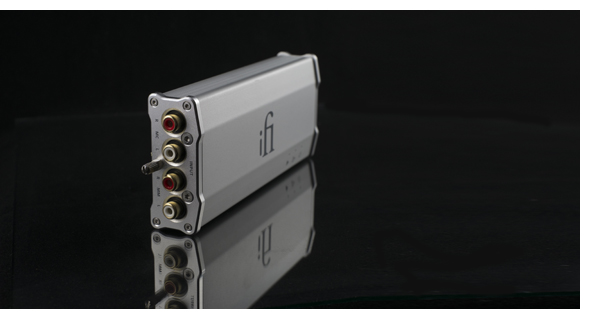 But sonically, the iPhono exceeds all my expectations for a phonostage of its size and price. Compared to the $599 Project Tube Box Phono SE II, the iPhono is considerably less warm, with a wider frequency response and great high-frequency extension. It lacks the harsh graininess associated with competitively priced solid-state phonostages and carries some of the organic characteristics of the much more expensive AMR PH-77, doing so without grain or edginess.
The iPhono is a fantastic anchor for your first analog setup. Few others can compete with its sonics and there is nothing near it's price that can compete with its feature set. It also offers a great way to experiment with the various EQ curves for those with a wide range of recordings in their collection. All of this considered, we are happy to award the iPhono our last Exceptional Value Award of 2014.  -Richard H. Mak