Plinius Inspire 980 Integrated Amplifier
A Lot Under One Hood!
By Rob Johnson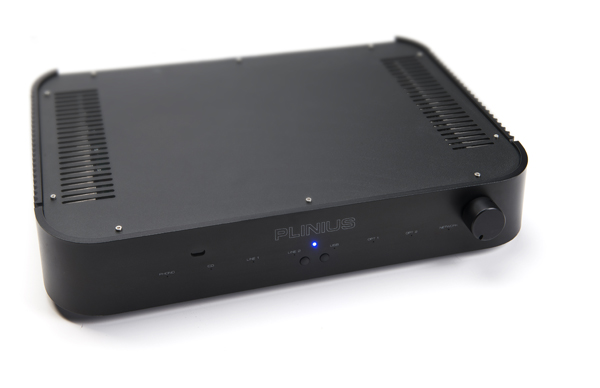 New Zealand's Plinius Audio has a track record of delivering products that offer great sound for the dollar—and its Inspire 980 certainly offers a lot, especially for $4,450. In addition the power and preamp capabilities of a standard integrated, it also features an onboard MM phonostage and an internal DAC. With all those elements built in, this beauty can serve as a fantastic system hub—just add speakers and sources.
As with other Plinius products, the 980 features simplistic aesthetics, despite a wealth of internal capabilities. The smooth, bead-blasted aluminum faceplate is interrupted only by a volume knob and two buttons to toggle source selection. The 980 comes with a remote, but the $7.99 Plinius Arataki app (available on the iTunes store) makes controlling the unit from your listening chair even easier.
The unit's dimensions are modest—about 18 inches wide, 14 inches deep and 3 inches tall—though the slender frame is somewhat deceptive when lifting the unit. It weighs in at a surprising 22 pounds, a result of its burly transformer and the breadth of electronics its versatile capabilities require. The unit's Class A/B amplification section delivers 80 watts per channel into 8 ohms and roughly 100 watts into 4 ohms. While I'm used to a reference amplifier offering much more juice, the 980 has no trouble holding its own. It maintains command of the Sonus faber Olympica III speakers and leaves me not wanting for extra power.
Setup? What Setup?
As one would expect from this four-in-one integrated, the setup process is quick. Just plug in sources and speakers and start listening. Its back panel accommodates a turntable, two optical inputs and two single-ended line-level sources. There's also a set of XLR inputs for a CD player, plus an Ethernet port and a USB input for networking from computer-based audio sources and DLNA-capable devices. As a nice bonus, the 980 also offers a wireless connection option.
I will note that the RCA inputs for the line-level sources are bit close together, making large-diameter interconnects a tight squeeze. My only other complaint is that my spade-terminated speakers wires present a challenge with these biding posts. The spades I use are actually soldered to the rest of the speaker wire, so they aren't exactly flexible and so they must be inserted from underneath, as the binding posts are at the very base of the unit's short frame and have very little clearance. I have to place the 980 at the rear edge of my rack so the cables can dangle downward instead of kinking. Of course, using bare wire or non-soldered banana terminations would not present this problem.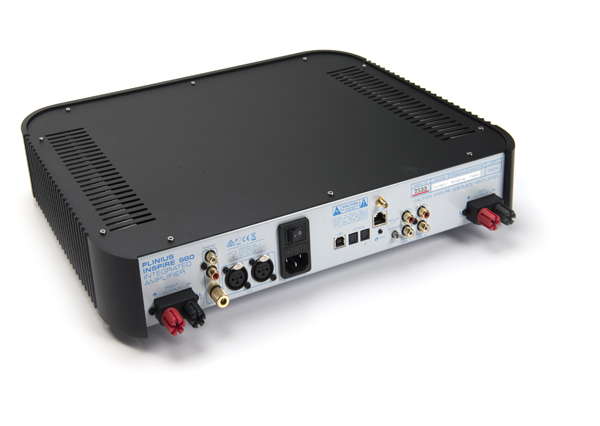 Sonic Notes
After the break-in period, the Plinius sounds neutrally voiced, with little glare, grain, or stridency. Regardless of source or the quality of the recording, I find the sound extremely easy to live with. It does not romanticize music or lean towards euphony. There's just a slightly forgiving and relaxed quality to the sound, which strikes a delicate balance between warmth and stark realism.
With its internal 24-bit/192-kHz DAC employed, the 980 remains very tuneful. Compared unfairly against more expensive dedicated DACs, it offers a little less ambient detail and refinement; however, it does manage to render even poor recordings in a musical and enjoyable way. To my ears, Norah Jones's vocals on "Don't Know Why" were recorded a little hot, meaning that crescendos sometimes have an ear-tingling singe. During CD-quality digital playback, this stridency is somewhat diminished, giving the song a greater sense of musicality.
The 980 has no noticeable roll-off among high frequencies. On Hélène Grimaud's rendition of Rachmaninov's "Piano Sonata No. 2," key strikes in the upper region have the requisite plink, ring, and ambient decay. With complementary bass prowess, the 980's portrayal is deep and punchy with a solid grip on speaker drivers, especially on rock tracks like Electric Six's "Dance Commander." The Plinius delivers the full energy of this song with little (if any) compromises.
The soundstage portrayed—front-to-back layering, perceived width, and extension beyond the speakers—also proves excellent. Though I listen to Chris Isaak's "Go Walking Down There" in regular rotation, I find myself startled by the 980's portrayal of the cymbals panned to the far left and right of the recording; in my listening space, the sound bursts into the room. While the crash, shimmer and decay of the cymbal strikes may not have all the nuanced resolution of a more expensive and dedicated DAC (like the dCS Debussy, for example), what's there is nicely rendered.
The phonostage section proves to be another really nice addition, given the price tag of the 980. While it's limited to MM cartridges and has a fixed loading and gain, it is a wonderful feature to have incorporated in such a compact package. With all the experience Plinius has building great phonostages, like its marvelous Koru, there is undoubtedly some trickle-down technology lending the 980 solid analog playback. (See "Additional Listening" for notes on the phonostage performance.)
A Lot to Love
The Inspire 980 costs $4,450, which is not chump change. But given the quality of all the elements within—amp, preamp, DAC and phonostage—it's actually something of a value-oriented purchase. Yes, you can get greater realism and refinement from more expensive standalone equipment, like Plinius's own reference-level products. But from a price-performance standpoint, the 980 is a great option. For those who don't need wired or wireless home networking capability for music retrieval from a networked drive, the Inspire's little brother, the 880, offers the same functionality and sonics as the 980, but for $3,650.
If you have limited space to dedicate to your hi-fi system or if you simply want to scale down the number of components in you audio arsenal, this all-in-one component offers a lot to love. The 980 is also well suited as a launching point for prospective buyers who might be looking to upgrade to a larger system down the road. Given all of its capability and versatility, I can easily recommend this component—and I'd even put it on my own short list.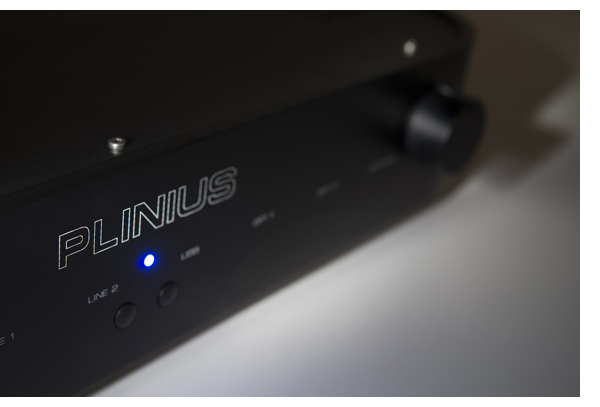 Additional Listening
By Jeff Dorgay
Every Plinius product we've auditioned has been fantastic, and the 980 continues that tradition.  As Rob is a MC-only guy, I wanted to spend some time listening to the 980 with the Ortofon 2M Black MM cartridge, which is currently mounted to the refurbished Thorens TD-125 table (courtesy of Vinyl Nirvana) and revitalized SME 3009 tonearm (courtesy of SMEtonearms.com).
As a listener who loves analog as much as digital and as someone about to move to a small space, I will say that the Plinius 980 is a fantastic solution for those wanting to keep sound quality way up and the footprint way down. Streaming music from the Meridian MS200, which is barely the size of a glasses case, and using my turntable makes this a true desktop situation. A 15-foot run of Cardas Clear speaker cable (admittedly worth more than the amplifier) and the Franco Serblin Accordo speakers round out an amazing system in my 11-by-13-foot living room.
Don't sell yourself short on the MM thing; there are quite a few $600 to $1,000 MM cartridges that, if you aren't going to drop thousands of bucks on a table, will fit the bill very nicely. I'm partial to the 2M Black, which mates flawlessly with the Plinius. Having spent a lot of time with the massive Plinius Class-A monoblocks, the apple doesn't fall far from the tree with the 980. The Accordos perform their best with a lot of current and the 980 delivers the control necessary to really rock these small but mighty speakers.
But most importantly, the phonostage is dead quiet and, like the rest of the amplifier, it does not exaggerate or embellish. The Ortofon 2M has a similar sound, so if that's your fancy, I can't suggest this cartridge highly enough. Those wanting a bit more mellow/warm/euphonic sound should consider the Grado Reference Master 1 Moving Iron cartridge. With a 5-mV output and requiring 47K loading, the Grado will add a bit of warmth to your system's tonality, which is especially useful if your record collection consists of mostly jazz and classic rock.
Whatever your taste, the Plinius Inspire 980 is a fantastic bargain, especially for those utilizing both digital and analog sources. An external DAC and phonostage of this caliber would easily set you back $1,000 each, so it's like getting an 80-wpc integrated amp thrown in for $2,450—not to mention all that cable you won't need. Enthusiastically suggested!
Plinius Inspire 980 Integrated Amplifier
MSRP: $4,450
PERIPHERALS
| | |
| --- | --- |
| Digital Source | Mac mini     dCS Debussy |
| Analog source | SME 10 turntable with SME 10 tonearm |
| Amplifier | Burmester 911 MK3 |
| Preamplifier | Coffman Labs G1-A |
| Speakers | Sonus faber Olympica III |
| Cables | Jena Labs |
| Power | Running Springs Audio Haley power conditioner and RSA Mongoose power cords |
| Accessories | ASC tube traps    Mapleshade Samson audio racks |