The Levin Record Cleaning Brush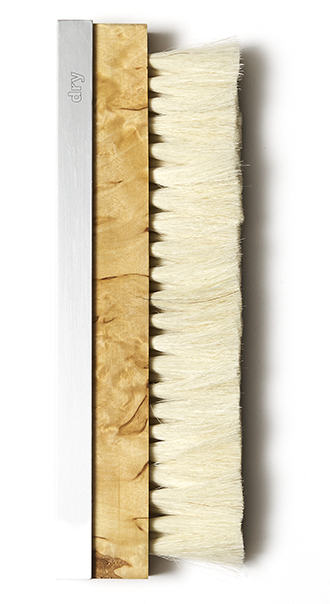 Article and Photo by Michael Corsentino
Record cleaning never looked so damn sexy! Meet the Levin record cleaning brush and its matching case. Handcrafted in Germany using centuries-old brush making techniques, the Levin brushes are made with hand-pulled horse or Chinese goat's hair, for bristles that remain in place and provide years of use. Models for both wet cleaning and dry dust removal are available in a variety of exotic wood finishes ranging from bog oak, root wood, Karelian Birch Maser, pear wood, walnut or POM. Bristles are also offered in both white or black. I chose the Karelian Birch dry cleaning brush for its visual appeal and white bristles to easily see when they require cleaning. The natural hair bristles are gentle on your records and can be easily washed using soap and a damp cloth as needed.
Not your average brush
Levin brushes range in price from $99 to $175, with cases starting at $79. That's not cheap, and it took a minute for this vinyl enthusiast to wrap their head around the cost; even a sexy, best in class product like this. I confess I hate spending money on record sleeves, cleaning fluid, brushes, etc. I'd rather spend that money on more records. But these purchases fall squarely into the necessary evil category; I grin and bear it because I know how important it is to take great care of your records.
Once you hold the Levin brush in your hand, the quality and care in its construction is evident. Fit and finish are outstanding. The matching wood and metal case strikes the perfect balance between form and function, calling to mind the goodies you find at the MoMA Design Store. Objet d'art meets record cleaning brush, cool!
Levin claims the combination of natural goat or horse hair, with the wood and aluminum used for the brush's handle interact with your hand to create an antistatic effect. I concur with the manufacturer, it does as claimed, reducing static as it picks up the day to day dust on records. Even if you are using an excellent record cleaning system, some dust still builds up and using the Levin brush will extend the time between full cleanings.
Every time you lower the inch long bristles onto your records, you are reminded of the quality – there's nothing flimsy about these brushes. The Levin brush is near twice the size of other brushes I've used and easily outperforms the AudioQuest and Mapleshade brushes I've used in the past. The Levin is in a league of its own.
The perfect addition to your daily ritual
My record cleaning brush is the one tool I use every day interacting with my record collection and is an essential part of my record care toolkit. It touches every single side of every record that I play. That's a ton of use. In that light, the value of a great record cleaning brush takes on a new significance. Based on build quality, and the ease of cleaning the Levin brush, it's a long-term investment that will easily deliver ten years of use, maybe more. The ultimate litmus test for any product, especially one replacing an existing solution, is "does it do a better job than the product it's replacing?" In the case of the Levin record cleaning brush, the answer is a definitive yes.
There are a few minor quibbles regarding the brush's case I'd be remiss if I didn't share. I love being able to store the brush in a dust free environment when not in use, an amenity missing with my other brushes. However, the way case opens makes me a little nervous. The cover, partially clad in aluminum with sharp edges, nests into the base of the case, making operation a bit clumsy; it could easily slip out of your hand and scratch your record or rack.
Rather than being free floating I'd love to see the case's cover hinged at the corner so that it opened like a straight razor, so open it carefully and away from anything prone to scratching. If you have even slightly oily skin, the finish on the aluminum case cover is a fingerprint magnet, so if you are on the OCD side, be prepared to keep the case clean as well. With cases costing anywhere from $79 to $145 the little things matter.
While not as sexy or "must have" as the record cleaning brush Levin's offers a companion stylus cleaning brush and matching case which are sure to appeal to completists like me who enjoy owning the entire kit. I ended up buying both – of course!
At the end of the day
The Levin record cleaning brush may not be everyone's cup of tea due to its cost, but keep in mind that the brush and its companion case may be purchased separately as budget permits. However, if you value the best tools touching your precious records, and you love beautiful objects as much as I do, you'll be hard-pressed to find a better looking or performing record cleaning brush to add to your record cleaning tool kit.
Pricing: Wet & dry brushes $99+, case $79+, stylus brush w/matching case included $79+