Sometimes I Sit and Think, and Sometimes I Just Sit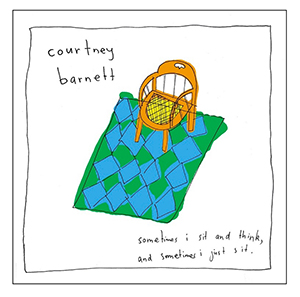 Courtney Barnett makes it virtually impossible to listen to her outstanding full-length debut while doing something else.
Forget about experiencing it as background noise, or even texting as it plays. You could call it one musician's foolproof way to defeat attention-deficit disorder and today's easily distracted, multi-tasking audiences. Yet Barnett isn't out to change the way people listen by pulling a stunt. Instead, the magnetic pull of her Sometimes I Sit and Think, and Sometimes I Just Sit owes to a savvy combination of witty songwriting, evocative melodies, concise arrangements, and sly deliveries that comes around too infrequently in an ego-centric age absent creative gatekeepers.
Akin to the most memorable "Seinfeld" episodes, the Australian native showcases a knack for transforming common occurrences and everyday thoughts into meaningful observations and deep think pieces. She conveys insightful outlooks and brainy details in rambling albeit simple, conversational turns of phrases that wouldn't be out of place at an unassuming neighborhood pub. Free of excessive jargon and forced irony, Barnett refreshingly avoids satirical postmodernism. She's also not solely preoccupied by love or 21st century dating—or, at least, not yet so permanently scarred that she fully gives into the topics—expanding her outlook toward larger issues encompassing human interaction, integrity, responsibility, and self-worth.
Via rhymed couplets and snappy descriptors, Barnett possesses the relatable consciousness of a smart novelist. And through her tangle of stripped-back pop hooks, deadpan singing, and bounding garage-rock grooves, she exhibits the gruff appeal and winking humor of a rough-around-the-edges bartender—a profession she knows well, having worked full-time in a Melbourne tavern until February 2014. In her off hours, the art-school dropout utilized honed her artistry, headed an indie record label, and cobbled together enough songs for a succession of self-released EPs reissued last year as The Double EP: A Sea of Split Peas. Critically acclaimed appearances at major music festivals followed. Yet none compare to her achievements on Sometimes I Sit and Think, and Sometimes I Just Sit.

Placing a fresh spin on the adage "leave them wanting more," Barnett reshapes the apparently ordinary into incidents infused with aha moments, unexpected revelations, and candid admissions. Seemingly plain on the surface, her vignettes skirt obvious conclusions. She challenges anyone within earshot for their undivided attention on the album-opening "Elevator Operator," which skips along to a contagious beat and Barnett's matter-of-fact sing-speak vocals that begin the second the song starts. In less than three-and-a-half minutes, she sketches vivid profiles of two characters to the extent their habits, moods, and identities are fully formed. An aptly surprising ending clinches the tale, which ostensibly involves routine and shallowness but goes further to address expectation, awareness, and perspective—themes that course throughout the record.
In Barnett's universe, features often seen as trivial signify larger concepts. Cracks in the wall and patterns on the ceiling beget revelations about a relationship in "An Illustration of Loneliness (Sleepless In New York)." Communicated with equal parts spunk and bite, Barnett's backing band curls snake-like rhythms around her half-lazy, half-droopy singing. On the country-folk strummer "Deprestron," she both flips the script on the charms traditionally associated with suburbia and confronts swept-under-the-rug circumstances connected to property sales. In the process, Barnett assails not only real-estate customs that encourage buyers to bury history, but myriad practices and procedures that cause people to lose sight of feelings and responsibility.
Indeed, the singer employs understatement and nuance to imply there are serious costs and consequences connected to habits that remain out of sight and behaviors taken for granted. "Dead Fox" grapples with environmentalism, waste, and consumption as Barnett contemplates fruit sold in the market, trucks that pass by her, and animals slaughtered for her food. "Kim's Caravan" is similarly subversive, its slowed pace and echoing distortion indicative of the song's weighty meditations on culpability and exploitation. As she does many times on the album, the 26-year-old utilizes simple notions—and identifiable situations—to express broader points in astute manners.
Barnett also understands how to have fun. She takes shots at indecisiveness and facades on the catchy "Nobody Really Cares If You Don't Go to the Party," ringed with driving guitar riffs, nasal accents, and spunky vibes. During the spring-loaded "Aqua Profunda!," the singer dizzily recounts an encounter with an attractive stranger at a swimming pool and wraps anxiety, desire, embarrassment, and disappointment up into one hilariously sincere two-minute story. And on the tongue-in-cheek "Pedestrian at Best," Barnett lashes out at pretense, sanctimonious, and presumption with savage impact.
At its core, the stomping song recalls the rawness, insistence, and volume of mid-period Nirvana, the group whose chords Barnett learned when she first picked up a guitar. If Sometimes I Sit and Think, and Sometimes I Just Sit is any indication of the Australian singer's trajectory, countless young upstart musicians will be sitting at home and using Barnett's work in the same way during the years to come. -Bob Gendron
You can purchase this here from Music Direct: