posted: March 21, 2012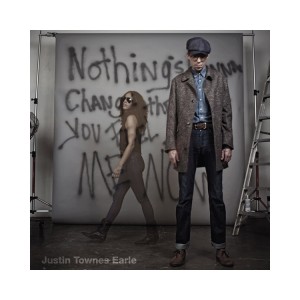 "Hear my father's voice on the radio/Singing, 'Take me home again,'" warbles Justin Townes Earle one second into his new Nothing's Gonna Change the Way You Feel About Me Now. He invokes Steve Earle once again on the closing "Movin' On," but only by way of conversation with his mother. Fittingly, the reference is quickly swept under the rug. As it should be, for on his fourth and finest album, the younger Earle completely puts his patriarch in the rear-view mirror, accomplishing the difficult feat with such convincing authority that any comparisons from here on out are nothing but lazy and trivial. It doesn't hurt that the stripped-down, Memphis soul-ridden set eclipses anything dad's made in more than a decade.
Weighing in at barely over a half hour in length, the 10-song set exists as an archetype of concision and economy. There's not a wasted note, not one tossed-off idea or space filler. Earle doesn't over-think or -analyze any moves. The casual attitude extends to his decision to cut the album entirely live, sans overdubs, in just four days at a North Carolina studio that was converted from a church. Earle's succinct songwriting, pleasant band, and fluent sonics beget a creative trifecta: Nothing's Gonna Change the Way You Feel About Me Now exudes direct purity and conviction. The songs sound as if they could come from any era—whether via a 1950s jukebox tucked away in neighborhood bar in El Paso or through a modern working band's amplifiers. Their messages are honest, simple, and sincere, their melodies as warm and assured as the embrace of a loved one's hands wrapped around a partner's waist, and their feeling comfortable, natural, weightless, charming, easy.
Demonstrative of the album's title, a majority of material revolves around relationships, and largely, the adaptations one usually must make to hold on to them. Earle's protagonists yearn to find more preferable circumstances and reflect upon self-improvement. Earle sings "I thought I'd be a better man" on the contemplative "Am I That Lonely Tonight?"; indicates he's "learning to be a better man" on the jazz-stoked shuffle "Look the Other Way"; wonders "maybe if I were I better man" on the heel-kicking R&B dust-up "Baby's Got a Bad Idea"; confesses he's "looking for a change" on the bright midtempo waltz "Memphis In the Rain."
Similarly, the namesake character in the achingly gorgeous "Unfortunately, Anna" wants for geographical and emotional transition. Earle paints her as a small-town local at the end of her rope, his sympathetic voice allowing tension to mount yet refrain from anger, the desperate wishes taking the form of pleas and leading up to a point where the singer delivers a knockout one-liner that turns the situation upside-down and seizes upon reality as a confrontational wake-up call. "It's you that's got to change," he matter-of-factly declares, the record's theme again coming full circle. But change is never easy—a concept the record openly and regularly acknowledges. "I just can't stand myself alone," Earle divulges after he's offered an opportunity for a getaway retreat on the bluesy juke "Movin' On," during which the bandleader realizes trying is key to any success.
Addressing desires, regrets, failures, compromises, and minor triumphs in disarmingly plainspoken fashion—and with equally relaxed and bare-bones musical support via rubber-necking stand-up bass lines, cooing organ passages, brushed percussive beats, purring string devices, delicate piano notes, and measured brass fills—Nothing's Gonna Change the Way You Feel About Me Now is as resolutely human as an album can be. Staying patient, refusing to hurry, and taking the shapes of teardrops and ribbons, the music unfurls as a soulful and soul-affirming courtship dance none of us can afford to ignore
–Bob Gendron