The Phonon SMB-02 Headphones
Listening to the gentle, guitar and bass opening to Meshell Ndegeocello's version of "Please Don't Let Me Be Misunderstood," the Phonon SMB-02 headphones instantly impress, with a nice, big, wide soundstage and natural sound.  And this is just via my iPod with 256kb/sec MP3 files.  Listening to the same album again, ripped from vinyl is another world entirely, expanding in every direction.  With the MP3 files, the soundfield is confined to the space directly through my ears and while sounding good, I am fully aware of headphones on my head.  High quality digital files expand the boundaries considerably and it's easy to forget about the phones and concentrate on the music.  A similar result is realized with high resolution files from HD Tracks.
With a current MSRP of $350, these are not budget phones, but not crazy money either.  The packaging is fairly straightforward, but the build quality is high, with the SMB-02s feeling and looking more expensive than the price tag would suggest.  The design aesthetic is clean and tidy, the SMB-02s are not a major bling headphone, putting the emphasis where it counts, on performance.
Straight from the box, the initial sound is relaxed and only slightly constricted and a brief break in of about 50 hours of fairly dynamic music at a moderately high level takes the slight edge off the out of the box stuffiness.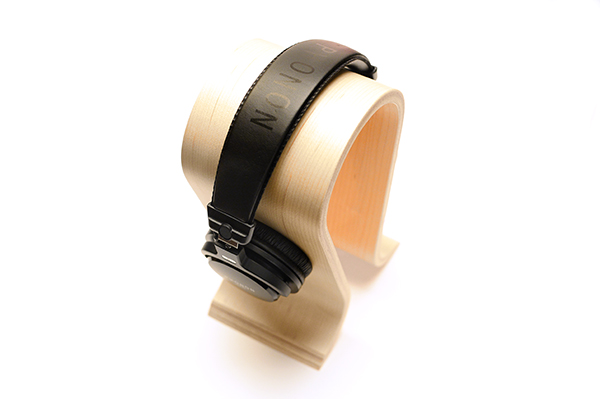 The SMB-02s are very easy to drive, and are highly compatible with your favorite smartphone, tablet or laptop, which should have more than enough power to produce adequate sound pressure levels.   Unlike some more demanding phones, this feature alone makes the SMB-02s a perfect choice for the personal listening enthusiast that wants high quality headphone sound, but isn't ready to make the jump to a dedicated headphone amplifier right away.
Viva la difference
However, the high resolution of the Phonon phones easily demonstrates the virtue of upgrading your headphone rig.  While the SMB-02s spent a lot of time playing Apple Lossless files from my iPad with good result, the ALO Audio Pan Am, AURAliC Taurus Mk. 2 and the ALO Audio Studio Six all paired up with these phones, revealing more music in the process.  While the $2,000 Taurus and $5,000 Studio Six were over the top, they do illustrate that the SMB-02s are indeed a premium set of headphones.
When compared to the Sennheiser HD800 and Audeze LCD-2 phones through the Studio Six, the SMB-02s reveal their limitations in terms of ultimate resolution and dynamics, clearly showing that the top phones are still worth their mettle.  When listening to the 45rpm version of Peter Gabriel's Security, via the AVID Acutus Reference SP/Lyra Atlas/ARC REF Phono 2 SE combination, drums hit harder and transients in general have a more crisp feel.  It is worth noting that it does require stepping up to the Taurus or the Studio Six to hear a major overall difference between the SMB-02s and the high dollar phones, and at the same time, it is nice to know that these $350 headphones have a lot of potential waiting to be unlocked for those just having an iPod, stepping up to better amplification.
Across the board good
Listening to a wide range of music from classical to hip hop and electronica reinforce the even tonality of these phones.  If comparing them to a speaker, the one that comes to mind is the Vandersteen 2Ce Signature.  Like this famous loudspeaker, the SMB-02s do everything right and nothing wrong.  They nail timbre, and acoustic instruments sound correct.  Those preferring acoustic music will not be disappointed by a frequency response that is tilted one way or another, while fans of heavy rock will enjoy the truly full range response, especially the level of resolution in the lower registers.
The bass grooves in Mr. Scruff's latest, Heavy Metal, are solid and free of muddiness or overhang, as is the heartbeat at the beginning of Pink Floyd's classic, Dark Side of the Moon. HF response is equally smooth and extended without being harsh.  Combined with the SMB-02s light weight both physical and aural fatigue are kept to a minimum – these are phones you can wear for extended listening sessions without discomfort.
Conclusion
Auditioning the Phonon SMB-02 headphones with a wide range of source material and headphone amplifiers, they prove to be one of the finest all around choices we've experienced.  While many headphone enthusiasts collect a stable of headphones, with some being better at one aspect of sound reproduction than others, the SMB-02s true strengths are that they perform a wide range of tasks incredibly well.
Combining that with the fact that they are easy to drive, and offer a high degree of musical satisfaction with even an iPod or smartphone as a musical source, makes them an excellent (perhaps one of the best) choices for someone wanting one great pair of headphones.  And for now, US buyers can only get them in New York at Stereo Exchange, so I suggest giving them a call to get your own pair. Even those with a major stable of phones will want to add the SMB-02 to their collection.
And for this reason, we award the Phonon SMB-02 headphones our first Exceptional Value Award for 2014.
The Phonon SMB-02 Headphones
MSRP: $349
www.phonon-inc.com (factory)
www.stereoexchange.com (US Contact)