Audio Pro LV2 Wireless Speakers
Whether you are often on the go, or a more stationary human that just would like great sound in a compact space, freed from the wires that bind you to a rack full of hifi gear, the thought of wireless speakers has no doubt crossed your mind.
Unfortunately, most of the current offerings either offer disappointing sound at best and aesthetics that leave much to be desired. There's nothing like a bit of Scandinavian design and black leather to spice things up, and the Audio Pro LV2 wireless speakers sound fantastic as well.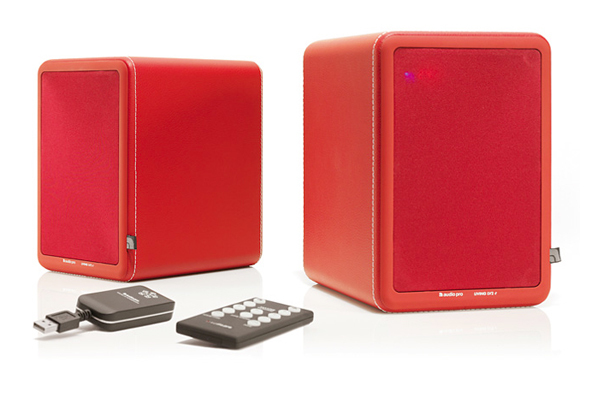 Utilizing a two way, front ported design, featuring a 4.5 – inch woofer and a 1-inch soft dome tweeter, each powered by a 25 watt class D amplifier, and optimized via DSP crossovers, the LV2 plays with authority and offers much more dynamic punch than I was expecting from such small speakers.  Audio Pro claims that their wireless transmitter that operates in the 2.4GHz band will carry for about 165 feet (50 meters) could not be verified, but they did work from anywhere in my house to the garage or studio, which were about 50 feet away.
Great Sound Everywhere You Are
Available in white or black leather, these small speakers that only measure about 8″H x 6″W x 7″D will fit anywhere – there's no excuse for not having great sound anymore.  The LV2s have been my traveling companions – using them almost non stop for the last six months, tucked in a small Pelican case, they've provided music on the go and transform the hotel experience into something much more hospitable, much more livable.  Their leather finish is particularly attractive – and solicited enthusiastic responses from my male and female non-audiophile friends.
Fully compatible with Apple's Air Play, the setup is quick and easy.  Plug the TX100 dongle/transmitter into a free USB socket on your laptop or computer, head to the control panel and tell your computer to output audio to the AudioPro system. Mac users, choose "USB Headset" and push the play button in whatever music player utility you use.
$1,000 buys you a pair of LV2s and the TX100 transmitter, along with the necessary wall wart power supplies to power them up and a handy remote control that lets you control three separate volume zones in your house. (And a master level control) Both the TX100 and the speakers offer three wireless channels so that you can have more than one system playing in your environment.
While you still require an AC outlet to power the LV2s, being freed from running speaker cables opens a lot of possibilities.  A little too gorgeous to go in the garage, they are fantastic everywhere else.  They provide a perfect way to bring sound out on deck for a grilling session, and now that a few friends know about the pelican case, the LV2s have been invited to more than one dinner party.
Natural mids, Excellent Imaging
Easing into critical listening, the recent AF remaster of Crosby, Stills and Nash's self titled album reveals a lifelike midrange, keeping these three vocalists autonomy intact within the mix.  Other equally dense recordings proved effortless for the LV2s – underlining what a great job the Audio Pro engineers have done with the crucial midrange region.   KD Lang's Ingénue album was equally compelling.  Her trademark vocals had plenty of tone, sustain and breathiness to impress.
Thanks to the open and non – fatiguing sound the LV2's offer, you may find yourself abandoning some of your playlists and just listening to the whole album – I did. While not terribly tangible, this seems to be an easy way to judge listener fatigue.
As mentioned, the LV2s are easy to work with in terms of speaker placement.  The more passionate audiophile can, of course, tweak the setup to achieve maximum results, but these speakers sound great with a minimum of fuss, just placing them on a desktop, bookshelf or countertop.  Should you be so inclined to get that extra bit more from them, experimenting with small footers to raise the speakers about an inch off of the surface they are placed on will eliminate some of the bass gain (which I actually found to my liking in the desktop environment) but will yield even cleaner midrange response.  Just avoid anything sharp and pointy, so you don't harm the leather case. How much of a crazed audiophile are you? Fortunately, wireless operation means no fussing with speaker cables.
Playing a wide range of program material with various levels of quality proves the LV2s have ample dynamic range to really rock out and enough resolution to easily discern between mp3 and CD quality files if you have a mixture at your disposal.  Because of the systems 48khz sampling rate, 24/96 or higher sources will be a moot point.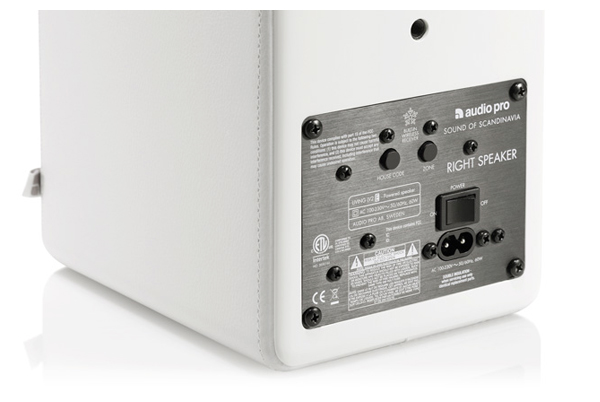 Bass and Then Some
Most good desktop speakers feature great imaging, with the listening spot seriously nearfield, so bass is what makes or breaks an awesome desktop experience for this listener.  Sampling beats from Dark Side of the Moon, The K&D Sessions, and Can's Tago Mago, the LV2s have well defined bass extension without overhang or upper bass bloat.  Should you need to rock the bass a bit more than the LV2s provide, the LVSUB will fill the bill, with its 8-inch woofer powered by a 200 watt class D amplifier, featuring the necessary level trim and crossover adjustments on the rear panel – all wrapped in matching leather.
The LV2s tick all the right boxes to make for a great desktop and portable audio system, yet those requiring even more power will be pleased with the new LV2e model that will be released as you read this.  They have made some minor driver changes, but the most exciting difference is the addition of a satellite mode that rolls off the bass response when used with the LVSUB – allowing 10db more output than just running the LV2s full range.
If that doesn't turn you into the Maxell guy at your desk, nothing will!
The "e" model now has wall-mounting capability, along with red as an optional color.  Pricing stays the same at $1,000 per pair, and for those wanting something even more unique, there is a brown saddle leather option at $1,300 for the most posh environment.
Those requiring great sound with stylish good looks and freedom from speaker cables, look no further than the AudioPro LV2.  I've enjoyed them enough to purchase the review pair.  – Jeff Dorgay
The AudioPro LV2/LV2e
MSRP:  $1,000
Mfr. Info