Audio-gd Reference 10.2 DAC…And More!
A common view among some more senior digital audiophiles (those that remember the CD spinners of the 90s) is that newer delta-sigma (single bit) chips can't reproduce the rhythmic impact and dynamics of their multi-bit forerunners.
Mention multi-bit in the right company and words such as 'analogue' and 'smooth' get bandied around.  A surge in delta-sigma implementations means that such multi-bit DACs are beginning to fade from mainstream consciousness.  Whilst the audible magic isn't just in the chip itself – there's power supply and output stage to consider – there might be some truth to the superior 'rightness' to DACs that sport, say, a Philips TDA1541 or a Burr-Brown PCM1704.
A New Player in the Digital Arena
Kowloon-based Audio-gd might be new to some readers. They are one of several emerging Chinese manufacturers who have taken the slow boat to reputation building.  The design ethos of chief engineer He Qinghua ("Kingwa") is empathically 'old-school'.  Pop the lid on any one of his products and you'll be exposed to the work of man obsessed with power supply quality.  He's also a keen proponent of the decoding chips of yesteryear.  Texas Instruments' PCM1704 forms the nexus of his higher-end (<US$2000) designs.  Despite a brief flirtation with ESS Sabre models, Audio-gd's cheaper DACs (<US$1000) rotate around a Wolfson WM8741 axis.
Audio-gd's (8 x PCM1704) flagship Reference 7.1 DAC still wows with snap-attack micro-dynamics and tonal beauty; something that often eludes many delta-sigma designs, especially at sub-$1000 price points.  Delta-sigma chips are presumably chosen by manufacturers for their lower production-cost impact and on-silicon extras (e.g. up-sampling, filtering, volume control).  Audio-gd has infiltrated this space also. In Australia at least, Kingwa's NFB-2.x has long been seen as the go-to digital decoder for five hundred bucks.  A crown that has only been recently challenged by Schiit's Bifrost.
The Reference 10.2 DAC/head-amp/pre-amp is new for 2012. It runs with four slabs of PCM1704 multi-bit silicon. Two per channel for a fully balanced topology.  Right off the bat, this unit's panache with pace, timing and rich tonal colours (as per the Reference 7.1) is easy to pick. However, with an absence of (fixed) line-out connectors, pre-amplifier and DAC stages are fully inter-twined to feed *variable* single-ended or balanced outputs as well as Audio-gd's own current-domain ACSS connectivity.
A switch on the rear allows the use to specify linear (70 steps) or exponential (99 steps) volume attenuation as well as volume setting memory; useful if you have sources of varying loudness.  The pre-amplifier adds a maximum of 13db gain with 0db points are located at 46 (out of 70) or 65 (out of 100); useful for running in DAC-only mode.
The brushed aluminium chassis is as deep as it is wide, rounded corners being the only aesthetic concession to lift it beyond the rudimentary. You're not paying for exotic casework here.  Neither are you paying for a deluxe remote control – it's a fairly standard aluminium billet. Peeking inside: an R-core transformer feeds each of the three fenced-off subsections: left channel, right channel and digital (which bowls down the middle). The Altera Cyclone II chip handles digital filtering ("DSP-1, Version 5"), data re-clocking and – therefore – jitter minimisation. Connected to this CPU-esque square are jumpers for setting over-sampling options (2x, 4x, 8x or NOS).  A DIR9001 receiver board handles S/DPIF inputs of up to 24/96 but the TE8802 receiver board from Tenor is the new star of the digital input show: it's asynchronous, USB Audio Class 2.0 and handles up to 24/192 – but drivers for both OS X and Windows are a must. Prior to installation on a Snow Leopard-y 2010 MacMini audio consistently crapped out after 10 seconds of playback, Once installed, audio ran seamlessly from both the aforementioned MacMini and 2011 MacBook Air (Lion)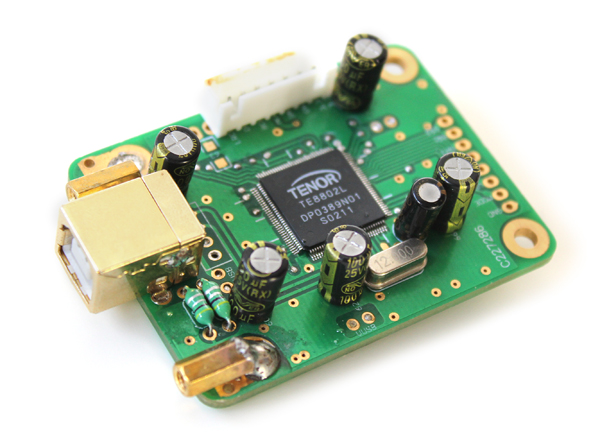 Multiple Inputs
All too often with boxes like this USB ends up playing second fiddle to a good quality S/PDIF feed. For many multi-input DACs even a modest USB-S/SDIF convertor will best the sound quality of the in-built USB port can muster.  Improvements usually present as a more effortless presentation and less evidence of ash-tray grey in the treble.  Whilst the Reference 10.2 is no exception, the Tenor board is a sign that in-built USB (done right) can get close to its neighbouring S/PDIF input. In a broader sense it's encouraging to see a manufacturer taking USB seriously.
However, end users of even this Audio-gd unit are still advised to go with a good USB-S/PDIF convertor if they want to drag the VERY best from their source PC/Mac. In my listening tests either a JKSPDIF MK3 and Empirical Audio Synchro-Mesh were required to juice the most vivid presentations of Lampchop's Mr. M from MacMini and Squeezebox Touch respectively.  Both set-ups bested the Tenor USB implementation with jumpier micro-dynamics and broader believability.
My world vs your world. With a fresh copy of Music On Vinyl's 180gm re-issue of Bowie's Heathen on the turntable, a digital vs vinyl stand-off was set. Could the analogue-fancier's favourite DAC chip hold a candle to a most modest vinyl rig (Ortofon Blue + Rega RP1 + PSAudio GCPH)? The latter was hooked into the first of two line single-ended inputs on the rear of the Audio-gd.  An Empirical Audio Synchro-Mesh and Squeezebox man-handled the FLAC rip.  Chris Sommovigo's Black Cat Morpheus interconnect and Silverstar digital interconnect stitched it all together.
The digital take on opener "Sunday" is emphatically more dynamic, wider of staging and more three dimensional.  Conclusive winner? Not quite. On vinyl, this emotionally-detached Bowie album comes across as softer and more supple of musical joint. The Audio-gd pre-amplification injects a soupçon of effervescence into the RP1, which can at times sound top-end-neuterered when heading source-direct into the Audio EL34 amplifier.  Think Audion single malt with a squirt of Audio-gd soda.
Comparisons
What about digital vs digital in the headphone space?  As a standalone DAC/head-amp, the CEntrance DACMiniPX's sound is shinier, more chrome-polished than the Chinese unit.  The American serves up more room ambience and transients run with more bite.  The Audio-gd doesn't wear such flashy pants.  Instead, it takes the listener by the hand through darker, smokier rooms. That's not to say it is at vague with detail retrieval.  It isn't.  Typical of other multi-bit/delta-sigma DAC showdowns, the Audio-gd is more unassuming; it doesn't shout about what it's found.  Quick-switch A/B comparisons between CEntrance and Audio-gd might lead the more impatient listener to favour the former.  The Audio-gd demands more time – only after several weeks of listening do it talents begin to unfurl. Think of the darkest chocolate demanding a more mature palette for better appreciation of its higher cocoa (and less sugar) content.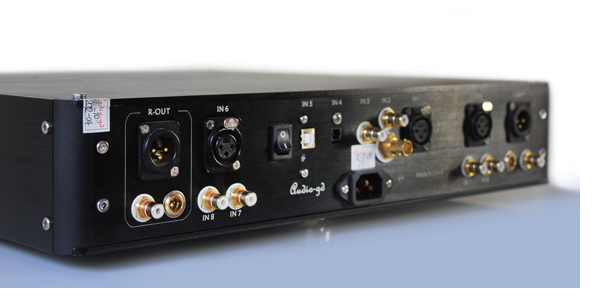 Working as a standalone decoder, the DACMiniPX line-out was then lassoed to the second line input of the Audio-gd DAC/Pre-amp. A predictable sonic half-way house was reached: the DAC detail sparkle of the American mixed infused with the richer-flavoured Chinese headphone stage.  Kingwa's power supply delineation – one R-core for each of channel and one for the digital stage – is exceptional at this price point. This is not not to downplay what Michael Goodman achieves with 19V of switch-mode juice but to marvel at what can be achieved with a dedicated Chinese production facility aiming for a sticker of under US$2K. It's abundantly clear why both companies have a formidable reputation amongst more seasoned head-fi-ers. I could live with either unit as daily headphone amplifier.  Both handle AKG K-702s with aplomb – something you can't say about many rival all-in-one units.
Consider the Audio-gd if your current headphone experience borders on the overly-bright or if you want to dig deeper into the mix with a balanced connection. Having said that, the balanced topology of this amplifier means even quarter-inch-ers benefit.  Furthermore, if you're op-amp reluctant or have cans that are a more challenging drive, the Reference 10.2 could also be for you. This fully discrete headphone stage's output is specified as furnishing 6000MW into 50 ohm, 3500MW into 100 ohm, 1200MW into 300 ohm and 600 MW into 600 ohm. The Reference 10.2 combines the bleach-clean signature of Audio-gd amplification with the caliginous detail trawl of their top-of-the line DAC. A classic car augmented with go-faster stripes. Sound incongruous? Nope. What we hear is neutrality that's not tainted by synthetic glare. A digital swiss-army-knife front-end that sounds anything but artificial.
It's easy to be impressed with trophy hifi. Or showroom demo theatrics. Audio-gd won't allow for either. I've yet to hear a multi-bit-chipped DAC that I didn't enjoy.  With knockout power regulation as much a part of the recipe, the Reference 10.2 is no exception. It gently nods to the empirical rumblings and ramblings of old timers. That Kingwa can bundle in fully-balanced preamplifier and headphone amplifier for less than $2k renders this black box a serious contender from the fringes of mainstream choices.  If you can live with the prosaic casework and have no need for home theatre bypass it offers a genuine alternative to the ESS Sabre-chipped offerings. Furthermore, Audio-gd's promotional copy is free from unfulfillable jitter-destruction promises.  It puts its sound where its promotional mouth should be and it scores pretty much every time you listen.  -John Darko
Pub Note:  For more of John Darko's insightful audio reviews, visit his site – Digital Audio Review
The Audio-Gd Reference 10.2
MSRP:  $1,850 (USD)
Manufacturers Information:
Peripherals
2010 MacMini / 2011 Macbook AirSqueezebox TouchEmpirical Audio Synchro-MeshJKSPDIF MK3Rega RP1PSAudio GCPHAudion EL34 Sterling power amplifierCEntrance DACMiniPXZu Omen bookshelvesProAc Tablette Reference 8AKG K-702
Cabling
Black Cat Silverstar digital interconnectBlack Cat Morpheus interconnectGrave Science speaker cableQED USB cable