The Big Lebowski Soundtrack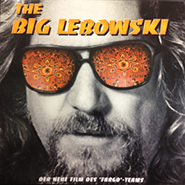 The Big Lebowski has a cult following that just continues to grow and if you had five bucks for every time you tried to ape "the dude," you could probably go on holiday somewhere pretty nice this year.
Soundtracks are always a hit or miss, often getting stuck between chic and cheesy, but the BL serves up some pretty cool choices – perhaps the most intriguing, the Gipsy Kings rendition of "Hotel California," the fourth track on a fairly chilled out side two.  This side ends with Townes Van Zandt doing"Dead Flowers."  Side one is even more eclectic, featuring Captain Beefheart, Bob Dylan and Nina Simone mixed in with a previously unreleased Elvis Costello tune, "My Mood Swings."
Fans of the movie know what a bizarre romp it is and this record captures the feel perfectly. The sound quality is fair, but this is a record you by for the fun factor.  If it wasn't a movie soundtrack, it could easily be a cool mix tape from a clever friend.  And isn't that what it's all about?
SoundStageDirect has an exclusive on this gem, so click here to add one to your collection…