REVIEW: Creek Audio Wyndsor Phonostage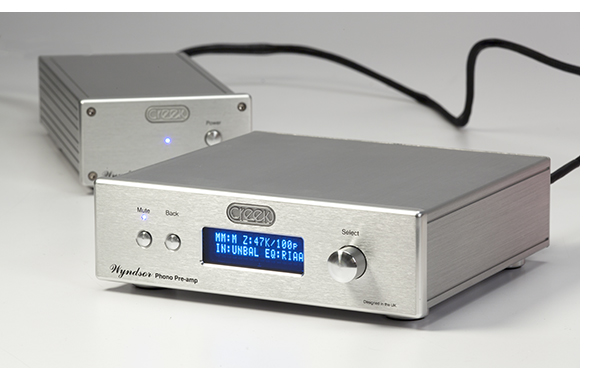 Is it just me, or has it been raining phonostages lately?
It seems as though the vinyl downpour keeps coming, and there are no signs of it subsiding.  Vinyl sales were up 37% last year, which is a great thing for vinyl lovers.  And equipment manufacturers seem to be keeping pace with this trend, considering how many new phonostages are popping up from out of nowhere these days.  Where you land in this sea of analog goodies will certainly depend on the size of your record collection, the quality of your system and your ultimate dedication to vinyl.  You'll know vinyl fever has hit you really hard when you decide to make the step up to more than one turntable (or a table with two tonearms), or even if you're just adding a mono cartridge or a second cartridge of different tonality or quality.
The new Wyndsor phonostage offers two inputs, one RCA and one balanced, which makes it perfect for the budding analogaholic.  While Creek Audio has offered fine and very cost-effective phonostages in the past, the Wyndsor is in a different league, both in performance and price.  The English company has come a long way from its humble beginnings.
Opening the Box
Like many others on the market, the Wyndsor is a two-piece affair.  The signal from a phono cartridge is so faint and fragile that any attempt to preserve its integrity is welcome.  This is why the Wyndsor's power supply comes equipped with individual mains transformers and separate regulation for each channel, connecting to the main unit via an umbilical cord.  The main chassis is a deceptively simple looking unit, with an illuminated readout section that can be dimmed or turned off completely, a back button, a mute switch and a main controller knob marked "Select."
It's this "Select" capability that is the key to what's available from the Wyndsor.  From this feature the user can select various parameters for various cartridges and store them in the unit's memory.  You can select cartridge type, load resistance, capacitance, EQ and arm wiring.  Arm wiring?  Yes, you can select single-ended RCA or balanced DIN for the phono cable input.  How cool is that?!
A lot of other phonostages allow for various levels of configurability, but none (at least none in this price range) offer the variety of settings and options available from the Wyndsor.  The folks at Creek certainly thought the feature set through on this product.  What's even better is that these features can be easily dialed up and stored via the "Select" function.  This is a far cry from having to dial up DIP switches that are either behind a panel or, worse, inside the phonostage.
Best of all, you can use the 16-character alphanumeric display to list gain, loading and cartridge type.  This is an awesome feature, and helps to keep your vinyl world organized; especially if you have an arm with multiple headshell/cartridge combinations, it's great to see the one you're using displayed.  Vampires in the audience will be glad to know that you can shut the display off completely if desired.
It's Not Just About Features
The Wyndsor offers up a lot of sonic goodness, but you will have to wait for it a bit.  Straight out of the box, it's rather small and thin sounding, like so many other solid-state phono preamps we've tried.  But don't panic.  Leaving it powered up 24/7 will alleviate about half of this, but it needs some serious break in.  I suggest one of those handy little Hagerman devices that knock high-level output down to an RIAA signal at phono-cartridge level.  Avoid the grumpiness, leave your iPod on repeat for a week and be prepared for the caterpillar to make a big change for the better.
Once broken in, the first cartridge on my list was the Goldring 2400 MM.  I dial up the parameters by the data sheet and let her fly.  Most memorable is the recent ORG offering 45 rpm of Weather Report's seminal album, Heavy Weather.  Of the hundreds of times I've listened to this recording in its various iterations, I've never enjoyed it as thoroughly as I do through the Wyndsor.  The solid, weighty bass line on this exquisite disc makes for much foot tapping and big grins during this listening session.
I couldn't resist another period classic, Edgar Winter's They Only Come Out At Night.  You guessed it, I crank "Frankenstein," taking advantage of the big soundstage provided by the Wyndsor, this time courtesy of the Denon DL-301 MK II MC cartridge.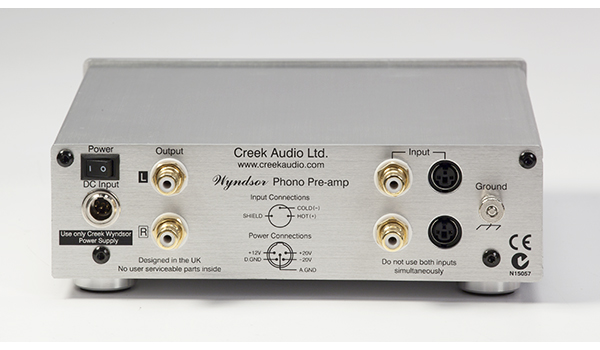 Very Versatile
Changing the cartridge again to the (2.5-mV-output MC) Sumiko Blackbird is easy with the Wyndsor.  Often this high output MC, which likes to be loaded at 47K ohms, is often a little shy for many phonostages' high-output settings, but a bit high for the low output.  Thanks to gain settings at 40, 45, 50, 61 and 70 dB, optimization for maximum dynamic range proves straightforward, with the 50-dB setting perfect in my system.  Even the low output MC Dynavector 17D3 (.23 mV) works well with the 70 dB maximum gain setting, yet it maintains a very quiet noise floor.
The Blackbird's high trackability is a perfect match for Ginger Baker's monstrous drumming on "Toad," from the Fresh Cream album.  Cymbals are nicely fleshed out, with plenty of extension, but no harshness or sibilance.  Unable to escape the gravitational field of classic rock, I turn to the drum solo from "In-a-Gadda-Da-Vida" to wind up the evening's listening session.
One last cartridge change proves the Wyndsor is an equal match for an upscale dance partner, this time the $1,995 Ortofon Cadenza Bronze, a .4-mV MC.  Switching the program to jazz, I play something from the Meters.  The rich tonality of Leo Nocentelli's guitar on the Look-Ka Py Py album is full bodied and three dimensional, with great attack and decay.  A superset of various Dave Holland records gives the Wyndsor a sufficient set of bass calisthenics to prove its mettle.
The longer the Wyndsor is plugged in, the more it smooths out.  You won't mistake this one for a valve unit, but it is not plagued with the graininess that pervades most of the lesser transistor offerings.  If your taste falls more to solo vocals or acoustic music, the Wyndsor delivers, offering a delicate midrange, along with a healthy dose of pace and timing.  The recent Rickie Lee Jones Pop Pop remaster is a perfect example:  Jones' voice never becomes trampled by the big, acoustic bass lines present on this disc.  The Wyndsor proves equally nimble with dense recordings.  The title track of Pat Metheny's Song X collaboration with Ornette Coleman is a torture test on a budget analog rig, with Metheny and Coleman riffing at maximum velocity out in front of a robust rhythm section.  The Windsor keeps it all well sorted, without becoming a gigantic blob of noise—a job well done.
Beyond the Facts
Thanks to the power supply and circuit refinements, the Wyndsor offers quite a bit more sound quality and flexibility compared to the plethora of phonostages in the highly contested $1,000 range.  There are a few single input units in this price range offering even more performance, but if you're like me, then part of your joy in the hobby comes from having multiple tables, tonearms and cartridges. Such being the case, the Wyndsor should be at the very top of your list.  – Jerold O'Brien
The Creek Audio Wyndsor Phonostage
MSRP:  $2,495