Red Wine Audio's Ginevra LFP-V
When "Perfect Sound Forever" debuted in 1983 in the form of the CD, I doubt that anyone seriously imagined the LP would still be with us in 2011.
The compact disc immediately ignited an analog/digital debate among hardcore audiophiles, and while true believers on each side are still holding tight, it's the CD, not the LP, whose future remains uncertain. No wonder many analog loving audiophiles continue to upgrade their turntables, tonearms, cartridges, and phono preamplifiers.
If you happen to be in that group, Red Wine Audio's luscious new Ginevra LFP-V Edition Phono Preamplifier should be on your short list. It's a fully discrete Class-A FET gain stage/buffered tube output, passive RIAA equalization network, and battery-powered design. And that makes the Ginevra the first tube design I've seen that doesn't work off AC power. That said, it's not all that tubey, and there's no overt electronic signature. Indeed, the Ginevra's sound is totally organic. It has substance and weight, so it sounds like live music.
Intriguing Design and Construction
Red Wine founder Vinnie Rossi favors the 6922 (E88CC) dual-triode vacuum tube, and uses it in most of his designs. If you like to experiment with "tube rolling," feel free to try some 6DJ8/ECC88, 7308/E188CC, 7DJ8/PCC88, 6N23, 6H23, 6N11 or 6GM8 tubes. Since the Ginevra uses just one tube, it won't break the bank to keep a few tubes on hand, allowing you to change the sonic flavor when the mood strikes.
Moving-magnet cartridge gain is spec'd at 40dB and loaded with 47k ohms. Moving coil gain, at 60dB, is moderate, so owners of really low-output coils may not have enough juice; Rossi recommends using a step-up transformer if you need more gain. Moving-coil loading options are 75, 82, 90, 100, 350, 500, 1k, and 10k ohms, settable via internal DIP switches, and load sockets for individual resistors are provided for owners that prefer custom loads. While separate connectors for moving magnet and moving coil cartridges are provided, the owner's manual cautions against connecting both types of cartridges at the same time. It should be noted that Red Wine doesn't just pack the Ginevra with a bunch of "D" cells and call it a day. No, the preamp boasts state-of-the-art 25.6-volt "Lithium Iron Phosphate" (LFP) battery technology. These low-impedance battery packs are exclusively manufactured for Red Wine Audio and designed for long life. The battery pack includes a built-in, custom-designed cell management board that balances individual battery cells, both optimizing reliability and battery pack performance. The pack is also user-replaceable, and doesn't require any soldering to install.
Best of all, the Ginevra completely operates "off-the-grid," meaning the preamp is electrically decoupled when it runs off the battery supply. A full charge lasts approximately eight hours, but for all-night parties or background music, you can run the Ginevra off the AC power supply. The battery charges whenever you play the preamp with AC power and when you switch off the Ginevra.
The Ginevra's nicely machined, anodized black front panel is the preamp's most interesting design feature—it's a very plain-looking black box. The unit measures a scant 12″ wide, 9″ deep, and 3.5″ high. Sans the separate battery charger, it weighs 8 pounds. Giving a determined nudge to the power button triggers an internal relay that disconnects the charger's negative and positive AC feeds to the preamp. And the "piezo" switch, with a rated cycle life in the millions, is made in Israel with aircraft-grade aluminum.
Let the Listening Commence
I listened to the Ginevra with a few tubes: the standard JJ Electronic Russian 6922, which possess a sweet demeanor; a similar-sounding Holland-made Amperex 6DJ8; and a significantly more aggressive Sovtek 6922. A $225 EAT ECC88 tube that comes with an attached red anodized heat sink upped the resolution a notch or two over the others, but Rossi's stock tube is very listenable.
With my VPI Classic turntable and van den Hul Frog low-output moving-coil cartridge at the ready, the Ginevra's gain definitely proved lower than that of my Whest TWO phono preamp. Still, I never felt like I needed more gain. The Whest is no slouch, but it's distinctly cooler-sounding and leaves a lot of music on the floor. The Ginevra is grainless, sweet, and beguiling—this preamp is not the sort that dazzles with displays of audiophile "speed," "detail," or "resolution." It's much more musically honest. Treble is purer, better, and more natural than I've heard from most SACD and DVD-A discs. Moreover, the Ginevra is very quiet in battery mode; switching over to AC raises the noise level. Hence, I ran with battery juice most of the time.
The importance of power supply design in phono preamps also can't be overstated. Rossi's battery pack delivers pure DC current just perfectly, which is crucially important when amplifying miniscule voltages generated by phono cartridges. Since the preamp automatically decouples from the AC line when operating on battery power, Ginevra owners will never be tempted to buy pricey power cables or power-line conditioners.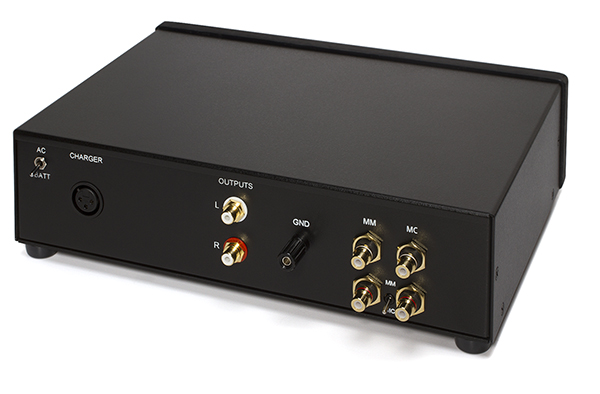 With the Ginevra, record surface noise, clicks, and pops are not necessarily lower in level, but they recede into the background more than they did with my Whest. And the Ginevra's deft portrayals of the quieter parts in music are remarkable in their own right; dynamic shadings and expressive nuance really shine through. In short, music sounds more natural and less like hi-fi. Always a good thing.
I also love the way the Ginevra allowed the sound of Egberto Gismonti's guitar on his Duas Vozes to radiate in three dimensions. Each pluck and every strum fill the studio space to holographic effect. In addition, Nana Vasconcelos' evocative vocalizations and palpable percussion accents populated a broad and deep soundstage.
In listening to the Persuasions' We Came to Play, the Ginevra absolutely nailed the ensemble's a capella sound. I hung around these guys at a few Chesky recording sessions, so I have a good fix on their individual voices and group vibe. I closed my eyes and the Persuasions simply appeared—voices, foot shuffles, thigh slaps, finger snaps, the entire package. This session record led me to The Intimate Ellington, which starts off with Duke talk/singing "Moon Maiden" and gently playing a celeste keyboard. I've spun this LP countless times, and this much I know for sure: Hi-fis rarely get this close to sounding so expressive and downright human.
Making a Tangible Musical Connection
Moving on to more contemporary recordings, like Tom Jones' all-analog, live-in-the-studio Praise & Blame, put a big smile on my face. Jones is no youngster, but his pipes are in great shape, the bluesy, gospel-infused record is loaded with great tunes. By comparison, the Cowboy Junkies' Trinity Revisited sounded cooler, brighter and, well, more modern. Its more upfront nature, sparkly treble, and tighter, more direct-sounding bass stood in sharp contrast to the older, all-analog LPs in my collection. Don't get me wrong. The Junkies' record is nice, but the Ginevra's sweet temperament didn't smooth over the differences.
Paul Simon's brand-new So Beautiful or So What is likely a digital recording (the LP comes with a free 96/24 download), but it's a delight nonetheless. The material is wonderful, and the sound clear and clean, with the musical connection on LP is a wee bit stronger than what I gleaned from the high-resolution file. The Ginevra also lit up the English Beat's stellar I Just Can't Stop It LP. The ska revivalists' beats are as nimble as they come, and the band's tunes are tops. Bass definition was excellent, tuneful, and rich.
I couldn't stop putting LPs on the platter. Giorgio Moroder's dense synthesizer tapestries drifting through the Cat People soundtrack kept me up late at night. The record's high-frequency shrieks and sputtery flourishes floated high above the rest of the soundstage, and I couldn't get enough of the throbbing beats and eerie whooshes. All so 1982! Those were the days, before the CD came onto the scene.
Satisfaction Guaranteed
If you're in the market for a phono preamp that'll get you closer to the by-the-number sound of the better solid-state alternatives, the Ginevra probably ain't it. But if you're like me, you might be in love at first listen. And while the LFP-V is sold factory-direct with a 30-day satisfaction guarantee, I can't imagine many customers ever sending their units back.  -Steve Guttenberg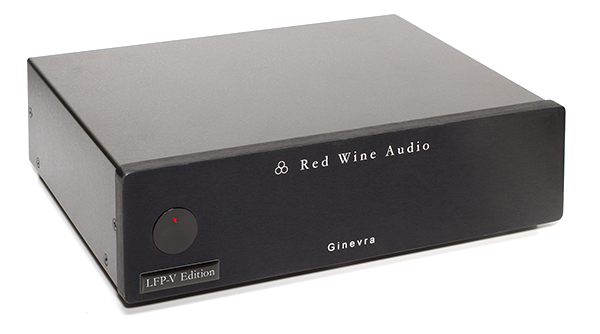 Red Wine Audio Ginevra LFP-V Edition Phono Preamplifier
MSRP: $3,000
http://www.redwineaudio.com/
Peripherals
Analog Source: VPI Classic turntable with a van den Hul Frog cartridge
Digital Sources: PS Audio PerfectWave DAC & Transport, MSB Technology Platinum DAC & Data CD Transport, Oppo BDP-83 Special Edition
Electronics: Parasound JC 2 and Pass Labs XP-20 preamps, Whest TWO phono preamp; Pass Labs XA100.5 and First Watt J2 power amps
Speakers: Dynaudio C-1, Mangepan 3.6, Mangepan 3.7
Cable: XLO Signature 3 interconnects and speaker wire; Zu Mission interconnects, speaker cable; Audioquest Sky interconnects