Feickert Tools: Ultimate Adjustment – Part One
Maybe you haven't been listening to vinyl as long as I have, maybe you've been at it even longer, but I'm guessing that you wish you could get more performance from your analog setup. I'll come clean. I've been chasing analog perfection for my entire life and while I've gotten close a number of times, finding that lost magic has often proven tough. Before you rush off and buy a more expensive cartridge, a fancy new turntable mat or an inner tube, let's maximize what you already have. A good friend of mine likes to say that "good science is repeatable" and I've finally found a way, with the complete set of Adjust + software and tools from Dr.Feickert Analog.
Stay tuned in the weeks to come as we fully explore what the Feickert Tools have to offer and how to use them to maximize your analog enjoyment. As part of our ongoing commitment to analog analysis, we've installed a pair of identical AVID Volvere SP turntables with identical SME 309 tonearms, Furutech AG-12 tonearm cables, along with matching pairs of phono cartridges from Dynavector, Zu(Denon) and Sumiko.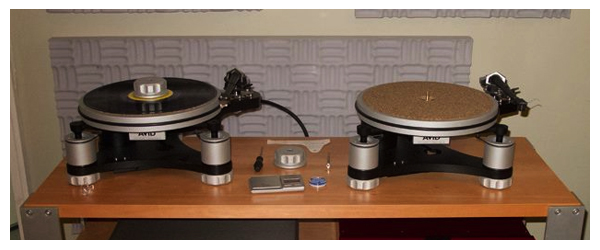 This will provide the optimum test bench to compare every aspect of the analog chain, and along with the two input Burmester 100 phono, directly compare pressings in an A-B fashion. The Feickert tools will assure that both turntable setups are identical to eliminate error.
What we really hope to accomplish is to demystify the setup portion of the analog experience. I've talked to countless people over the years who have lost their picnic spirit for analog becasue of improper setup. But no more – stay tuned to this space.
Those of you in the US can purchase the Feickert tools from Avatar Acoustics
If you are located elsewhere, please go to the Feickert website to find a distributor or dealer near you.