Motorheadphone Headphones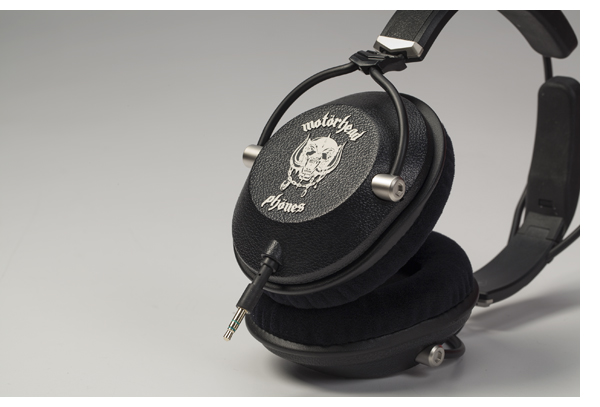 "By rockers for rockers." The slogan behind Motorhead's new headphones (and earphones) cuts to the chase in the same way the band's no-frills rock n' roll blares through stacks of Marshall amplifiers and hits fans squarely in the chest at its concerts. Promoted as lifestyle devices, Motorheadphones claim to deliver rumbling bass without sacrificing midrange and high-frequency dynamics. While legalities prevent the literature and ads from naming names, it's obvious the line seeks to go head-to-head with Dr. Dre's Beats 'phones, which give up plenty of bass but lack in other sonic areas.

Motorhead, whose records fall short of audiophile standards, isn't the first artist that springs to mind in terms of launching personal audio gear. Yet, in terms of branding, the trio's long history, international fame, umlaut-accented logo, and, most importantly, uncompromising live-hard attitude make it the hard-rock equivalent of Harley-Davidson. Vocalist/bassist Lemmy Kilmister and company exemplify independence, nonconformity, and defiance—characteristics associated with rock n' roll.
As such, neither the Bomber, Iron Fist, nor Motorizer (named after Motorhead albums) over-ear model seeks to appeal to hip-hop or classical tastes; the black, heavy-duty construction and silver-embossed logos scream leather-and-studs cool and whiskey-drinking raucousness. Amazingly, audiophile manufacturers still haven't caught up to the fact that most listeners don't simply want good sound and portability. They demand fashionable looks that reflect and project their interests; 'phones are all about making a statement. From this angle, Motorheadphones already have a leg up on the competition. And they're tied to a band unafraid to literally piss on anybody that gets in its way. Look out below.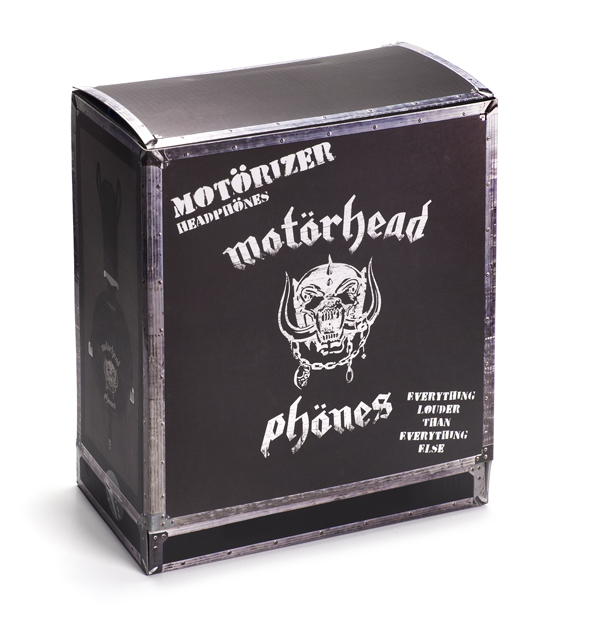 Motorheadphones' lifestyle imaging is reinforced in the clever packaging, intended to mimic a road case. With Motorheadphones, you're not only buying a product—you're buying into a free-spirited belief system, aggressive symbolism, and the group's hallmark "Everything Louder Than Everything Else" motto. For the privilege, prepare to spend $120-$130, which, in the case of the top-of-the-line Motorizer, gets you a pair of 'phones, two cables (a 2.5m version for home listening, and a 1m edition complete with a microphone/controller dubbed "Controlizer" for smartphones), a gold-plated stereo mini-jack adapter, and carrying bag. Cigarettes and Jack Daniels aren't included.
To their credit, Motorizers tolerate high-decibel volumes without caving into distortion or smearing. If, like Lemmy and his crew, loudness is your primary criteria, they won't likely disappoint. As promised, bass is full and smooth, and the percussion healthy and upfront.  Midrange suffers not an iota. However, Motorizers sound rather trebly, with vocals and guitars receiving more attention than they should. It's an intentional bias, but one that on discs such as Iron Maiden's metal-breathing Live Over Hammersmith and Jamey Johnson's country-appointed The Lonesome Song results in annoying brightness and occasional tizziness. The imbalance is to be expected: Beats 'phones amplify the low end; Motorheadphones aim for the opposite by way of restoring the midrange and highs.
Motorizers, which utilize 40mm neodymium speakers, perform fairly well in the areas of instrumental separation and noise-canceling immersion—particularly given the price. However, critical listeners and music lovers preferring a more detailed, warm presentation—as well as a wider, deeper soundstage and realistic acoustic equilibrium—will be better served by other models. Then again, they won't know the fist-in-the-air pleasures of pumping Motorhead tunes like "Killed By Death" through 'phones tailored for such tension-releasing escapes.
Motorheadphone Headphones
MSRP: $129
www.amazon.com