Logitech UE 9000 Headphones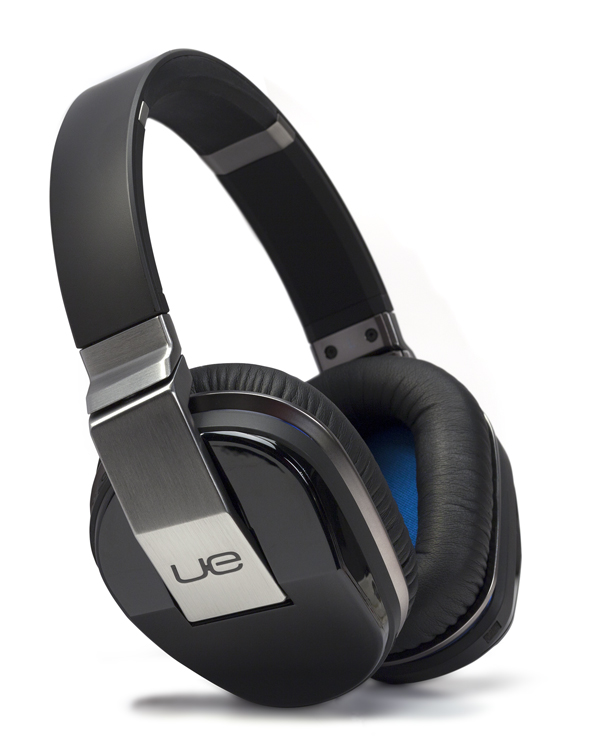 In 2008, when Logitech acquired Ultimate Ears, an industry leader in custom in-ear monitors, the Newark, Calif.–based conglomerate significantly expanded its line of personal audio products.  Today, a full array of headphones and portable speakers are available under the combined name, Logitech UE.  Having experienced success with its in-ear monitors, Ultimate Ears paved the way for the Logitech UE 9000s, a $349 pair of wireless Bluetooth headphones.  With so many companies getting in on the wireless game these days, the UE9000 is a solid contender.
Stylish Good Looks
The UE 9000 is the company's flagship model.  It features elegant styling, and you won't need a pair of zippered Sammy Hagar "I Can't Drive 55" pants to go along with them.  Build quality is excellent, with nary a squeak or rattle.  Oversized ear cups surround your ears with form-fitting memory foam, while the headband has just the right amount of padding, lending an unobtrusive feel to these headphones.
And for those on the go, the ear cups swivel and lay flat in the included hard-shell case, making for a low-profile package that fits easily in your briefcase or luggage.
Broad Feature Set
Logitech packs so many features into these headphones that the $399 MSRP seems like a bargain.  The UE 9000 has an around-the-ear closed-back design.  It does a good job of passive noise isolation, but Logitech also adds active noise canceling for maximum outside noise rejection.  Wireless streaming via Bluetooth supports A2DP and apt-X for lossless CD-quality audio (though not all Bluetooth devices support this codec).  Battery life in wireless (Bluetooth) mode is said to be around 10 hours, with a three-hour recharge cycle.  The phones also have a passive mode so the music doesn't have to stop when the battery is dead.
Kudos to Logitech for including an audio cable with an in-line remote for wired mode.  Having to dig for your music player to change tracks or adjust the volume is often cumbersome.  More manufacturers should follow Logitech's lead on this one.  The integrated three-button remote controls most modern Apple portable devices, and offers play/pause and next/previous functionality, and the ability to adjust the volume.
Listening on the Go
I audition the UE 9000s in three distinct modes: wired with active noise canceling off; wired with active noise canceling on; and wireless Bluetooth with active noise canceling on.  The AudioQuest DragonFly USB DAC running iTunes on my MacBook Air sets the baseline for using the UE 9000s as standard wired phones, before moving on to the more "mobile" options.
Listening to Alicia Keys' As I Am reveals a well-balanced tonality, with nothing jumping out from any particular part of the audio spectrum to distract the listener.  Her voice sounds natural and organic, while the highs have enough oomph and crispness, without causing fatigue.  This album has a heavy bass groove, yet the UE 9000s sail right through, keeping the bass track in place without boom or, even worse, bleeding into the midrange.  There's just enough weight to keep your foot tapping.  I found myself seduced the most by the UE 9000s smooth midrange.
Jumping over to American Idiot (Original Broadway Cast recording featuring Green Day) again underscores the midrange prowess of these phones.  The UE9000s exhibit excellent stereo separation and a relatively wide soundstage—uncommon in a closed-back headphone.
Noise Be Gone
The active noise canceling works in both wired and wireless modes.  With the electronics on, the overall sound signature remains roughly the same.  The most noticeable difference is a tad more kick in the bass ranges and slightly more snap in the highs, which should please most listeners.  This gives music a bit more presence, especially when listening through an iPad, iPod, iPhone or laptop.
Now let's cut the cord!  Pairing the UE 9000 is as easy as hitting the switch and clicking a couple of onscreen buttons on the MacBook Air.  I was wire-free within seconds.  Using apt-X confirms that the stream is rock-solid.  The audio quality exceeds my expectations, though it lacks some of the refinement to be had in wired mode.  But that's a small price to pay to be untethered.
The apt-X codec is unavailable to Apple's portable devices, but I find the A2DP streaming of sufficient quality for general mobile use.  The UE 9000 is a very capable headphone for home and mobile use and is a solid buy, considering its combination of sound quality and versatility. -Michael Liang
Logitech UE 9000 Headphones
MSRP: $399