Audio-Technica ATH-W1000X Headphones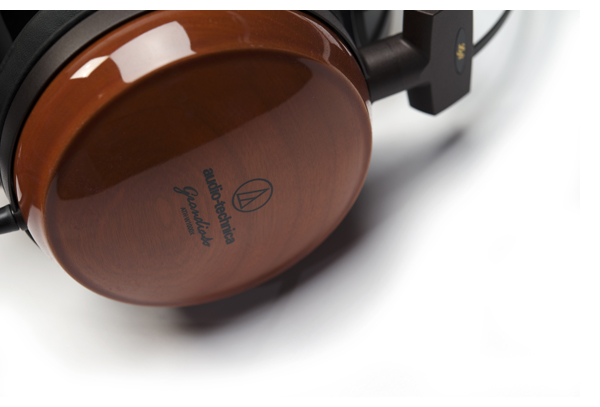 The Audio-Technica ATH-W1000X, which was introduced in 2011, is not a celebrity-endorsed headphone, nor does it come in a rainbow of colors. For $699, you get a headphone designed and engineered for discriminating listeners and music lovers, with ear cups made from American black cherry wood finished in an elegant violin gloss. A matching connector housing at the end of the cable completes the luxury experience, underscoring the attention to detail that has gone into these premium headphones.
For maximum comfort and ease of use, the ATH-W1000X features Audio-Technica's self-adjusting 3-D wings-support housing, which automatically fits any wearer, with no need for adjustment. Those accustomed to traditional headphone headbands may find the feel a little strange at first, as if the headphones aren't secure on your head. The entire headphone's weight is distributed even across the headband, while the ear pads rest lightly, leaving some perceived space between the pads and the side of your head. But this fit actually helps give the music a more spacious and open sound than is typical for a closed-back headphone. It took me a while to get used to the fit, but now that it's familiar, traditional headphones feel a little bit like C-clamps on my head.
With a 42-ohm impedance, the ATH-W1000X is easy to drive and works well with an A/V receiver or even an iPod/iPad—but like any premium set of phones, it responds even better to a high-quality headphone amplifier. I pair the phones with Sound Performance Labs' new Phonitor 2 headphone amp, which employs SPL's dual-channel 120-volt technology (a result of the company's extensive work in the pro-audio world, where many consider the Phonitor a reference).
My main music source for this review is a MacBook Pro, with digital-to-analog processing handled by Wyred 4 Sound's $499 μDAC-HD paired with Nordost Heimdall 2 cables. This palm-size USB-powered DAC can be hidden neatly behind the Phonitor 2 for a clutter-free workspace, a trend I'd like to see from more manufacturers.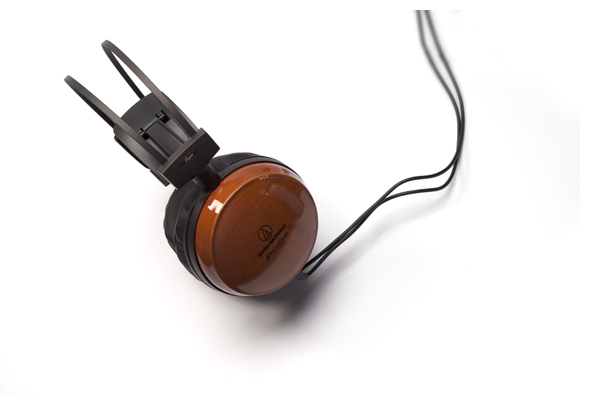 On Girl Who Got Away by Dido, the ATH-W1000X exhibits a smooth tonal balance through the midrange, with Dido's voice sounding relaxed, natural and uncolored. Overall presentation is bolder than the similarly priced MrSpeakers Alpha Dog phones, which I recently evaluated. Through the Technicas, mid bass blends nicely with the midrange without noticeable cross contamination. Treble is equally smooth and displays good extension. I play my music library in shuffle mode to get a variety of music through the headphones, looking for signs of sibilance—with none to be found.
The ATH-W1000X delivers a surprising amount of bass. (No, it is not the kind of heavy bass that bass-heads enjoy.) The album Settle by Disclosure does a good job giving the large 53 mm drivers a workout. There's enough bottom-end to bring music to life. Soundstage on these headphones is respectable, though as not pinpoint accurate as the MrSpeakers Alpha Dog. Through the Phonitor 2, the ATH-W1000X exhibits better dynamics and speed than through the μDAC-HD, which reinforces that this headphone scales well with high-current power sources.
When at the TONEAudio office for photography, Jeff Dorgay (our publisher) put these phones through their paces with the ALO Audio Studio Six headphone amplifier. Jeff commented how neutral, dynamic and extended they are on the wide range of music being fed from his dCS Vivaldi stack.
Standout tracks ran the gamut from classic rock to old-school rap to electronica. "The alarm clocks in Dark Side of the Moon were larger than life," Jeff noted. The bass response was also a big hit through the Vivaldi, shuffling through a number of discs from the famous Hôtel Costes series. Jeff was quick to point out that the ATH-1000X exhibits low audio fatigue and causes low physical fatigue for the wearer—so that 3-D mount is indeed highly effective.
Audio-Technica has done a phenomenal job building an elegant, versatile headphone that is not limited to any specific genre of music. A modest, benign load makes them easy to drive and easy to integrate into whatever your system happens to be right now. While the headphones resolve enough musical detail to warrant high-quality source and amplification components, you can start your headphone journey with just your smartphone and a pair of ATH-1000Xs. Whatever your source, these headphones will deliver a compelling presentation.  -Michael Liang
Audio-Technica ATH-W1000X
$699