AKG K702 65th Anniversary Edition Headphones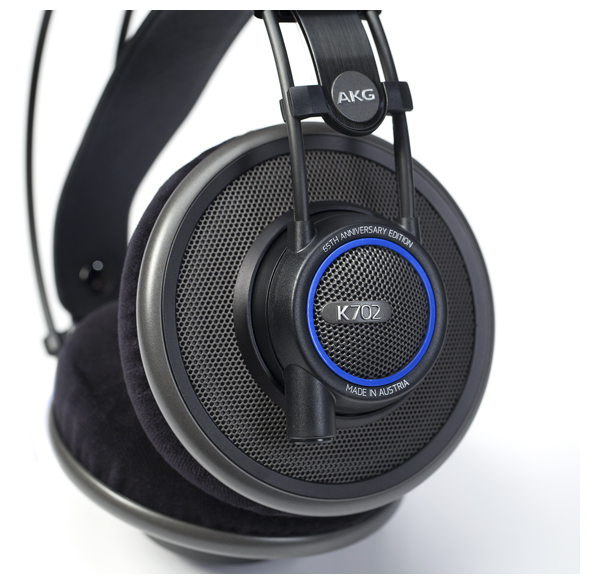 To celebrate its 65th anniversary, Viennese manufacturer AKG introduced two limited-edition versions of older products: the C451 condenser microphone and K702 headphones.  In this review I will focus on the new K702 65th Anniversary Edition headphones (K702-65).  Building upon the solid foundation laid by AKG's K701, K702 and Q701 models, the K702-65th promises to be the pinnacle of a popular and prestigious family. It carries an MSRP of $499.
Visually, the K702-65 is similar to its current production sibling, the K702.  Both models feature an open design that utilizes flat-wire voice coils and AKG's patented Varimotion two-layer diaphragm.  For connectivity, it features a mini-XLR cable, which is detachable for extra versatility.
The K702-65 is handcrafted in AKG's facility in Vienna, and has a limited production run of just 3,000 units worldwide, each of which are individually tested and numbered to ensure the highest quality.  For the new phones, AKG didn't just give us a re-badged K702; the company updated the design with a "TITAN-Look" finish, a redesigned genuine leather headband and soft velour ear pads with memory foam inside them for improved comfort.  The material changes are subtle, but they go a long way.
As you might imagine, some of these changes have also affected the sound signature.  The K702-65 pairs well with the Musical Fidelity M1 DAC and X-Can V8 tube headphone amplifier that I used for the bulk of my test listening.
After 72 hours of burn-in, the K702-65 begins to distinguish itself as more than a mere twin of the K702.  Even though the two models share a common sonic signature, the anniversary version addresses some of the standard K702's sonic shortcomings (which are often perceived to contribute to thinness overall.)
Sampling tracks by Sixpence None the Richer and from Bruce Springsteen's Greatest Hits album, I find the midrange on the K702-65 to be slightly smoother, with more body and texture than the K702.  While still not overly warm or lush, the K702-65 still provides the fairly neutral midrange present in the original, without being so forward or analytic. The highs on the K702 are prone to sibilance, but this is much less noticeable on the new model, particularly when listening to cymbals and percussion.  Sampling some of the recent Blue Note XRCDs is much more relaxing through the newer phones, which also offer a level of refinement that doesn't give up the transparency this model number is famous for.
The new ear pad material makes the biggest difference for the better—not just in terms of comfort, but also in terms of the quality of low-frequency reproduction.  Tracking through Michael Jackson's 25th Anniversary Edition of Bad, I find that the weight and dynamics of the bass line in the title track have better definition and texture, as well as more apparent speed.  Fortunately, AKG has not turned these phones into skull-shaking "bass monsters."
I'll stick my neck out and suggest that if you love your K702 originals than these will be a welcome upgrade.  AKG's 702-65 is the company's best effort to date in the K701/702 series, improving on every aspect the range has to offer without making any sacrifices.  -Michael Liang
AKG K702 65th Anniversary Edition Headphones
MSRP: $499