Simaudio Neo 380D DAC
By Andre Marc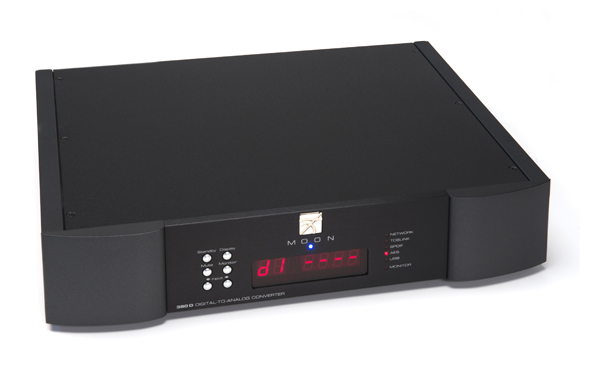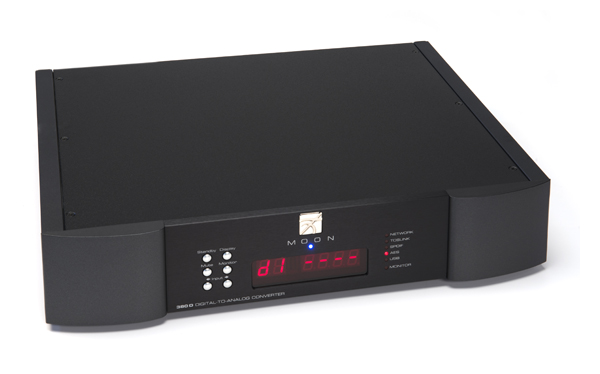 Simaudio is one of the elite companies in the high end audio industry today with over three decades of history. The Canadian company's MOON brand products are among those that continually impress Tone reviewing staff. Simaudio's MOON gear is hand-crafted in Quebec, Canada, and a recent factory tour by Tone made obvious the company's obsessive attention to detail and the pride they take in every product that gets shipped. A ten year warranty on MOON components shows a level of confidence in their design and execution.
MOON is known for it's powerhouse amplifiers, transparent preamplifiers, and their unique and rather stunning industrial design. They recently have been getting accolades for their cutting edge digital products, including disc players with digital inputs, DAC's, and network streamers. In for review is the MOON Neo 380D Digital to Analog Convertor. The 380D is a unique product with a dizzying array of features and enough technology to make your head spin.
It would be impossible to cover all the techie notes about the Neo 380D, but we will try to summarize. First, the unit uses the ESS Technology SABRE32 Ultra DAC / Digital Filter (ES9016) "working in 32-bit Hyperstream™".  Simaudio goes out of their way to stress their efforts to reduce jitter with what they call their "Dual Jitter Control System" that they say is responsible for producing a "virtually jitter-free digital signal below 1 picosecond for ultra-low distortion, and ensuring compatibility with virtually any connected digital device."
There is an array of eight digital inputs including AES/EBU, USB, Coaxial, and TosLink.  The Neo 380D handles PCM signals up to 192 Khz. Interestingly there is also digital output and a digital monitor loop. There are separate digital and analog power supplies,  The design is fully balanced, and there is a pair of XLR and RCA outputs.  Care is taken in regards to chassis resonance. The Neo 380D is available in silver, black, and two tone, by the way.  A remote control is supplied to control virtually every function.  The front panel display is large and easy to read from the listening position, displaying input selection and sampling rate.
The review sample is supplied in black, which makes for a beautiful contrast with the silver function buttons and red LED readout on the front panel.  There is much more. The Neo 380D came equipped "fully loaded" with the optional volume control, and the MIND (MOON Intelligent Network Device) module which allows for network streaming. The volume control is the same circuit found in the reference level Evolution Series, knowns as M-eVOL.  The basic Neo 380D retails for $4400, with volume control costing $600, and the streaming module adding $1200.  The total cost of the review unit is $6200. The MIND module is also available as a stand alone purchase in it is own chassis.  It should be noted the 380D is firmware upgradeable via the network. A firmware upgrade did take place during the review period, and it was seamless.
The Neo 380D is tested in my system first with fixed outputs into a passive controller, then for the majority of the review period, driving a power amplifier directly using the variable outputs.  To get things started  Simaudio's MiND iPad app is installed, with MiniMServer and Twonky server software running on my Mac Mini, where attached drives house the music library. Plugging in an Ethernet cable into unit and selecting the Network input gets you streamed music from a remote networked computer or NAS in seconds. There is also WiFi capability as well, however the unit defaults to Ethernet on startup if a network cable is attached.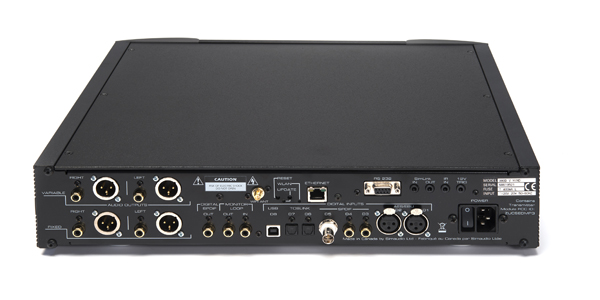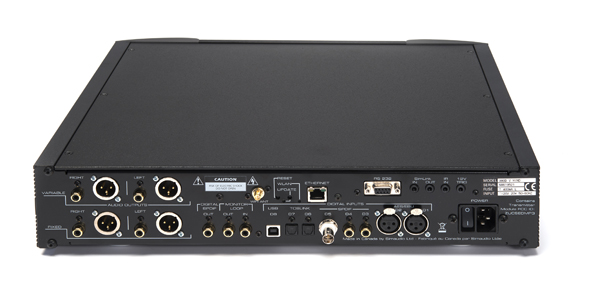 From the first few albums streamed over the network, it is obvious the Neo 380D is an exceptional  digital source component.  Recordings are rendered with an ultra natural presentation with body and a sense of natural flow. The 380D seems to extract the maximum from great recordings but does not flatter less than stellar sounding albums. The 96 Khz, 24 bit remaster of the Velvet Underground's seminal White Light/White Heat is raw, rough, and primitive in the best possible way. The 380D lets you hear how well mastering engineer Kevin Reaves preserved what was on the original master tapes. You can practically see the tape spinning.
Another catalog getting proper remastering is the Black Sabbath 1970's output. The Neo 380D  unleashed the mayhem found on such classic albums as Paranoid, Sabbath Bloody Sabbath, and Vol. 4.  The 96 Khz digital transfers are superb, and again the SIM creates more texture and immediacy than one would have thought possible on these thirty five year old recordings.
On more nuanced material, such as CD remaster of Miles Davis' Seven Steps To Heaven, the 380D shines bright, presenting Davis's horn, and the superb accompaniment from Ron Carter, Herbie Hancock, Tony Williams and others in a glorious light. The piano, bass, and drums fill the room with life like dimensionality one experiences rarely in a home system.
On large scale orchestral pieces, like the amazing Telarc CD of Stravinksy's Rite Of Spring, the 380D creates an enormous soundstage and plumbs the depths. For fetishists who enjoy hearing the "recording space", it was there is spades, with Telarc's minimalist, natural recording technique paying dividends.
As a stand alone with other digital sources, the Neo 380D is beyond reproach.  Connecting my Squeezebox Touch optically yields excellent results.  The 380D also worked with the Squeezebox via USB (with Triode Applet installed).  A Jriver 19 loaded laptop also connected via USB sounds superb as well. To cover all bases,  I connected several disc transports via AES/EBU and coax and the 380D shows that all of it's digital inputs are of a very high standard.
The Neo 380's volume control proves to be the ace in the hole. It is utterly transparent to these ears with an excellent usable volume range and fine gradations in 1 dB steps.  This option is highly recommended if the 380D will be the only digital source in the system and you connect directly to a power amp, as is the case with our reference system.  The optional MIND module and SIM app were flawless, never failing to connect to the network. Browsing the library is a pleasure, especially one with properly tagged and with an organized folder structure.
Perhaps the only place to nit pick is the smallish, cluttered layout on the supplied remote control unit. It would be nice to have the volume control buttons somewhat enlarged. Aside from this minor complaint the Neo 380D integrated into the system without flaw, and provided endless hours of hassle free operation.
Simaudio has a real winner with the Neo 380D, especially in the "fully loaded" edition, with streamer and volume control on board. As a stand alone DAC it easily attains reference status. The 380D will remain a Tone staff reference for some time to come, and sets a benchmark at this price point. Highly, highly recommended.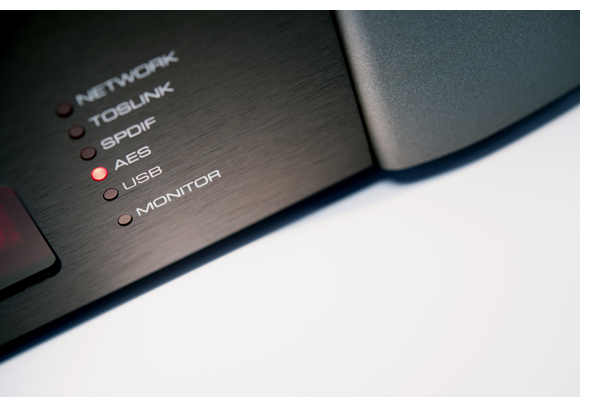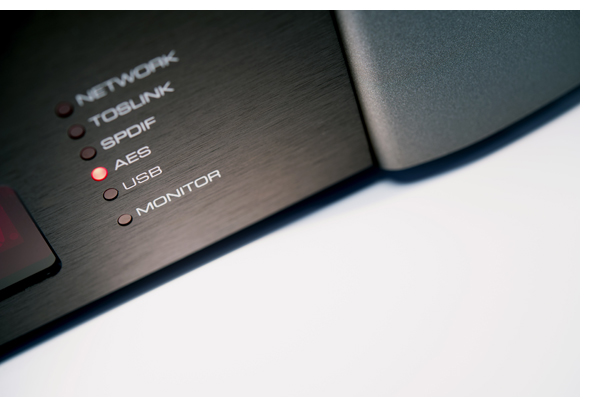 Additional Listening
With so much excitement in the stratosphere of digital design, it's easy to lose track of some of the more real world products that have benefited highly from recent technological advances.  Some might squeal that $4,400 is still a ton of money for a DAC, but in the realm of my $110,000 dCS Vivaldi, it is not.
Yes, there are a lot of great DACs in the $1,000 – $1,500 range, and they are getting better all the time, but there still is nothing we've heard for a grand that makes us want to forget about spinning records.  Simaudios Neo 380D, when placed in the context of a nice $20,000 system is so well implemented that all but the most hard core analog enthusiast just might want to think twice about all the vinyl bother.  If nothing else, when listening to well mastered files, you won't be facing quiet desperation when you switch from analog to digital.  This one, like the AURALiC Vega that we've recently reviewed, raise the bar for musical reproduction at this price.  And they raise the bar pretty damn high.
Though I didn't concentrate a ton on the MiND setup, I did stream a lot of files from my Sooloos Control 15 and Aurender S10 servers, with fantastic results.  While so much emphasis is put on the reproduction of high-resolution files (with good reason), what impressed me the most about the 380D is the stunning job it does with well recorded 16/44.1 files.  Let's face it, if you have a massive music collection, I'm guessing that the majority of it is ripped at CD resolution.  And while tip-top high res performance is important, 16/44.1 performance is paramount, and this Simaudio DAC does not disappoint.  As a matter of fact, it delights.
One of the worst CDs I own has to be The Monkee's Here and Now, The Best of the Monkees. Yet, through the Neo 380D, "Daydream Believer" makes a believer out of me.  Moving along to KISS Alive!, the same thing happens, I'm drawn into the music and my Japanese pressing of this rock classic sounds pretty damn good.  While the worst files in my collection sound great, the great ones sound sublime, and that's what really turns my crank about the Simaudio Neo 380D.  Adding the MiND on board, just makes it so much easier to integrate your digital files into the mix, not having to add a digital cable, power cord, or take up more valuable shelf space.
This mix of sound, function and style, backed by a manufacturer known for high build quality means exceptional value, and we have awarded Sim thusly, with one of our 2014 Exceptional Value Awards.  -Jeff Dorgay
Simaudio Neo 380D
MSRP: $4400,  $6200 as tested.
www.simaudio.com
PERIPHERALS
Amplifier

Audio Research VS55
Preamplifier
Audio Research SP16L    CIAudio PLC-1 MkII
DAC/Streamer
Marantz NA-11S1    Squeezebox Touch
Speakers
Thiel CS2.4    KEF R700
Cables
Stager Silver Solids    Darwin    Transparent    Acoustic Zen
Accessories
Audience aDeptResponse ar6    Shakti Stone    Symposium Acoustics  

Rollerblock Jr.