Rega's Planar 3 Turntable
A Long, Fun Journey
By Jeff Dorgay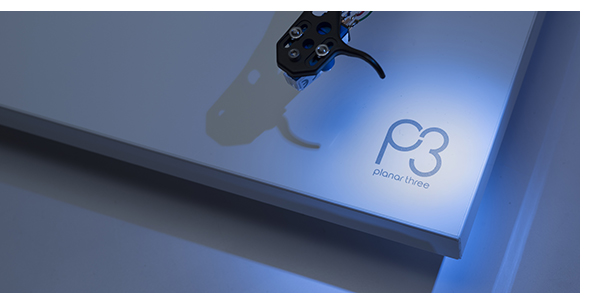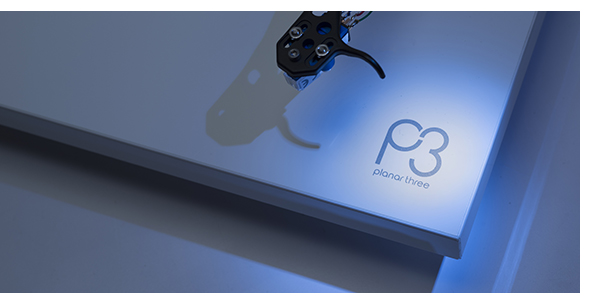 When you see the new Rega Planar 3, take a close look. It's changed. The journey has become a destination. Nearly 40 years of constant refinement makes the Planar 3 the best in its class; no one does it better. Whether you've been a fan for years or this is your first go, this table defines elegant simplicity at an approachable price.
Lots of new bits, top to bottom
Starting as a Planar 3, then becoming a P3 and then an RP3, the Planar 3 designation returns. Rega claims that there are "only two bits in common with the outgoing RP3," and according to Phil Freeman from Rega those are the two hinges holding on the dust cover, so it has been a total redesign. First time and legacy Rega fans will be equally astonished at how much music this table reveals.
Further conversation with Freeman reveals exactly how much has changed. He tells me that they have been going "aggressively" back to Rega's original values and that they have done something "quite special" with the new Planar 3. While Rega has always been about evolution over radical change, a quick look around the new Planar 3 shows it to be overall much crisper than the outgoing table. To the untrained eye, the older P3 doesn't look all that much different, until you look closely and put the close up view of the Macro lens to bear.
You'll notice the feet underneath the table are different, with a wider profile, providing a more stable platform. The braces that goes from the tonearm pivot to the bearing are now 3mm thicker and the plinth is finished to a much higher level as well. Freeman makes it a point emphasizing that much of what they learned building the cost no object Naiad turntable filtered into the Planar 3. "We've streamlined, updated and optimized our manufacturing process, so part of the way we've kept the cost down is by eliminating assembly time. Yet the end result is more consistent than ever before."
Even the glass platter is different. Now made out of a special, clear glass called "Optiwhite," the 12mm platter is made to a tighter tolerance than past models. Comparing it to past platters, they all look green in comparison. This is referred to as a technical glass with no iron content. Rega polishes the edge cleaner, and now you can see all the way through to the center hole. Overall, the table has a much more expensive, refined feel in addition to better sound quality.
There's plenty of stuff you can't see contributing to the improved sound. Better CNC technology makes for a more precise main bearing hub, with no visible fixing into the plinth. The nut and washer of Rega's past are now gone, claiming a much lower noise level and our listening confirms this. Microscopically the bearing is compressed somewhat.  You can hear this instantly in the much lower noise level provided when comparing directly to the old model. Freeman laughs as we end the conversation, reflecting on this journey, pointing out that Rega has not shipped any of their manufacturing away from the factory; "We're control freaks, we have to have control. When you make something 6,000 miles away you can't control them.  And we love making things."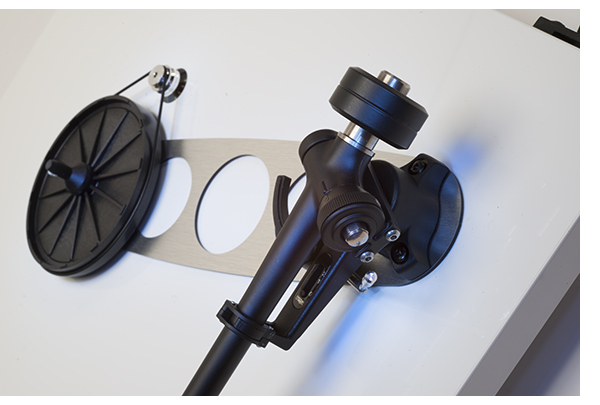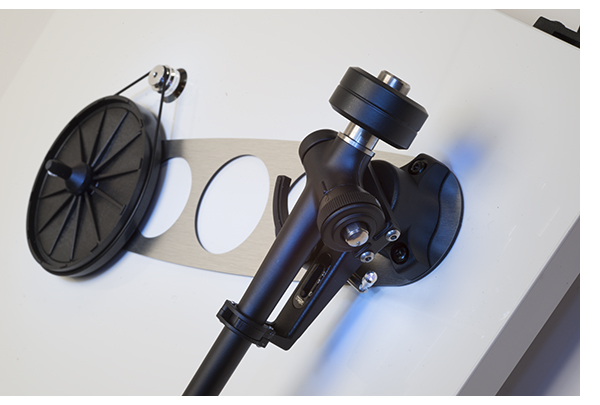 My long Rega journey
It seems like only yesterday I was leaving the world of mass-market hifi and entering the wacky world of high-end audio. Conventional wisdom at the time was that direct drive (i.e. my Technics SL-1200) was bad, and a British belt drive table was good. Not quite able to make the stretch to a Linn LP-12 back in 1982, Rega's Planar 3 seemed the obvious choice. A chance visit to The Audio Emporium in Milwaukee, Wisconsin had them in the process of unpacking a crate full of Planar 3s as I walked in the door. Salesperson Jon Spelt happened to be pulling a lime green Planar 3 out of a box, remarking, "What idiot would buy a turntable this color?"
Well, I was that idiot, and thus began a very long path with Rega and the world of high-end audio. 34 years later here we are. Who knew? All I can remember was bringing that table home, setting it up next to the Technics and spinning the MoFi copy of Poco's Legend. Hey, it was 1982, cut me some slack. The only thing I remember was that it provided a significantly more engaging experience than my Technics and I was pretty excited to finally be part of the club.
Capturing some of that lost memory, it seems appropriate to dig out that Poco album from the vault and test drive it for old time's sake. At first listen the new table sounds fantastic, but memory has a way of romanticizing. The Rega Planar 3, at $945 without cartridge has only gone up about 2.5 times in that period and has made a major jump in performance and build quality. And by combining it with the table at time of purchase, you save $100. Not bad at all.
Getting down to the business of listening, the first thing to check is speed accuracy. About twenty years ago, it was common for Rega tables to run ever so slightly fast and once a few reviewers got wind of this, it was like the Audi sudden acceleration effect that dogged the carmaker for years after (yet no one could successfully duplicate). During the 12-year history of TONEAudio, we've yet to have a Rega table measure anything but perfect speed and the Planar 3 you see here is no different.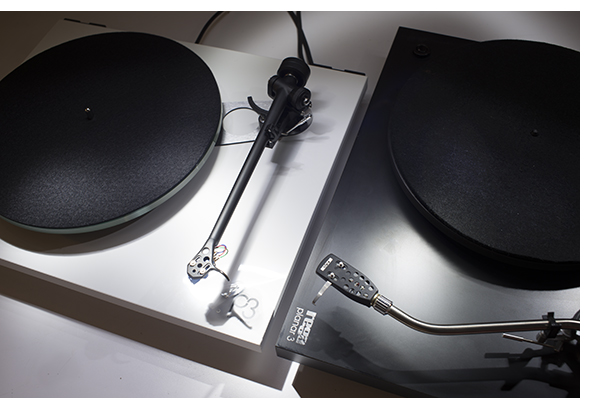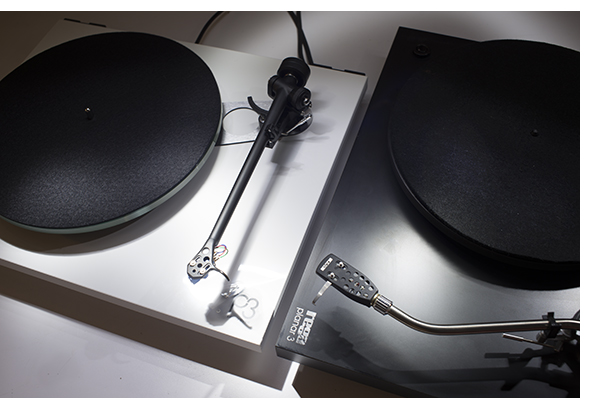 Back to the listening chair
To really get a firm handle on just how much Rega has accomplished, a 36-year-old model is commandeered to compare to the current table side by side in real time. Freeman confirms the serial number, saying the table was built in the fall of 1980, adding, "I probably built that deck." Steve Daniels at The Sound Organisation, Rega's US importer was kind enough to send another Elys 2 cartridge for the older table, making for a direct comparison. Pass Labs new $45,000 Xs Phono makes it a breeze to compare the tables as well as limit any equipment limitations. A quick speed check on the older P3 reveals that it is right on spec for turntable speed, so the analog gods are clearly smiling on us this day.
Identical copies of Bob Dylan's Blonde on Blonde (well, two pressing numbers apart) bring the Rega engineers efforts to bear immediately. The jangly guitar at the beginning of "Leopard Skin Pill Box Hat" push further out from the imaginary line between the speakers, painting a broader, more three dimensional picture via the new Planar 3, with the older table sounding much more two dimensional as a result.
Other LPs with nearly identical pressings reveal the same thing, regardless of which pressing is on which table – the new table is much more dynamic, with a lot more jump than the old. After a few direct comparisons are made to get a baseline, it's tough to go back to the older table, showing how far the engineering staff at Rega has come with this new design.
The P3 has never been famous for bass extension, yet the new Planar 3 offers more weight, more control and more texture than ever. Rifling through bass heavy tracks shows how much of a contender this table has become. Bouncing back to that totally 80s groove, the synth bass line in Paul Young's version of "I'm Gonna Tear Your Playhouse Down" now rattles the room, where the old table politely offers up some bass.
Thanks to the capability of the Xs Phono, it's easy to hear a much lower noise floor on the new table compared to the old, but even through a vintage Marantz 2245 receiver, the difference is still discernable, even playing though a pair of JBL L100s. This won't do you a ton of good spinning your favorite Motorhead disc, but if you're listening to anything in the acoustic or solo vocal genres, it's an entirely new ballgame.
Should you order your Planar 3 with a Rega cartridge, setup will take all of five minutes. Attach the belt, fit the cartridge screws and set tracking force to 1.75 grams. Job done. This is not a terribly tweekable table. However, if you want to get into the tweak zone, consider Rega's Reference Drive Belt. For $59, it's made from a higher quality rubber and machined to a tighter tolerance, giving a better belt to platter and drive pulley interface. No, it doesn't make the heavens part, but again those listening to classical and acoustic music will notice an extra degree of smoothness in the upper registers. Take a peek at our video clip to see just how easy this all is.
This more robust, more stable platform makes fitting a better cartridge to the current Planar 3 a better value proposition. If you can find a cartridge that has a similar stylus tip to top of cartridge body measurement, it will pop right in. For other cartridges, Rega makes a 2mm stainless steel spacer, or a step adjustable 2/4/6/8mm spacer that will adjust the back of the tonearm for proper VTA. Stepping up to a Sumiko Blackbird 2 was exciting, showing just how much more music this new table is able to reveal.
And, if you want to take your Planar 3 even further, Rega's TT-PSU 2 (an additional $395) not only lowers the noise floor even further, controlling the motor better than the stock wall wart power supply, it lets you change speed from 33 to 45 on the fly, at the push of a button. Back when the original Planar 3 roamed the Earth, most records were only 33 1/3 r.p.m., so removing the platter and moving the belt on the pulley manually wasn't a big deal. Now, with so many audiophile pressings being produced in the two disc, 45 r.p.m. format, it's a major time saver. Not to mention how much easier playing those 45 r.p.m. maxi-singles will be!
When you really listen to the Rega Planar 3, listen close. It's changed a lot. And we're happy to give this perennial favorite one of our Exceptional Value Awards for 2016. We defy you to find a better executed turntable at this price.
The Rega Planar 3 Turntable
$945 without cartridge
$1,145 with Elys 2 cartridge installed (Elys 2 is $295 separately)
www.rega.co.uk (factory)
www.soundorg.com (US importer)
Peripherals
Preamplifier              Pass Xs Pre
Phonostage                Pass Xs Phono
Amplifier                    Pass Xs300 monos
Speakers                    MartinLogan Neolith
Cable                          Tellurium Q Silver Diamond
**  Ed. Note: while the system listed here was used for ultimate comparison between the new Planar 3 and old to eliminate that from the equation, the majority of review listening was done with the new Simaudio NEO ACE integrated and a pair of Rogers LS5/9 speakers to keep this a bit more "real world," if you will.