Audio Technica AT-OC9/III Phono Cartridge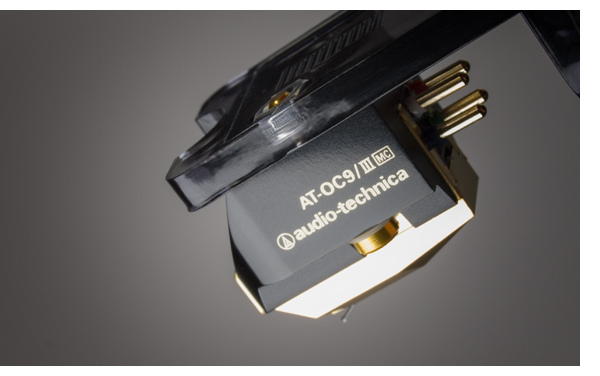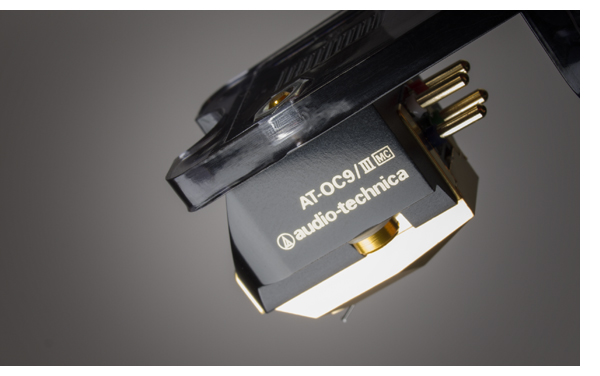 Audio Technica celebrates its 50th anniversary this year, and part of its new-product lineup includes the brand's reimagined flagship phono cartridge, the AT-OC9/III.  Audio Technica, founded in 1962, initially designed and produced phono cartridges for direct supply to original audio-equipment manufacturers within Japan.  Since then, Audio Technica has expanded its product line to include turntables, microphones, headphones and, as its website states, "other problem-solving audio devices."  The first-generation AT-OC9 was launched in 1987.  Audio-Technica's website lists the current retail price for the newest iteration as $1,129; however, a quick web search reveals street pricing around $799.
This cartridge arrives nicely packaged, but recipients should resist the temptation to just tear into the box, because the protective stylus guard is not in place during shipping.  The cartridge could be easily damaged if you aren't careful.
Your MC Journey Begins
The OC9/III is the perfect cartridge with which to enter the world of moving coils, if you've got the interest and wherewithal to begin your journey by dropping nearly $1,200 on a cartridge.  It has a slightly low output (.4 mV) and will require a step-up device capable of around 60 dB to achieve the best balance of dynamics and low background noise.
Installation and mounting on the VPI Classic 3 proves very easy, with minimal time to optimize tracking parameters.  Audio Technica suggests a range of 1.8 to 2.2 grams and a minimum load impedance of 100 ohms.  Varying the tracking force in small increments reveals that 2.0 grams is the optimum balance on my table.  The handy remote on my Aesthetix Rhea phonostage also makes it easy to examine various loading and gain options, settling here on 250 ohms and 60 dB of gain.
The OC9 sounds good out of the box, but does open up slightly after about 30 to 50 hours are on the clock.  As with any cartridge, it's an excellent idea to double check VTA and tracking-force settings as the suspension settles after the initial break-in process.  The Classic 3's easily adjustable VTA has me back to perfection in no time, with only a slight touch up required.  If the cartridge sounds slightly dull from the outset, check this adjustment first.
Spin the Black Discs
The new Beatles Stereo Box Set on vinyl arrived shortly after the OC9, so plumbing the depths of Fab Four's catalog with this new cartridge seemed a perfect place to start.  Beginning with Sgt. Pepper proves the new pressing to be a winner compared to the Capitol and Parlophone discs in my collection.  The OC9 immediately renders great bass dynamics and overall presence.  Controversy aside, switching back to my reference cartridge, the Lyra Atlas, confirms that the new pressings are excellent overall.
It also confirms that the OC9 has a tonal balance that is slightly on the warmer, more forgiving side of neutral, much like the AT33EV reviewed last year in TONEAudio.  The OC9 is not a bad idea for those collecting a lot of used records or listening to music produced in the mid '90s and beyond, much of which is sourced from digital masters anyway.  In essence, the OC9 is an excellent daily driver, with a great balance of dynamics and detail retrieval.  If this cartridge is lacking anywhere, it might be in ultimate bass tautness and control, but this is more a personal preference than an overall judgment.
After most of the Beatles Stereo Box Set, Ryan Adams 2011 release Ashes and Fire clearly illustrates the performance of this cartridge with more modern material.  It is one of my favorite purchases from that year, more reminiscent of Whiskeytown and his first solo release, Heartbreakers, which is a more raw, gritty record.
The opening "Argument With David Rawlings Concerning Morrissey," is a fun track, showing off how well the OC9 does with solo vocals in a BBC kind of way.  The first track on side B, "Invisible Riverside," is a slow pop-rock tune that opens with guitar and is followed quickly by bass and drums—a perfect place to catch an emotional response when the stars line up.
This fleeting moment is captured quite well with the OC9, reproducing the essence without being too loose or overly analytical either.  This studio recording is also an excellent imaging demo and the OC9 has great focus, though the image portrayed does not extend well beyond the speakers, with the speakers themselves disappearing with a more refined cartridge.  But the OC9 takes good care of the fundamentals and is a great step up from the graininess usually present in the average MM cartridge in the $400-to-$600 range
By Jeff Dorgay
Auditioning the OC9 on an identical VPI Classic and the VPI Traveler showed that this cartridge is perhaps best suited to rock and jazz.  I concur with Mr. Moyers that it is ever so slightly on the soft side, particularly with leading transient edges.  Piano and violins are pleasant with the OC9, but lack a little bit in terms of ultimate texture.
However, this is just what the doctor ordered when rocking out—be it Metallica, Slayer or Hendrix—making many of these recordings sound better than you remember them, especially for those utilizing the OC9 in a table like the Traveler, an RP6, a Pro-Ject or something similar.
Comparing 24-bit/192-kHz digital captures of the AT33EV I reviewed last year to captures made with the OC9 reveals the top AT cart having a similar natural tonality, but with more extension on both ends of the frequency spectrum.  There is definitely a "family sound" going on here.  Much like with the AT33EV, I found that the OC9 is a bit better suited to any one of the excellent solid-state phonostages in the $1,000 range, like the Lehmannaudio Black Cube or the AVID Pellar.  The slight softness of the AT cartridge is a perfect balance to these phonostages, which can sound a little etched with the wrong front end.   -Tim Moyers
AT-OC9/III Moving Coil Cartridge
MSRP:  $1,129
Peripherals
| | |
| --- | --- |
| Turntable | VPI Classic 3 |
| Cartridge | Lyra Atlas    Lyra Dorian |
| Phonostage | Aesthetix Rhea Signature |
| Preamp | Aesthetix Calypso Signature |
| Power Amplifier | Ayre MXR monoblocks |
| Speakers | Vandersteen 5A |
| Cable | AudioQuest WEL Sig    Wild Blue i/c    WEL Sig Power |
| Power | Furman Reference |
| Accessories | VPI SDS    VPI HW17 SRA Isolation bases    Billy Bags Rack |