The World's Best Wilson Audio Experience?
March 1, 2011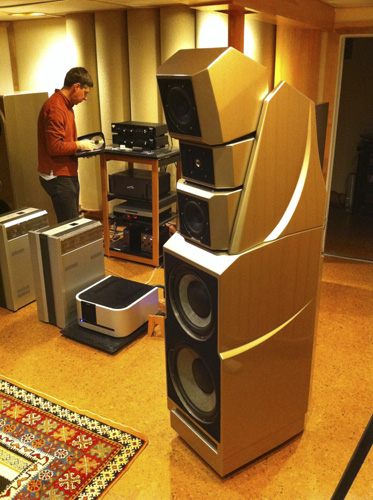 While visiting Washington DC, I had quite the audio experience at contributing writer Jacob Heilbrunn's house. After attending an outstanding dealer event at JS Audio, that was packed until well past closing with demos from Wilson Audio's Peter McGrath and Rich Maez from Boulder, the real treat was yet to come.
Heilbrunn's purpose built room, featuring the Continuum Caliburn turntable with a matching pair of Cobra tonearms (featuring the Lyra Titan mono and the AirTight PC-1 Supreme), and the Ypsilon phono stage, showcasing a pair of Wilson Audio Alexandra 2's driven by a pair of Classe 600 watt monoblocks. Digital was handled by the Playback Designs MPS-5 CD/SACD player and all sources channeled through the Messenger preamplifier. If this pair of enormous full range speakers wasn't enough, Heilbrunn had a pair of Wilson Thor subwoofers, which McGrath had just recently installed in the room for a future review in The Absolute Sound. But the system was as much a testament to finesse as brute strength.
Running through a gamut of jazz, blues and classic rock, I was stunned at the system's limitless dynamic range and perfect tonality. While many audiophiles like to think that recorded music can't approach the real thing, it's only a pile of cash away. In this case, about 400 large (Clevelands not Franklins), and it unquestionably delivers the goods. Having been to Wilson Audio's Valhalla – David Wilson's living room, even his spectacular system comes up short in terms of the delicacy and ultimate resolution I experienced here. McGrath went on to say that while listening to a live jazz recording as he was packing up at Heilbrunn's house, the people chatting on the couch at the back of the room just added to the ambiance. "I really felt as if I was sitting right there in the club, experiencing a live show.". McGrath also confirmed my analysis of Heilbrunn's system and felt it might be the best he's ever experienced as well. But he left it open with a wry smile, as he said "There is one customer of ours in Spain…"
This is truly a system that does it all. The monstrous X-2's disappeared in the room completely; we didn't need to dim the lights as a parlor trick. It was if they were coated with something from the Army's latest stealth arsenal. (With the Pentagon only a few miles away and Heilbrunn's day job covering politics, who knows? Maybe I did have an X-Files experience?). These six foot tall speakers never drew attention to themselves and had a top to bottom coherence that even the best panel speakers lack.
In the quest for even higher fidelity, Heibrunn is in the process of building a new sound room when he moves in fall. As we leave for the airport he ponders, "Is there more resolution available?"
We will see. Watch for the complete chronicle of his new project later this year in a future issue of TONEAudio.