The Gold Note IS-1000 Amplifier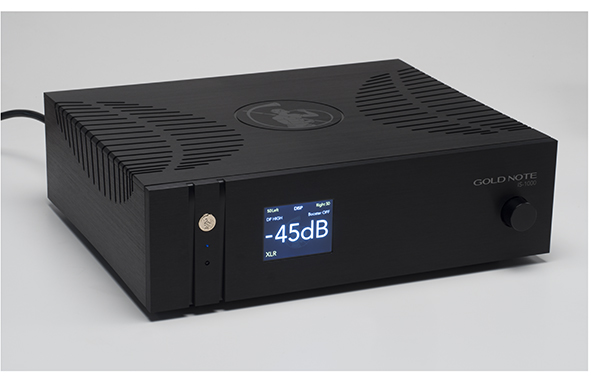 We've just started to audition the Gold Note IS-1000 integrated amplifier and it's amore from the start.
Featuring an integral phono stage, based on the circuitry of the PH-10 that we already love, a built in DAC and streamer and a 125 watt per channel power amplifier that doubles down to 250 watts per channel into 4 ohms, This $5,000 beauty is a perfect solution for those wanting high quality, maximum versatility (did we tell you it has six digital inputs) and a convenient form factor. The only question left is black or silver.
The only thing Gold Note makes that we haven't sampled is their speakers, but I'm going to stick my neck out and guess they are pretty good. Everything else we've heard from GN has been at the top of its class – turntables, phono cartridges, phono preamplifiers and now the IS-1000 integrated (which stands for integrated streaming). All good.
The high power AB amplifier section begs for a pair of Magnepans, so that's where we started listening, both with the current .7s and a vintage pair of Tympani 1Ds The IS-1000 has power, soul, and control, taking charge of the big Maggies with ease. Settling into duty with my Focal Sopra no.3s is also a perfect match. Thanks to the Sopra's 92db sensitivity rating the GN/Focal combination plays at discotheque levels without a hint of strain, distortion, or fatigue.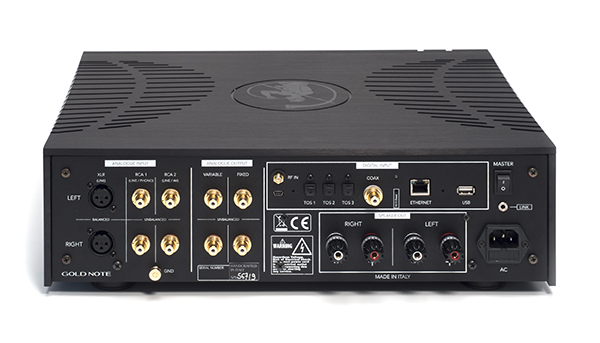 Initial listening with both the phono and digital sections appear excellent. For our full review, we'll compare the onboard phono to the PH100, try some different speakers, and move more digital files through the IS-1000. Best of all, it's Roon Ready, so all you need to enjoy the world's premier streaming software, is merely connect an Ethernet cable into the supplied port and fire up your phone or pad. Rounding out the picture is a wireless antenna, so you and your friends can share your favorite music via phone at your next party.
More to come, but the initial impression of the Gold Note IS-1000 is that we have another winner on our hands!
The Gold Note IS-1000
MSRP: $5,000