The BAT REX Preamplifier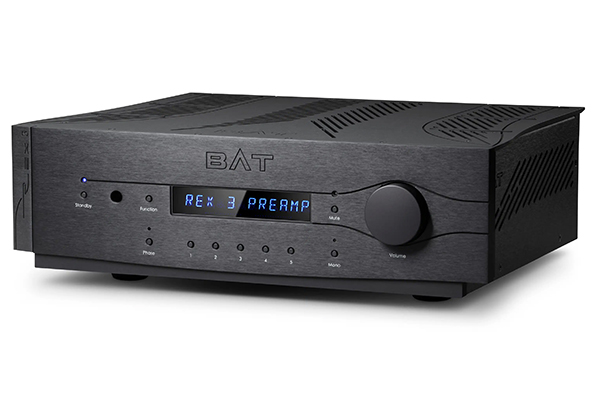 We're almost done with our full review of Balanced Audio Technology's new REX tube preamplifier.
At $30,000, it's crazy money, but it's crazy good. This two box design with a power supply that eclipses most power amplifiers reinforces the school of thought that power is everything. It weighs 40 pounds, to the actual "control module's" 36 pounds. Not only does the REX's massive power supply have a lot of sheer capacity, thanks to tube regulation and rectification, this power supply is a piece of audio fine artwork all by itself.
You'll also notice that BAT has done an aesthetic overhaul (new logo) that pays homage to their past components, while moving forward, retaining the blue LEDs for power on and user interface (which is all customizable)
If you've got the space on your credit card, and the room on your audio rack (and use only balanced components, as there are no RCA jacks to be found on the REX preamplifier) save a little room for when you'll need to re-tube this 18 tube monster preamplifier. While we don't want to let too much of the review out from under wraps, suffice to say that this one is easily one of the world's finest. And in that context, not crazy priced at all.
Go here: www.balanced.com/rex-3-preamp – for more information and photos.
And should you feel like buying one RIGHT NOW, click here to go to the Music Direct website.
You're only remaining choice is silver or black?