Sonus faber Guarneri Evolution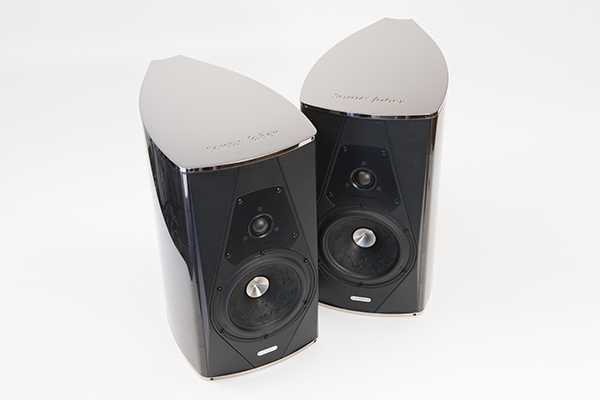 It's as if Sonus faber put the $120,000 Aida speakers in a shrink machine…
Finished to the same high standard as their flagship speakers, the new Sonus faber Guareri Evolution speakers retail for $22,000 per pair with the matching Evolution floor stands.  You can delete them and save $2,000, but you'll never find a stand this inert or this beautiful, so just order both.
Our review pair arrives in the dark grey "Graffit" finish and is beautifully hand polished to a glass – like surface, as is the shiny nickel plated top and bottom plates.  But best of all, these speakers sound better than they look.  Not a pair of mere mini monitors, these are a world class speaker system, perhaps better suited to our readers that want cost no object sound, but don't have a 20 x 30 foot listening room.
They are currently mated to a Burmester 011 preamplifier, Aesthetix Rhea phonostage, and the SME10 turntable, with Sumiko's Palo Santos Presentation phono cartridge.  To say we're in analog heaven would be an understatement.  Power is via the highly capable Burmester 911 mk. 2 power amplifier, capable of 350 watts per channel into 4 ohms, the impedance of the Evos.
You can read more about the Evos here…
Or better yet, head down to your Sonus faber dealer and experience them for yourself.