ROTEL RA1592 MKII
A Major Update of a Classic
By Jeff Dorgay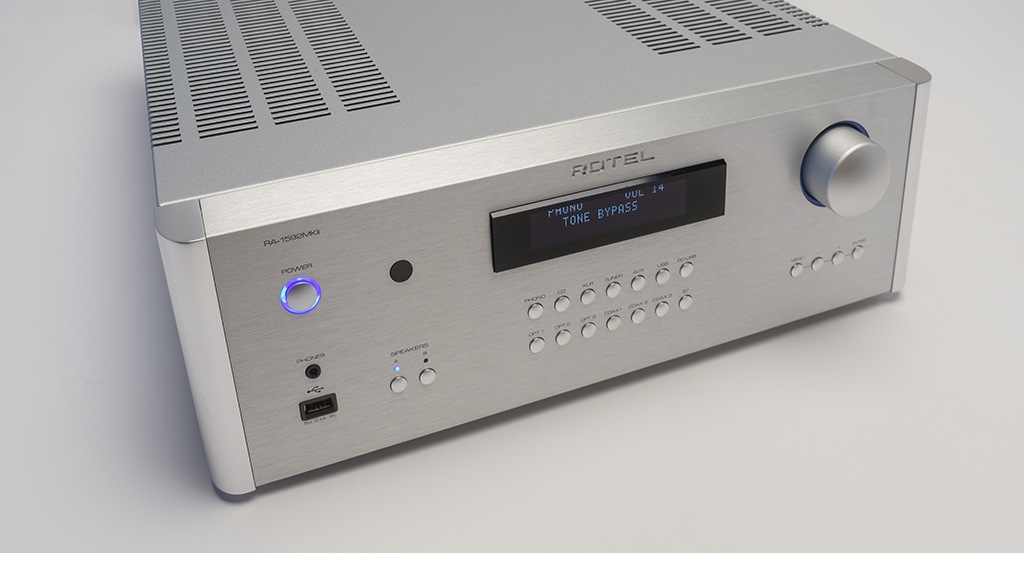 Rotel has been gaining a lot of attention, with their statement Michi products at the top of their range, and the Tribute products at the entry level. They've just done an overhaul the RA1592 integrated amplifier, now in MKII class – long an anchor of their range.Raising the price slightly from $2,995 to $3,195 the new MKII version looks nearly identical to the model it replaces. A casual look at the specs reveals much the same, but digging in further reveals that Rotel has made over 28 critical component changes. Most of this derived from what they learned building the Michi series.
While it is always tough to remember what a component sounded like a few years ago, we've always been impressed with Rotel and the level of value they bring to the mix. For 60 years, Rotel has been providing high sonic performance at an approachable price, and the RA1592 MKII is a perfect example of this philosophy.
In the 16 years we've been producing TONE, we try to interact with our readers as much as possible, to try and get a feel for what you actually enjoy and purchase. We've always noticed a large number of end users with a system budget of about $6,000 – 10,000 all-in. The new MKII version of the RA1592 is a better choice than ever before for a music lover wanting to listen in all formats.
With an onboard MM phono stage, and DAC, it's easy to add a turntable, your favorite pair of speakers and get to it. This approach is efficient, because at this level, every $100 you spend is critical, and if all functions are available with a single component, that's less money that needs to be spent on a suitable rack, and cables. That leaves more in the budget for a turntable and pair of speakers. We know everyone likes to mix it up in their own way, however, if you are looking for the maximum sound and the minimum amount of hardware, it's tough to beat a premium integrated amplifier.
The full feature set
The RA1592 MKII does everything but stream directly from your network. It is "ROON Tested," which means it works with your PC or NAS via USB, but it can't be used as a "ROON Ready" endpoint, so that's how we used it, with a spare MacBook.
The internal DAC now uses a TI chipset, and as part of Rotel's Balanced Design Concept, to offer better sound and functionality than the past model based on the AKM chipset. In addition to better sound, the MKII trades DSD functionality in the MKI for on board MQA decoding, which will be a benefit to a much wider user base. I'll stick my neck out here and guess there are a lot more people streaming Tidal, than there are with massive DSD collections.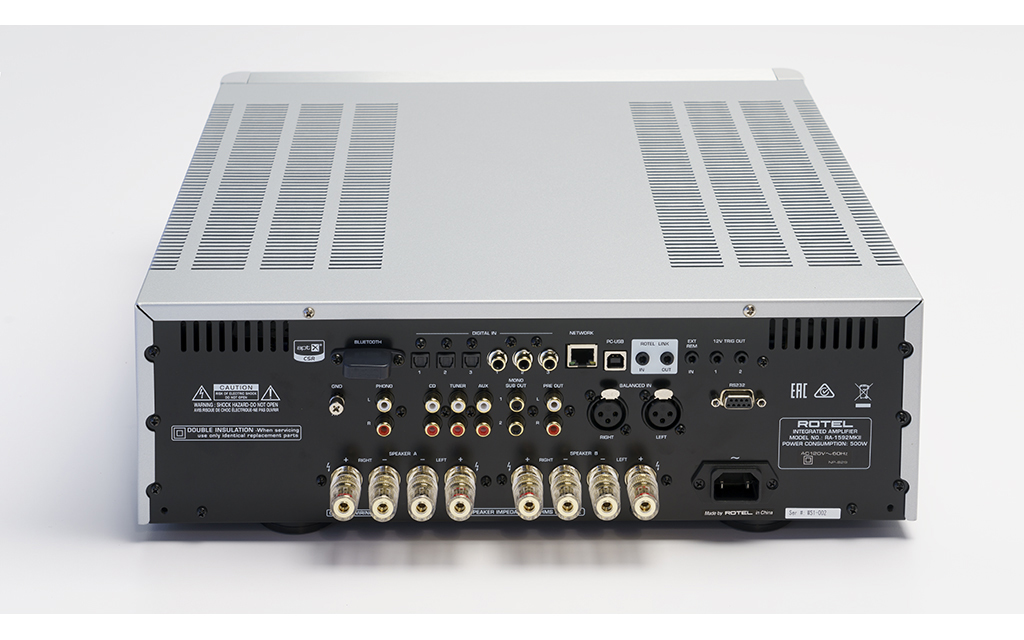 The built in MM phono stage was used to excellent result with a handful of MM carts on hand from Sumiko, Audio Technica, and Shure. Whether you already have a turntable, or have been thinking about adding one, the on board phonostage in the 1592 will serve you well with a MM cartridge in the $100 – $800 range. Should you decide to move up to an even better table/cartridge, an outboard phono stage can be used for even greater performance. Our reference Pro-Ject Ultra 500, a fully restored Technics SL-1200 and Denon DL-103 made an excellent combination through one of the 1592s three RCA line level inputs (marked CD, TUNER, and AUX). The 1592 provides a set of balanced XLR inputs, as well as preamp and mono outputs, so there's plenty of room to grow should you want to build a bigger system.
An APT/X Bluetooth receiver supporting AAC and aptX, three optical inputs, and a USB port on the front panel for iOS devices, giving you a myriad of digital options. Two sets of front panel switchable speaker outputs and a headphone jack deliver maximum output flexibility, and with 200 watts per channel (into 8 ohms, 350/channel into 4 ohms) no speakers should be off limits.
This is a hefty receiver, weighing in at almost 40 pounds, thanks to an enormous power supply transformer and a full class-AB power amplifier.
Superb sound
With a speaker issue up next, we had the good fortune to give the 1592 a workout with nearly a dozen different speakers. It's overall tonal balance is fairly natural/neutral, and all that power makes for plenty of dynamic punch. It also helps with woofer control and low frequency slam.
A wide range of digital tracks in both standard and higher resolution, from Tidal and Qobuz make the 1592 an excellent musical partner. While this version of the 1592 does not support DSD files, it still decodes PCM files up to 32/384 and unfolds MQA to 24/384.
Starting with the $899/pair Sonus faber Lumina 1s, and going all the way up to the $16k/pair Sonus faber Minima Amators proved a joy. There was no way we could push any of these speakers to clip in our 13 x 18 foot listening room, with even the most demanding of program material.
Rotel's Michi components represent a major step forward, elevating Rotel to a serious high end manufacturer – yet by applying the improvements learned, and a careful utilization of the parts bin, have polished their former flagship to a much higher level. With careful speaker selection, the Rotel RA1592 MKII will give you an even bigger slice of the high end audio pie than the already excellent component it replaces.
Incredibly capable
What makes the Rotel 1592 MKII the recipient of one of our Exceptional Value Awards for 2021 is its high level of overall competence. Even buying gently used pre owned components, it's doubtful that you could come up with a fully functioning preamplifier, DAC, headphone amplifier, MM phonostage and a 200 watt per channel power amplifier of this quality for anywhere near the cost of the 1592 – that's it's beauty.
For many, the mix of components is the thrill in assembling a music system, however if you happen to be a serious music lover that doesn't want to go through the myriad of choices (and potential non synergistic ones), call it a day with the Rotel. You won't regret it.
The Rotel 1592 MKII
$3,195
Peripherals
Analog Source Technics SL-1200 with Sumiko Amythest cartridge, Shure M44 cart, Shure V15III (w/jico stylus) and Grado wood.
Cable Tellurium Q Black
Speakers Sonus faber Lumina 1, Harbeth C7ES-3XD, Eggleston Nico, Dynaudio Confidence 20, Gershman Acoustics Studio II