The Luxman L-550AXII Integrated Amplifier
Understated as it Gets...
By Jeff Dorgay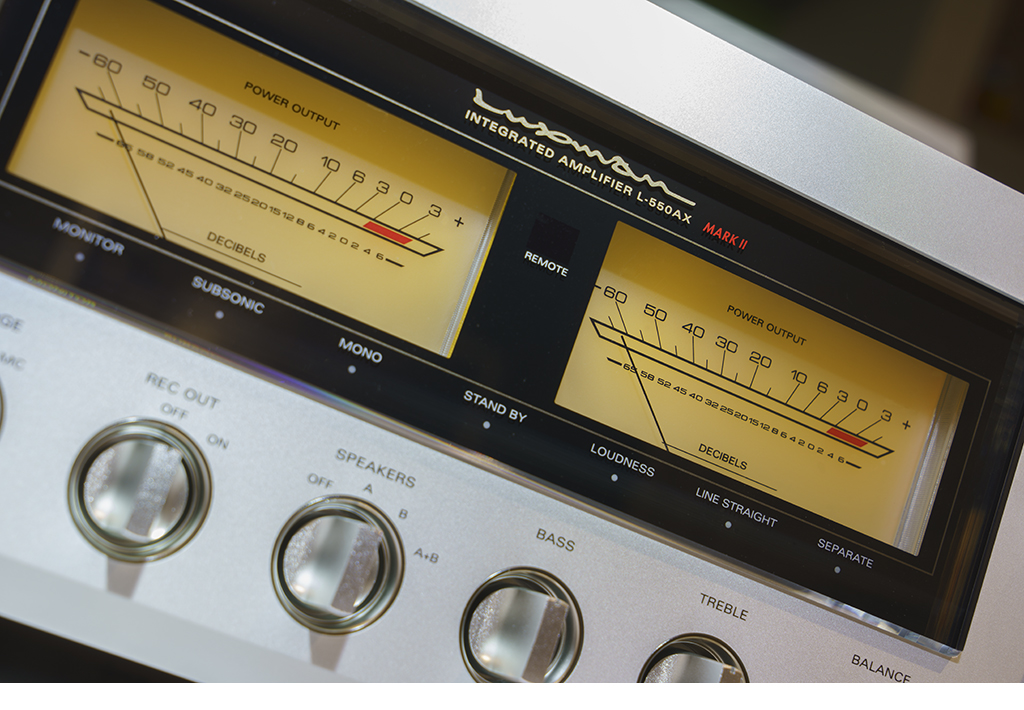 Magic isn't always where you expect it, and sometimes conventional wisdom suggests trying combinations that you might not think will impress.
The deep synth-bass line in Jerry Harrison's "I Don't Mind," (from Casual Gods) has a rock-solid foundation, anchoring Harrison's blazing guitar bits, as the backing vocals dart in and out of his lead vocal. Even as this class-A amplifier is warming up, the sonic landscape it renders is large, becoming extra-large in about an hour. Those wanting a super-size drink will have to shell out the extra $3,000 for the larger L-590AXII, which offers a bigger power supply and 30 watts per channel into 8 ohms, vs. 20 per channel for the L-550AXII. But this is damn good.
Leaving the music selection to the ghost in the machine, ROON drags us from Jerry Harrison, through Adrian Belew's "Oh Daddy," to Thomas Dolby's "Nuvogue." Again, the complete trippiness of these selections and the ones that follow bring us closer to a super-sized presentation after all, with the 550 opening up a bit more as the clock gets closer to the two-hour mark. Though it might rub your green sensibilities a little bit the wrong way, to get maximum enjoyment from your 550, consider turning it on at least an hour before you are ready to begin serious listening. Then take a 60-minute walk and return. Now, don't you feel better?
Coming off a fresh viewing of the new Bee Gees' documentary on HBO, the Gibb brothers talk about how one of the keys to their sound, is their alternate lead vocals, and the interaction of their voices as a sole instrument. Even if you're not a Bee Gees fan, you probably have a few of your own examples of this kind of vocal styling. This is the kind of aural workout that instantly reveals the delicacy that the Luxman class-A amplifier offers. The classic "How Can You Mend a Broken Heart?" does the job nicely, resolving the differences between each voice, rather than just blending them together as one big, fat voice. Subtle but great.
The dollar per watt quotient
You might be thinking $5,995 for a 20-watt per channel integrated amplifier is crazy talk. Yet, in light of amplifiers from Audio Note, Wavac and a few others, the Luxman is a steal. Another competitor, albeit from the same manufacturer is the $7,995 LX-380 tube integrated, also delivering 20 watts per channel. We've been promised a review sample is in the works, so this will also be an interesting comparison. But a tube amplifier is a somewhat different game.
The L-550 AXII can be summed up in one word – refinement. Everything about this amplifier, even the packaging is refined, and thoroughly executed. Many in the audio industry like to push the luxury goods moniker around, yet few components display the density of thought and the level of attention that Luxman bestows on their products.
Grated, some may be drawn towards the glowing bottles anyway, and that's just fine. But if you're the kind of music lover that would like 95% of the tube sound with none of the tube hassle, the 550 is the one you want. Whenever I've had a Luxman Class A integrated here to audition, it's always the same hamster spinning around in my head – those last few molecules of airiness, or freedom from hunting for tubes, and agonizing over the tube choices I've made. Get off the rollercoaster, life is short. Forget those demons telling you that there's no happiness with a solid-state amplifier.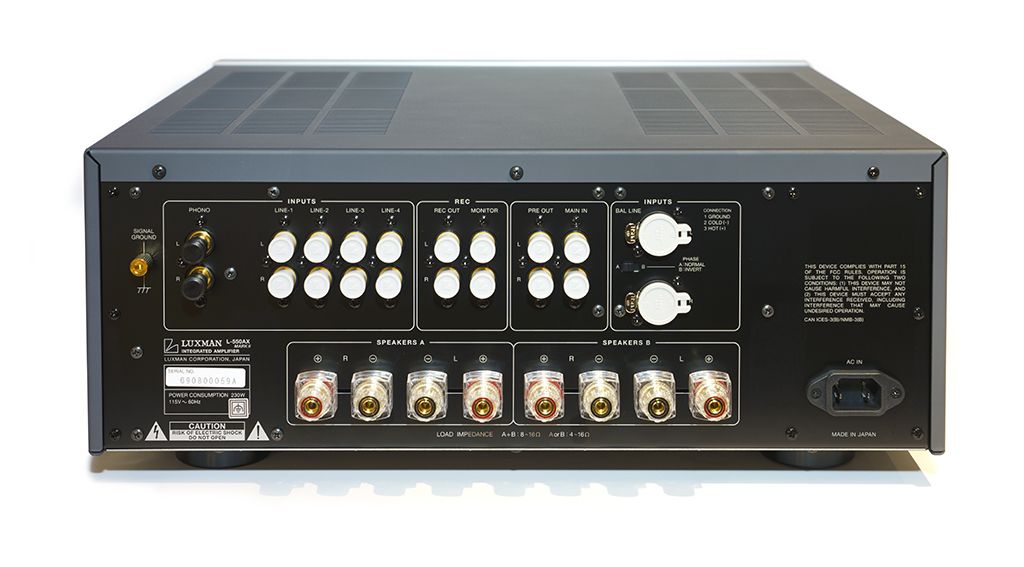 A few quick comparisons
This is also a level of performance that will have you questioning the tube thing. A lot of time was spent comparing this amplifier to the Conrad-Johnson CAV 45S2. Though similarly priced, the C-J has no phono stage, no coolio output meters, and no tone controls. The glass bottles still offer a slightly more spacious presentation, but the Luxman is a quieter amplifier, with more bass control.
Pushing play on the St. Vincent/David Byrne collaboration "Who," sets me back in the chair. Nope, tubes just won't do that. Going back to bass heavy favorites from Aphex Twin and Kruder & Dorfmeister underline this line of thinking. This is a big part of what you're paying for. Sure, you can get a 100 watt per channel amp from someone else for half the price of the 550, but it can't reproduce music this. It won't have the finesse and delicacy that this amplifier possesses. Do you want a medium sized glass of awesome or a super-size cup of mediocrity?  Think about this as the inception thought burrows in your head. Add tire and suspension choices to this kind of thing, and you know you know why I rarely sleep.
Deliberate functionality
If you've had the opportunity to spend any time in Japanese culture, you quickly see how everything in their world is done with purpose. This level of mindfulness permeates every aspect of the 550. At first glance, you might think the tone controls are a frivolous addition, yet they are so gentle and inconspicuous, the first time you give in and reach for them, you'll find yourself unable to live without them. Audiophiles be damned, they work. What do you think a great mastering engineer does?
An equal level of attention is paid to the phono section and the headphone amplifier. Everything has an equally high level of performance. The MM/MC phono is dead silent, with the only drawback being fixed loading at 100 ohms. Both the Kieseki Purple Heart mounted to our Luxman PD-171 table, and the Denon 103r currently in a Technics SL-1100/SME 3009 work brilliantly, offering dynamic analog playback.
At first, you might even find the speaker selector switch unnecessary. For some of you it might be, but being in the middle of a speaker roundup, it made A-B comparisons effortless. Audiophiles enjoying more than one speaker setup will find this all too easy to get used to.
Around back, in addition to the phono input (MM/MC is switchable via the front panel), there are four RCA line level inputs, along with one XLR line level input, full tape in and tape out jacks, along with pre in and main out jacks too. The Luxman site mentions that the 550 shares the same attenuator circuit with the higher priced Luxman amplifiers and a number of overall upgrades from the original 550. You can read all of the details here at the Luxman site. It appears that the major difference between the 550 and the higher-powered L-590AXII is a smaller power supply and output stage in the 550.
Back to the sound
I must confess a bias toward Class-A solid-state amplifiers for all the above mentioned reasons. As much fun as tubes are, these devices are always in a state of degradation from the day you plug a fresh set in. Evaluating gear day to day, makes the consistency of a solid-state amplifier so much easier to deal with, though I still entertain tubes when there is no deadline on the horizon.
A comparison to the $7,500 Pass INT-25 we have on hand, which comes in right between the L-550AXII and the $8,995 L-590AXII is incredibly interesting, as the Pass amp has even more of that tubey delicacy, and is more resolving in fine detail. Taking a cue from Stereophile's Herb Reichert, I brought out my Line Magnetic LM-805iA SET amplifier for another data point. On one level, this just brought out more confusion, as all of these amplifiers are fantastic, yet in different ways. Honestly, I could live with either of them.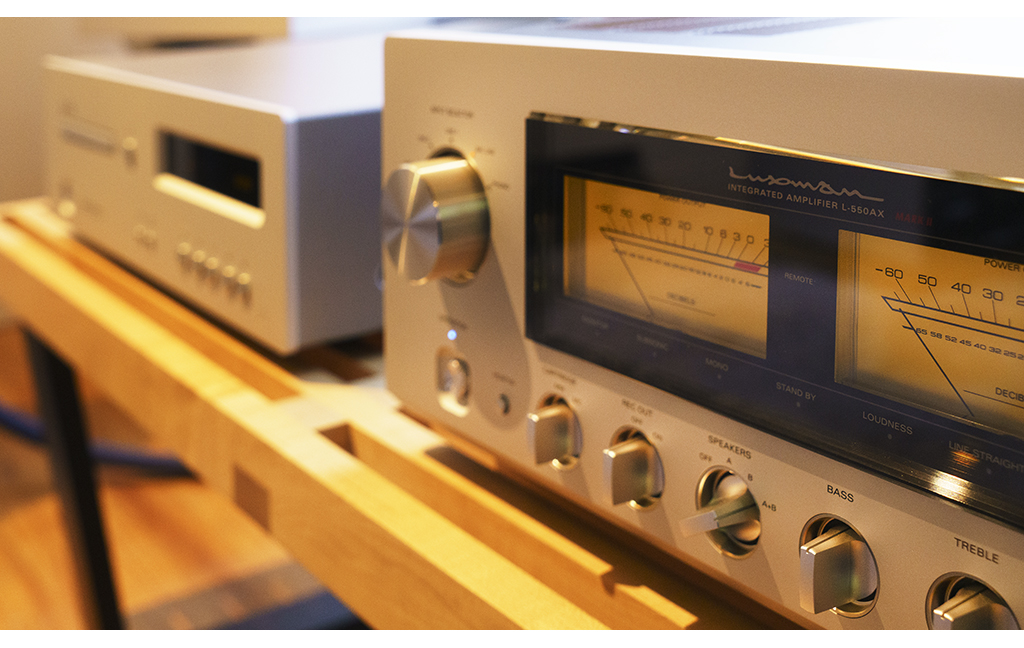 While some might be averse to having an onboard phono stage, I'd really prefer that to an onboard DAC, because that technology is still changing. Today's DAC performance will probably be eclipsed at the same price point in ten years, but a great phonostage will never go out of fashion.
If I had to have every last drop of resolution, I'd probably buy the spendier Pass amp. If I couldn't live without the last bit of inner detail of the SET, I'd probably buy the Line Magnetic. But what makes the Luxman a perennial favorite, is that it's the best all-rounder, wrapped in the most refined casework. 20-30 watts will only go so far, but if you have the right speakers it's all you need.
Just as I thought this review was finished, as I wrote the above paragraph, the Zu Audio Omen Dirty Weekend speakers (97db/1-watt sensitivity) arrived. Putting those in the system was some of the most fun I've ever had listening to music, giving the Luxman amp so much reserve power, it made for an incredibly dynamic combination. Time to bust out the hair metal tracks. I won't bore you with the fine details, but the Zu and Luxman combination is one of the best party machines going.
When the L-550AXII first arrived, we still had the $149,000/pair Focal Stella Utopia EM speakers in place and their 94db/1-watt sensitivity also made for a great party machine, with those big field coil woofers. However, this might be a little overkill, but it worked wonderfully. The 550 had plenty of LF control and HF resolution to make a great showing with the massive Focals, though for some reason we were playing a lot of hip hop then.
An excellent anchor
Regardless of what ancillary components you prefer, if you would like to build a $10k – $50k music system of very high quality, and you are a music lover that tends to hang on to your gear, this is an amplifier you will never tire of. Just add speakers, a DAC, and your favorite turntable. Off you go.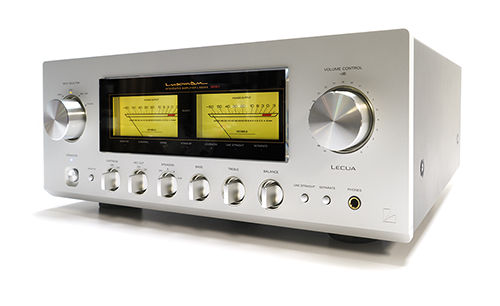 The Luxman L-550AXII Integrated Amplifier
MSRP: $5,995
Peripherals
Digital Sources dCS Vivaldi One, Luxman D-03x
Analog Sources Luxman PD-171, w/Kiseki Purple Heart, Technics SL-1100/SME 3009, w/Denon DL-103r
Speakers Focal Stella Utopia EM, Sonus faber Stradiveri, Eggleston Nico, Dynaudio Confidence 20, Zu Audio Dirty Weekend, Focal Kanta no.1
Cable Tellurium Q Black, and Black Diamond