The Technics SL-G700 digital player
With a Heavy Nod to Disc Playback
By Jeff Dorgay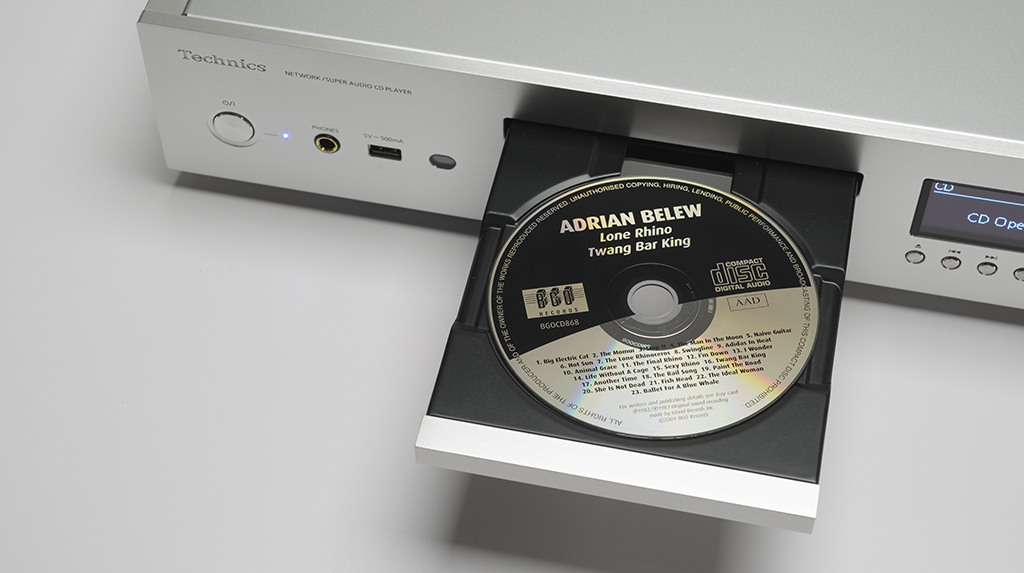 Tracking through the recent SACD remaster of Todd Rundgren's Something/Anything, it's easy to see the validity of the concept album – listening to a series of tracks precisely as the artist intended. Sure you can do that with your favorite streaming service, but for some, the act of putting a disc in the tray, pressing play and easing into the music for approximately 45 minutes is wonderful.
With the Technics SL-G700, you don't have to choose – it offers the option to play SACDs as well as CDs, along with the ability to stream from your NAS, or a number of music services.
There are still a high number of music lovers with an emphasis on playing physical media, yet are making their way into the current world of streaming. As a few dedicated imprints like Mobile Fidelity are still pressing high quality SACDs, this is a definite niche that has been left unfulfilled outside of a handful of very expensive players.
Thanks to their extensive design and manufacturing capabilities, and much like their current SL-1200 turntable, Technics offers world class products at down to Earth price points. The SL-G700 SACD player/DAC/Streamer is yet another example of something you'd easily pay five figures for from a boutique manufacturer. Reminiscent of the preacher on the radio when driving through Texas one long day, "now here's some good news." The SL-G700 will only set you back $2,999.99. This is one of the greatest values in disc playback we've encountered in forever.
Instant gratification
Anyone enjoying the unboxing ritual will really enjoy this aspect of the SL-G700. It is carefully packaged, and removing the protective covering, you find a heavy player that is finished to exacting standards. This is a deck you will feel proud to own and display in your system. All of the controls are damped and easy to access, and the disc tray glides in and out with a luxurious ease. Sonics aside, this is one of the most elegant players we've used.
You probably won't remove the cover of your SL-G700, but if you do, you can see how densely packed, and mechanically robust this player is, with all of the various sections electrically and mechanically isolated. In the day of components with more air than circuitry, this is a true treat. The spec sheet reveals that the SL-G700 is almost 30 pounds.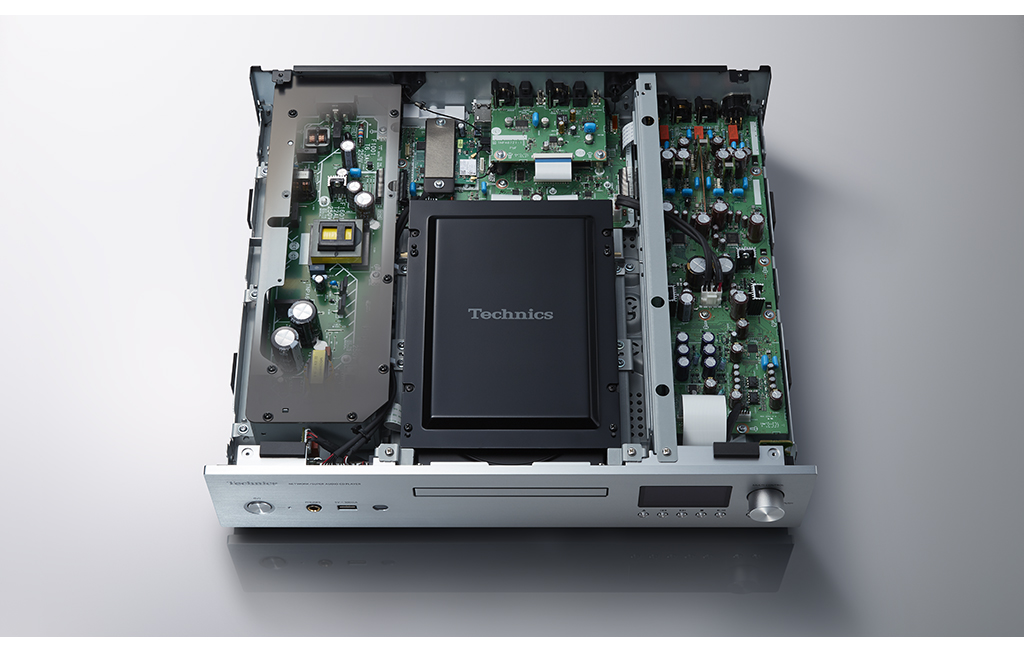 Around back, there are RCA and XLR/balanced analog outputs, along with optical and coax SPDIF inputs for the DAC section. (there are also digital outputs, in the event you'd like to use this as a transport and streamer) You can connect to the SL-G700 to stream wirelessly, or via the Ethernet jack. We still feel a cabled connection provides top fidelity, especially when streaming high resolution files, but it is very nice that Technics has included this functionality. Finally, there is a USB input for an external HD, but you can not connect a computer here. An additional USB port is on the front with identical function, which is great for plugging in a memory stick or small portable drive. This player offers an epic level of accessibility.
Those wanting to hear music instantly need do no more than insert a disc and push play. Should you want to stream Tidal, Deezer, Spotify or music from a NAS drive, can do so via the on-screen menus, accessed by the control on the left. To their credit, Technics has made all control functions available from the front panel, though it will take you some time to get through all of them. For easier access, using their app will streamline the process.
The only thing the SL-G700 doesn't do, at least not directly, is offer the option of being a ROON endpoint, but you can't have everything for three grand. However, because it does offer Air Play and Chromecast options, you can still use this player within a ROON ecosystem, just at 16/44 resolution. As we are heavily invested into this playback workflow at TONE, it was simple to stream CD quality selections via Chromecast, and access high res files via NAS. At the end of the day, the SL-G700 ticks all the boxes.
Technics has, however, added a few cool things to the mix. For those of you using Tidal/Deezer, you can fully decode MQA master/studio files, via disc, streaming and USB. When playing CD or SACD discs, they offer a Pure Disc Playback Mode, which shuts off all networking completely, eliminating any network related noise. When streaming DSD files, or listening to SACD discs, there is a DSD Native mode, optimized for these files, eliminating the DSD to PCM conversion that many other (much more expensive) players rely on.

Podcast and internet radio listeners can also program this functionality with the SL-G700, making it an extremely well rounded digital hub. Should you have a matching Technics amplifier, the unified handheld remote can control both devices. This is an extremely well thought out machine from a human interface standpoint.
The sound
Form and function are lovely things – and the SL-G700 is at the top of the class in this respect, but the level of music it reveals is stunningly good too. You can read all about the engineering excellence behind this player on the Technics site. They go into great detail about the tech under the hood. Again, you'd swear you were reading about a thirty thousand dollar player.
You'll forget all the tech the instant you press play. Perhaps dated, Ella Fitzgerald and Louis Armstrong's "Isn't This a Lovely Day" gives an instant read on tonality and dynamic scale. When Mr. Armstrong chimes in, his voice is big and bold in comparison to Ms. Fitzgeralds's creamy soft voice. Not every player can reproduce the dynamic contrast going on here – yet the Technics succeeds brilliantly, providing a highly convincing reproduction. Tonality is neither warm nor cold – Technics strikes an excellent balance, providing a natural sound, that will integrate with any system.
A long suite of acoustic and vocal tracks merely confirm what Ella and Louis reveals immediately. Moving on to more electronic, heavy rock, and such, this player wades heavily in the level of sonic involvement that the world's best players provide. Whether listening to the notes fade to black with a solo violin piece, or the delicate, atmospheric bits in a Brian Eno album, this is the level of musicality that makes you forget you are listening to digital. And that's just with 16/44 tracks. Well mastered high-res files and SACD provides an even bigger helping.
The line of demarcation
Like computational ability, digital audio has advanced tremendously in the last five years, and performance that you could only dream of for the price of this player didn't exist. The Technics SL-G700 hits the mark of a great digital player by being understatedly excellent. If you have to have a ROON streamer onboard, this might be a deal breaker. But for everyone else, and especially music enthusiasts that are more into disc playback, it's a perfect destination. Unless you are willing to spend the five-figure sum for a dCS, Esoteric, MSB, or one of the stratospheric players, there's no need to go any further. It's that good.

The Technics SL-G700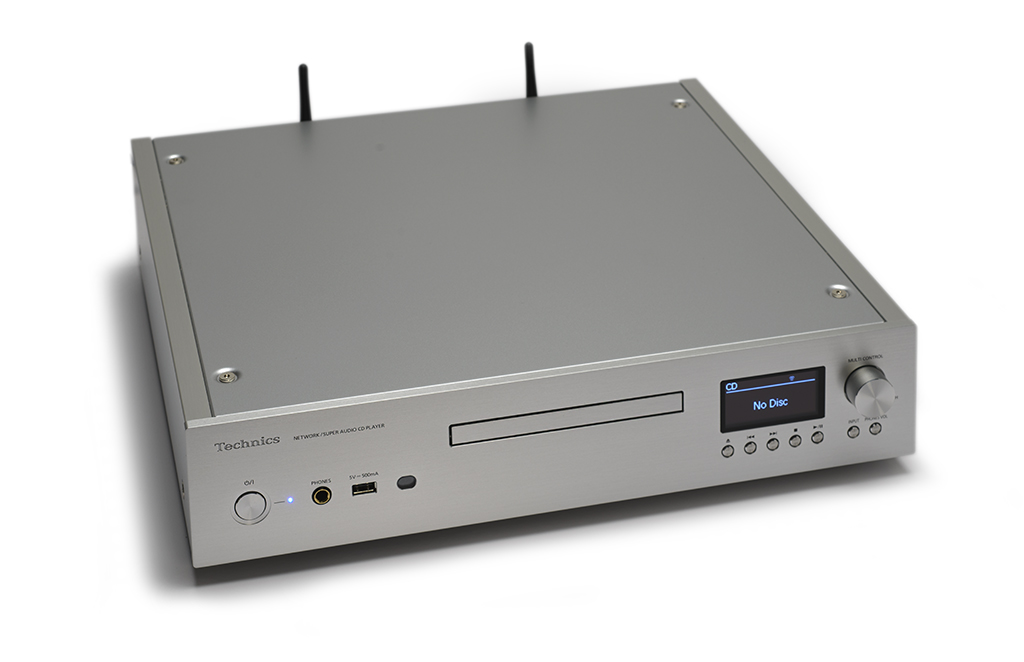 Peripherals
Amplifier Technics SU-G700, Boulder 866, Luxman L-550AXII, Octave VT-110SE
Speakers Dynaudio Confidence 20 with six pack of REL S/510 subwoofers

Cable Cardas Clear