The Cardas Clear Beyond XL Power Cable
Perfecting Form and Function
By Rob Johnson
Never resting on their laurels, the Cardas team in Bandon, Oregon continues their quest to build the perfect power cord. The effort has resulted in their new flagship, the Clear Beyond XL.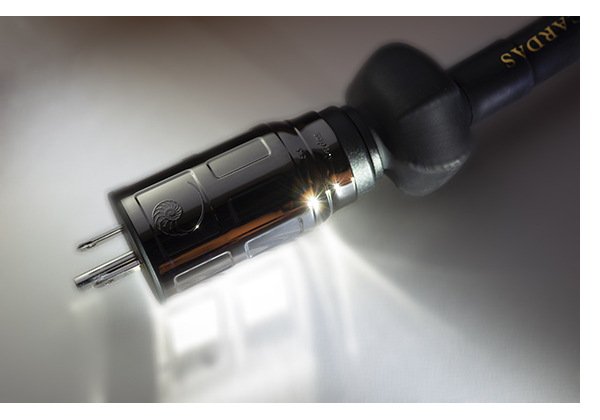 After many years using Running Springs Audio Mongoose power cords – a Cardas-modified version of the Golden Reference – as my go-to power cords it takes little listening to determine the Clear Beyond XL offers a different sonic signature. XL takes its predecessors' prowess to a new level. While Cardas's classic "Golden" product line was designed purposely to take the sting out of some edgy-sounding components, the Clear line leans in the direction of maximum revelation. Their new power cord seeks to enable an open, transparent sound coupled with a silent background to help unearth low-level details in recordings.
On the outside, this cord offers some serious bling. The new Cardas E-5 connectors featuring solid copper plated with rhodium over silver, and a bluecover surrounding the internal conductors offers attractive looks. However, what'sinsidecounts most. According to Cardas, the XL continues its tradition of golden-ratio based, multi-conductor designs. The XL – as the name implies – scales up their Clear Beyond power cord with wider gauge wire [RJ1] to maximize current transfer. Near the wall plug end, Cardas built in a customized filter said to reduce electrical noise and maximize current delivery. Despite its hefty conductors, the XL is surprisingly flexible.
Since Cardas created the cord for high current delivery, during testing it found its temporary home connected to a Conrad-Johnson ART 150, the most power-thirsty component in my reference system. While I cannot speak for the cord's impact on every component out there, it did make a significant difference in my system. Not only was there a bump up in resolution and refinement, but also the perceived soundstageextended outward left, right, front, and back. After a few days of listening to favorite tracks with the Clear Beyond XL in place, swapping in the older Mongoose power cord left me wanting for the XL's return.
The Cardas Clear Beyond XL is easy to covet, and it does not come cheap. Prices start at about $2,000 for a half-meter version and increase from there depending on length and termination type. For some music fans, that financial commitment equates to an entire audio system. If you seek to get the most from a $500 amplifier – no – the XL will not magically convert that amp into a $10,000 component. That price-performance imbalance is akin to investing $2,000 in brand-new rims and tires on a $500 car. In a case like this, a more economical power cord option in the Cardas product lineup would offer a better match. Alternately, if you want to get the absolute best performance from a reference-level component and have the budget to splurge on the Cardas Clear Beyond XL power cord, you may find it a blessing in a blue sheath.
Cardas cables come with a limited lifetime warranty, and re-termination services if needed to convert between 15 to 20 amp-style connectors should your future power cord needs dictate it. If you seek more ways to justify a Cardas Clear Beyond XL purchase, think of it as a long-term partner for your amplifier or another high-current component. While other gear may come and go, this power cord will be a marvelous system anchor for many years to come. Head to your local Cardas dealer and decide for yourself if the XL's benefits make it irresistible. You have very little to lose from trying Cardas's tried-and-true products, and plenty to gain.
Additional listening – Jeff Dorgay
Having used Cardas products for years now, even before my career as an audio writer began, I've always been enthused with this company. Their cables have always provided solid value, sonic improvement in keeping with the price points, and above all, fantastic customer service.
Four figure power cords are a new territory for Cardas, and of course there is always plenty of controversy surrounding expensive wire. As Rob pointed out, the obvious choice for a massive power cable is in an area of highest current draw. The Beyond XL power cords did make an improvement in clarity, with reduced background noise and a larger soundfield rendered.
This effect was achieved with several huge power amplifiers on hand from Pass Labs, Audio Research and Simaudio. It also worked well in tandem with the PS Audio P20 power reconditioner, where mine now abides.
As Cardas' Brian Von Bork points out, and I've confirmed, the improvement that the Clear Beyond XL offers is not limited to high current applications. The filtration technology incorporated in the conductors and ground leg will help your preamp, phonostage and DAC give it's best performance as well. Even with a component possessing a massive power supply like the Pass XS Pre, there's a major jump in clarity between "Cardas in" and "Cardas out." Ditto for my dCS Rossini player.
Premium cable always seems to elicit an incendiary response from the masses. Fortunately, nothing is easier to evaluate than a cable. Plug it in, listen for a difference. If the delta makes sense to you, the only thing that remains are budgetary considerations. However, in comparison to some of the much more expensive power cords we've heard, in the context of the world's finest audio components, the Clear Beyond XL delivers the goods.
If improved power delivery is on your wish list, we suggest stopping by your Cardas dealer and taking one for a test drive. See if you like it as much as we do. Highly recommended.
Cardas Clear Beyond XL Power Cord
MSRP: Starting at $2,000
---