The Paradigm Premier 700F Speakers
Floorstanding Excellence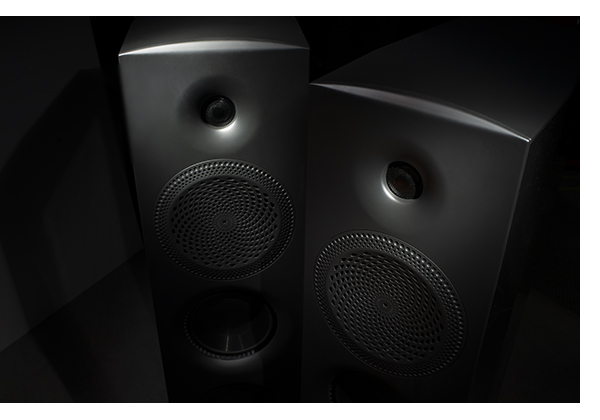 Rickie Lee Jones' version of "Bad Company," from her latest album puts the Paradigm Premier 700F speakers in perspective immediately. These speakers create a massive, immersive soundfield on this ethereal track. Combine this with a level of resolution rarely available in a $1,598 pair of speakers along with major low-frequency capability, and we've got a winner.
Our art director Brian Gage did some of the heavy lifting, putting serious break-in time on the 700Fs, but did not find nirvana in his reasonably large living room. I had a similar result here in my main 16 x 25-foot room – the 700Fs got slightly swallowed up, with a bit brighter feel than either of us liked. Moving them to room two, (measuring 15 x 13 feet) proved to be the magic combination. A little bit of room gain makes for a bit more bottom end and better top to bottom balance overall. Experimenting with a couple more rooms lends us to suggest using a pair of 700Fs (without a subwoofer) in a small to medium sized room for best overall tonal balance.
Placed on the short wall, with the speakers about three feet out into the room, six feet apart and toed in only slightly was a great place to start. Because the 700Fs have wide dispersion in both planes, and substantial HF energy, they will work well in a typical home living room with a fair amount of furniture – and will not need too much attention to final placement for a good result. But the patient can fine tune them for even better sound.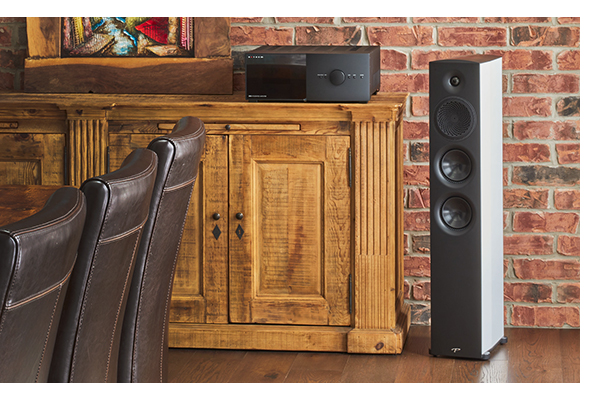 As Brian noticed, the 700Fs offer excellent dynamic contrast – a longtime Paradigm hallmark, and are great for home theater applications. I followed his lead, and after full evaluation in my listening room, moved them into my small theater room as front speakers. This time, power coming from the new Anthem MRX 520 surround receiver. In my HT system, they were part of a mixed group of speakers, with the pair of Paradigm Atoms we reviewed a while back, a Paradigm Defiance subwoofer and a Bowers & Wilkins sub.
Those building a theater system from scratch would be wise to pair the 700Fs with any of the other three speakers (larger and smaller) and one of the subwoofers in the Defiance lineup to get the maximum effect, but back to two-channel world…
Crafted in Canada continued
A big part of the Paradigm story is that their speakers are all designed and built in their Canadian factory. Where some manufacturers have moved their entry-level products overseas, Paradigm does it all under one roof. This is vertical design and build at its finest. Where many speaker manufacturers must work around the compromises accompanying off the shelf components, Paradigm produces every bit of their speaker systems from the ground up – drivers, crossovers, and cabinets. If the driver in a new speaker doesn't meet their goals, they go back to the lab and re-design it to be in spec, rather than just getting by. The purchasing power that a company of this size brings to bear also helps to keep costs way down and Paradigm has built their reputation on offering maximum performance for the dollar. The 700Fs uphold that 37-year history of excellence.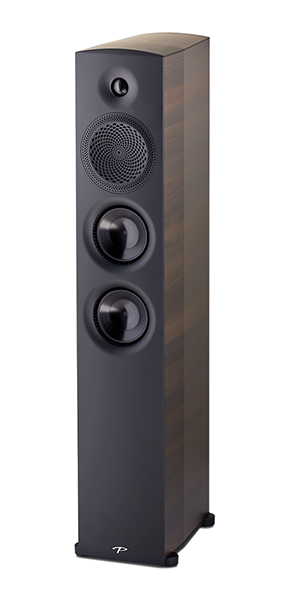 The stylish PPA™ (Perforated Phase Aligning) tweeter and Midrange lens technology combined with the ART™ (Active Ridge Technology) surrounds in the woofer, all hail from their flagship Persona speakers. This is a level of build quality and craftsmanship that is only offered by a handful of other manufacturers, that incidentally also design and build everything in house, so the 700F has few peers.
Understated black grilles are standard equipment, but if you don't have to contend with prying paws or fingers, the bold design statement made by the exposed drivers and beautiful machine work seems way too nice to cover up. Spikes are also included, along with pucks so that the spikes do not bite into hardwood floors.
Setup and break in
The 700Fs come out of the box slightly stiff, so give them a couple of weeks of solid play to achieve the maximum bass response, smoothness, and cohesion of the drivers. If you have the luxury of playing them in a room, out of phase with a blanket over them, with some reasonably dynamic program material, this will accelerate the process somewhat. And don't be afraid to break out the bass heavy tracks.
As mentioned, the 700Fs are easy to get up and playing music, but a bit of fine tuning the rake angle will maximize the imaging width and depth. We suggest placing the speakers for the best balance of lower bass output and upper bass smoothness to start. Then, adjust rake angle in small increments for maximum image width and depth, finishing off by fine-tuning the toe in for the best HF balance. Small steps are reasonable here, and thanks to the high resolution of these speakers, your efforts will be rewarded.
Fortunately, their compact footprint (8.375″W x 12.625″ D and 39.875″T) and light weight (48.2lbs.) won't require significant acrobatics, or friends to unbox and move into position in your listening area.
Our test pair arrived in a gloss black, with gloss white and an espresso grain finish also available. No matter which finish you choose, the front and the top face of the speakers are finished in matte black – no doubt a move to keep the cost more reasonable. Two sets of binding posts are available for those wanting to bi-wire, but for the duration of our review, the 700Fs were used with a single pair of speaker cables and the jumpers intact. The quality of the finish on the side panels is as smooth as the $35,000/pair Personas we reviewed previously.
Again, this is where building everything in house is a benefit – the same people doing the cabinets on Paradigm's top speakers are working on these too. However, it's more than just the quality of the finish on the outer walls of the cabinet that impress. Looking at the 700Fs very carefully reveals the smoothness of the bevels on the front panel and how cleanly the drivers are mounted. There is no visible hardware. The cabinet corners intersect perfectly. This is the level of quality you demand from a $10k pair of speakers. Not something you expect for this price – a definite bonus to qualityphiles. These are speakers that you will be very proud to own.
A good seat
Thanks to a sensitivity rating of 91db/1 watt, it doesn't take a ton of power to drive the 700Fs, but the more current and control your amplifier has on tap, the more involving the presentation. The difference between using the 700Fs with a few budget and vintage amplifiers versus contemporary offerings from Nagra, PASS, and ARC is impressive. Through the Nagra amplification chain, the 700Fs easily illustrate the difference between a wide range of source components. These are very capable speakers.

Paradigm claims a low-frequency limit of 33hz, with a +/- frequency range of 45 – 20,000 Hz. Though we don't perform lab measurements here, a cursory audition of the original Stereophile Test Disc, with test tones down to 20hz reveals solid output down to 35hz. This is more than enough to enjoy whatever kind of music you love. It also is enough output to mate effectively with whatever subwoofer you might want to add to the mix. Often, speakers falling off around 60 Hz (as in a typical sat/sub combination) always seem to have a bit of a gap in the low-frequency response, making subwoofer integration less than seamless. Again, the 700Fs succeed brilliantly with or without a sub.
Again, in the 13 x 15-foot room, our favorite EDM and hip hop tracks reveal more than enough useable LF content to impress through the 700Fs. Paradigm calls them a full three-way system, with a pair of 5 ½" woofers, crossing over to a 5 ½" midrange driver at 800hz via a 2nd order crossover and then to the tweeter at 2500hz. The drivers work seamlessly together and provide a high level of coherency.
Much fun as these speakers are to tear up your favorite rock tracks, solo vocal tracks impress equally, as do acoustic cuts.
Tough to beat
The under $2,000/pair speaker market is incredibly competitive. Paradigm brings engineering and execution together for a class winner. They've achieved not only a high level of performance with the 700F; these are well-balanced speakers that do not compromise one area of audible performance for the rest of the spectrum. Quite an achievement for $1,598 a pair and more than worthy of one of our Exceptional Value Awards for 2019.
The Paradigm Premier 700F Speakers
$1,598/pair
Peripherals
Digital source dCS Vivaldi One
Preamplifier Nagra Classic Preamp
Power Amplifier Nagra Classic Amp
Cable Tellurium Q Black II
Power Torus Tot II