The TUK speakers from Kanto Audio
Almost all you need!
By Jeff Dorgay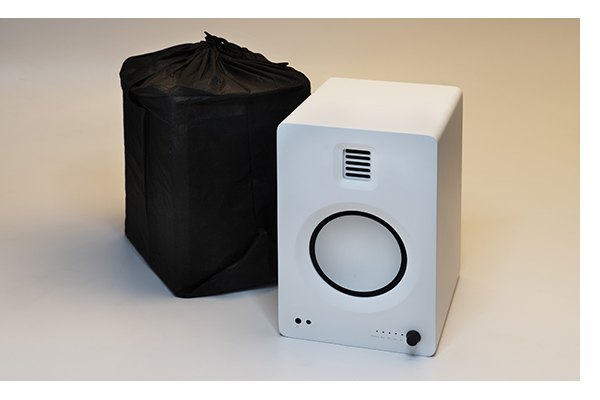 My apologies for the title. To be absolutely correct, the TUKs are all you need if you don't want to listen to records. Music lovers sourcing their tunes digitally, have everything they need inside the small (but well packed) box that the TUKs arrive in. And for $799 a pair, these speakers offer an incredible amount of sound for the price.
Much as I hate listening to the Eagles, their first album is well recorded and offers some great harmonies, most that get lost on so called, budget speakers. The integration between the TUKs 5 ¼" woofer and AMT tweeter is flawless, and they offer distinct separation of these voices, doing an excellent job keeping the tracks' pace locked down. Whether listening to layered harmonies, densely recorded metal tracks, or acoustic tunes, the TUKs are a pleasure to listen to, for hours on end.
This, along with the first week of listening was done strictly with the Bluetooth input from my phone, via Roon and Qobuz. I suspect that a lot of the potential audience for these speakers (or any compact, powered speaker for that matter) is more of an "on the go" listener, so if this happens to be you, you will not be disappointed using the TUKs this way.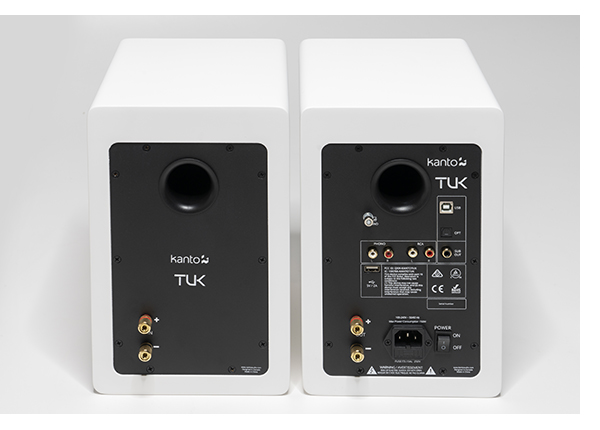 Moving up
Should you have further audiophile aspirations, the TUKs have you covered with a built in 24/96 DAC, accessible via the rear panel USB port, RCA/SPDIF port, or an optical input. Sampling each, with an old SONY CD changer and Mac Book Pro, versus streaming 24/96 files from Qobuz and CDs is a major step up, with the TUKs offering a much higher level of performance from the already impressive Bluetooth input.
Listening to a number of the same tracks from the initial audition period, is a completely different experience utilizing the on-board DAC. Clarity makes a major jump forward, and if you have the opportunity to truly place the TUKs for optimum sound, a much bigger and deeper sound field awaits you as well. In typical fashion, Kanto puts the amplifier and DAC in one speaker, tethering to the other with a speaker cable. The powered speaker is designated left and the passive right, but should you need to place the powered speaker on the left due to proximity of your AC outlet, it takes a mere push of the button on the remote control to re-orient the speakers, so that left is left again.
Subtleties make the difference
This is a very nice touch, and something I haven't seen on other powered speakers. The TUKs are full of nice touches, from their satin finish to the aforementioned remote. Fit and finish is high quality, and if there were no badges on these speakers, you'd believe me if I told you that these were built in the same factory that the $4,500 pair of Bowers & Wilkins Duo's we reviewed recently.
Attention to detail is more than skin deep with the TUKs. In addition to the high-quality DAC and 130 watts per channel on tap, the TUKs also offer an on board phono stage, which we took advantage of with a few budget turntables from Rega and Pro-Ject, utilizing moving magnet cartridges, as well as a vintage Technics with a new Pro-Ject MM cartridge. On one level, this might be the most impressive feature of the TUK – these speakers have a damn good phono stage built in! If you already have a turntable, or are thinking of starting to spin records, the TUKs are a perfect place to start.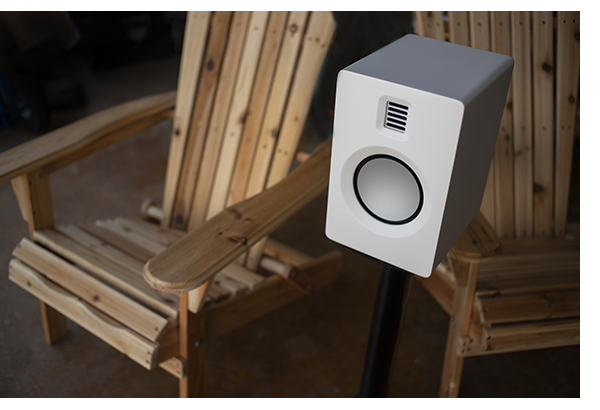 Put em anywhere
The small 8.5"W x 10.9"H x 7"D footprint makes the TUKs easy to place for maximum fun. Thanks to the TUKs wide dispersion, they offer great sound no matter where you have to place them. However, if you do want a more traditional audiophile setup, a good pair of stands with the speakers about 6-9 feet apart delivers the goods. Work with the room, best you can to achieve the best balance of upper bass smoothness and lower bass extension. Kanto claims a low frequency limit of 50hz, and this seems reasonable as long as you don't push the TUKs too hard with tracks having a lot of sub bass information.
For the rest of you, a subwoofer is easily added. Thanks to an 80hz internal crossover, you can add one of Kanto's subs, or anything else that has a high-level input. As I didn't have a Kanto sub on hand, my REL T7 (which used to sell for about $349) worked well, and its white finish goes with the current aesthetic. Much as I love the TUKs, adding the sub really makes for a more full-range system, especially if you like music with a lot of low frequencies. With sub in place, tracking through hip hop and EDM faves is a breeze, and crossing over the TUKs, relieving them of amplifying the lowest frequency gives them even more dynamic range.
The small footprint makes the TUKs easy to bring music along wherever you might happen to be. They were as at home in my garage for a weekend worth of car maintenance as they were at an impromptu gathering, and on my back porch, by the fireplace. Actually, they work exceptionally well as a go everywhere party speaker. You might even call the TUKs the perfect road trip companion.
Thanks to all the inputs and small size, they also work incredibly well as powered desktop monitors. Those of you that spend a lot of time in front of a screen will enjoy these as conduits for your favorite tunes, or even to use editing video. Editing a few upcoming YouTube pieces was a snap through the TUKs.
Sonic superstars
Cool as everything else about the TUKs are, their sonic performance is well above everything else we've heard in this price range. They not only reveal a high level of musical detail, they have a level of refinement that is absent in this price category. Oh yeah, they even have a built-in headphone amp too. And It's really good.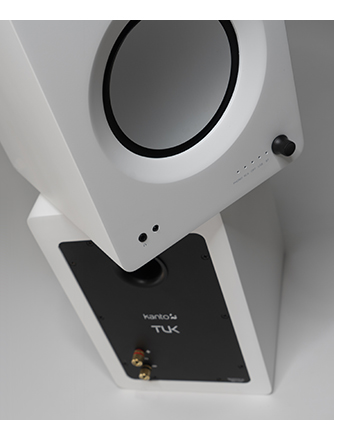 With or without a subwoofer, we can't think of a better way to spend $799 on a hifi system. And remember, this isn't just a pair of powered speakers, the Kanto TUKs are a complete hifi system. Everything you need to listen to music is in the box. Well, except for a turntable!
And we are pleased to award the Kanto TUKs the Audiophile Apartment's first Product of the Year award. Whether you are just starting your journey, or need another system elsewhere in your environment, a pair of these will provide you with a lot of listening pleasure.