Neko Audio D-100 DAC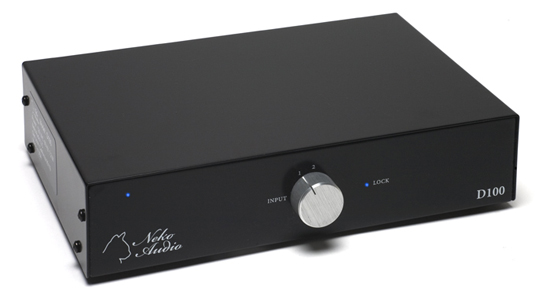 Digital Excellence:
The Neko Audio D100 DAC
With the DAC making such a big comeback in the last year especially, the market is heating up again, much like the early 90's when it seemed everyone had a DAC for sale.  But then, DAC chips took a leap up in quality and a big leap down in price; single box players started to rule the day.
Fast forward to 2009 and the DAC is back, but for a different reason.  Computers and portable music players have people wanting to integrate those sources into their systems, while many are replacing their CD players entirely in favor of using a laptop or computer based music server as a primary source component.
There are some old and new players back in the game, almost all with excellent results.  Of course, the extreme high end has latched onto this again with a handful of mega DAC's in the five-figure range, but I believe the excitement is at the $1,000 price point.  We have had the good fortune to review quite a few different models in this range, but for now, one stands head and shoulders above the rest, the D100 from Neko Audio at $1,295.
Digital Direct to You
Like Benchmark and a few others, Neko gets the job done at a reasonable price point by going direct to the customer, avoiding the traditional dealer network.  Considering the added cost and time of establishing such a dealer network, this makes the D100 much more competitive.
Because the D100 is so small and relatively lightweight, it is easy and inexpensive to ship.  Adopting the current business model of a number of other high-end audio companies that sell direct, there is a 30-day money back guarantee for the D100.  I doubt there will be many asking for a refund.
The only caveat is that Neko Audio is a newcomer to the industry, so they do not enjoy the reputation and legacy product support that a company like Naim, Wadia or Meridian does.  But for this kind of money, I feel it's worth gambling on the new guy in town.
A New approach
Where most DAC's use a series of op amps or some form of active circuitry in their analog sections, the D100 is unique in the sense that it uses high quality passive components and a pair of Jensen transformers in the output stage.  Digital conversion is done with a pair of the ubiquitous Burr Brown PCM1794's operating in mono.
The D100 keeps it simple, with a small case (10.5″ x 2.5″ x 6.5″) and minimal controls.  There is an on/off switch on the back, inputs for RCA SPDIF and Toslink with a selector switch on the front panel.  For now, designer Wesley Miaw has chosen to forgo a USB input, but says that this will be implemented in the next version at a higher cost.
Because of the output transformers, the output is balanced XLR on the D100.  You can use adaptors or purchase RCA to XLR interconnects directly from Neko Audio at a very reasonable cost.  My reference system is balanced today, so I plugged in a pair of Shunyata's newest Aurora interconnects and got to work listening.  Having spent a lot of time recently with the PS Audio Digital Link III, the Benchmark DAC-1 and the Cambridge DAC Magic, I was very anxious to see how the D100 would stack up.  As always, my main references were the Naim CD555 and Wadia 781i SE, which can also be used as a DAC.
Natural Digital
It's rare that these two words go together and even more rare at this price point, but the D100 is a stellar performer.  Long-term readers of TONEAudio know that I'm not a flavor of the month reviewer, and seldom gush about anything, but the Neko Audio D100 is damn good.
To sum it up in one word; natural.  When you are playing the digital game at the $1,000 price point, the words "it sounds really good for digital" usually end up falling out of your mouth, but the D100 is the first DAC at this level that I've found truly musical in the sense that I would a decent turntable.  Though I have a ton of megabuck digital hardware here, I started my audition of the D100 with my Wadia 170i, my iPod full of uncompressed music.
Vinyl resurgence notwithstanding, I could be just as happy with a Wadia 170i and this DAC as I would any turntable/arm/cartridge and phono preamplifier at this price point, so the D100 passes the ultimate test for me.
An unfair comparison
When I spoke with designer Wesley Miaw on the phone, he wanted to know what differences I found between the D100 and the more expensive digital components.  The real gap between the D100 and the money no object digital, is a lack of ultimate resolution and dynamics, but more often than not (and especially at this price point) this can be a good thing with digital.  Personally, I would always rather err on the side of musicality than go the other way with too much detail in all but the most transparent systems.
Listening to vocals and acoustic instruments was a treat on the D100 and even after day long listening and Photoshop sessions, I never walked away from this DAC feeling the slightest bit fatigued.  If I had to compare the sound of the D100 to something, it would be my Harbeth Monitor 40.1's. They too lack a slight bit of ultimate detail, but do such a great job with the midrange and have such a natural sound, I find myself forgetting about the rest of the fine points and concentrating on the music instead.  It's rare when any digital component can do this at any price.  Sure, when I drop a disc in the Naim CD555, I see what's missing, but the D100 is great digital that you can live with that doesn't cost a princely sum.
Sonic signature
I spent the majority of the review period using the D100 with my Sooloos music server.  With 5000 CD's on tap, I was able to cover a lot of musical ground in a relatively short period of time.  I suspect eliminating the opamps from the circuit and going with the output transformers has a lot to do with the grain free, almost slightly warm presentation that the D100 achieves.  If I didn't know any better, I'd swear there was a pair of 12AX7's under the hood!  But the great news is that there isn't and you won't be at the mercy of the tube pirates to have this sound.
The overall tonality of the D100 is rich and engaging.  When listening to my favorite classic jazz cuts (Sonny Rollins, Miles Davis, John Coltrane, etc) I instantly keyed in on the portrayal of acoustic instruments in a real space.  Cymbals sound smooth, with a lot of air and the proper amount of decay, never crunchy.
Yet the D100 had enough punch and dynamic drive to keep me happy listening to Metallica, Tool and Mastodon.  This isn't a wimpy sounding DAC at all.  Much like a Koetsu phono cartridge, the D100 embellishes slightly, but in a good way.  It allows great recordings to shine, but helps a bit with the less than stellar recordings.  For most of us with less than perfect music collections, I can't see this ever being a problem.

Variables and other system synergies
I made it a point to use the D100 with a number of other transports, from my budget Pioneer 563 up to the Wadia 781SE.  Because this DAC does not have a USB input, computer audio fans are limited to using the Toslink input only, unless your computer has an SPDIF output like my HP TouchSmart does.  Music played from my MacBook Pro via Toslink was very good, but a step down from the SPDIF input; the presentation shrunk somewhat in all dimensions, but this is no fault of the D100, this is the sacrifice you pay with Toslink on any DAC.
Should you have an older CD player in your system, the D100 is definitely your ticket to ride.  Everything from the Pioneer 563 to a friend's Rega Planet 2000 player was improved substantially by adding the D100 to the mix.
Top Gun, at least for now
As we all know, computer years are even shorter than dog years, so there could be a new contender in six months.  However, if your taste in sound at all mirrors mine, and you value tonal correctness and musicality above all other parameters, the Neko Audio D100 is the DAC to beat for reasonably priced digital excellence.  This DAC put on an admirable performance stacked up to the mega buck stuff and for those of you with a system in the $2,000 – $30,000 range; this may be all you ever need.
I am happy to award the Neko Audio D100 one of our Exceptional Value Awards for 2009 and hope that Mr. Miaw has continued success.  Keep an eye on this guy; he's got some great ideas.
The Neko Audio D100 DAC
MSRP:  $1,295    Factory direct, 30-day return policy
408-476-3276
www.nekoaudio.com
Peripherals:
Digital Sources Naim CD555, Wadia 781i SE, Sooloos Music Server, Pioneer 563, Rega Planet 2000, McIntosh MS300 music server
Electronics Burmester 011 Preamplifier, Burmester 911mk. 3 Power Amplifier
Speakers MartinLogan CLXw/pair of Descent i subwoofers
Cable Shunyata Aurora interconnects, Shunyata Orion Speaker cables, ALO Audio Digital cable
Power Running Springs Dmitri and Jaco Line conditioners, Shunyata Hydra 2 line conditioner, Running Springs Mongoose power cords, Shunyata Anaconda VX power cords
Accessories Burmester V1 and V3 racks, Finite Elemente Pagode signature racks, Manley Massive Passive Studio Mastering Equalizer, Manley Skipjack,  Shunyata Dark Field cable elevators