Mini Watt Amplifier: Take a Fresh Look at HiFi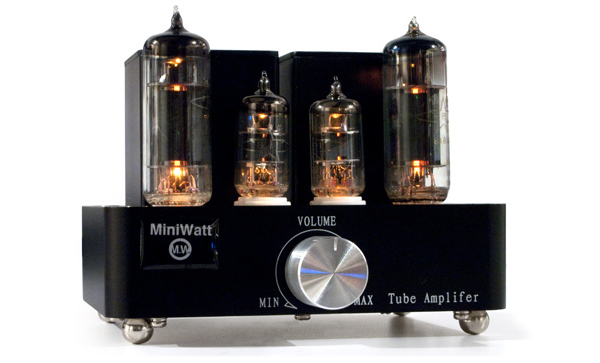 No matter what your position in the audiophile game, you need a MiniWatt. This is one of the most fun pieces of gear I've seen in about fifteen years. (The last time was when the Antique Sound Labs Company sold their $99 tube monoblocks…) The MiniWatt is a 2.5-watt per channel tube amplifier that weighs a couple of pounds and only takes up about a 6 x 6 inch footprint on your desk, about 15 x 15 centimeters for our friends in the rest of the world.
It uses a pair of 6J1 and 6P1 tubes and a self contained AC power supply. The rear side of the transformers have banana jacks wired directly to them for your speakers and there is one set of RCA jacks to plug in an analog source. ALOAudio and their retail store 32 Ohm Audio is the exclusive American distributor for these little jewels, and when I stopped by their store last week, they weren't even open and people were already buying them. "Wanna take one home?" Ball asked me as I was surveying the new store. Look, shiny thing!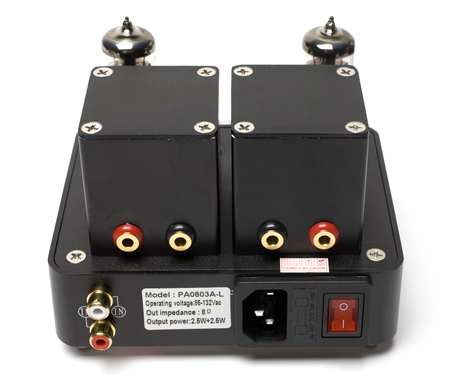 Hurry up and plug it in
I wasn't even half way to my car when I thought of hooking the MiniWatt up to my Zu Essence speakers that have a sensitivity of almost 100db. Knowing the luck I've had with Zu's and 2A3 amplifiers in the past, I knew that this would be a rocking combination. The minute I hit the door, the MiniWatt was plugged in to the living room system, with the tubes warming up.
For the nerdtrons in the audience, I hooked the MW up with a pair of Zu's Libtec speaker cables and a pair of Furutech Reference III interconnects to my Marantz Pearl SACD player. You think I'm crazy hooking up about $4k worth of ancillaries? It didn't stop there, I had a spare Shunyata Python CX power cord, and so I was now ready to roll with the whole setup plugged into a Running Springs Haley power conditioner.
FYI, for those considering the MiniWatt to be the hub of a "budget" system, it works great that way too. Later on, after the amplifier was fully evaluated, I broke out the $50 Pioneer 563 Universal Player and my favorite $100 Polk Audios and was still very impressed with the performance.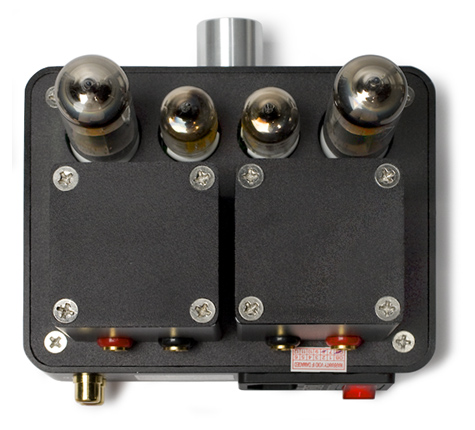 2.5 watts can accomplish a lot
Powering the Zu's the MW was able to blast. I zipped through some of my favorite metal discs and was amazed at how loud I could play Van Halen with this tiny amplifier. TONEAudio writer Jerald O'Brien stopped by for an adult beverage and thought I was using the Lavardin integrated amplifier that is also in for review. He was pretty surprised when I told him it was just the MW. "I thought that was a new headphone amp!" he remarked.
We proceeded to spin more discs and after some jazz and vocals, it was evident that this tiny tot was no mere toy amplifier; it delivered the goods. Because this amplifier has the tubes driven in ultralinear mode and those are some pretty small output transformers, it's slightly grainy, but that's judging it against my Bottlehead 2A3 monoblocks, which are silky smooth and with some upgraded 2A3's will set you back a couple thousand bucks. You'll never touch tubey goodness like this for $229.
What impressed me the most about the MW was the amount of bass power and control it had, which wasn't limited to the Zu's. Going through another cache of tracks from Pink Floyd, Genesis and Spock's Beard, we were convinced that the MW could really get down. I also had a ton of fun using it as a desktop amplifier with a pair of KEF XQ20's that feature their Uni-Q driver and are very coherent. Soundstaging on my desk between my 30" Apple Cinema Monitor was wide, wide, wide and dynamics remained excellent, even with speakers only having an 88db sensitivity. Near field listening has its benefits.
Pondering the Zu's again, which have a nominal impedance somewhere around 14 ohms, I thought the MW just might be a good headphone after all and gave my Sennheiser 650's a try. Again, excellent luck, so this could also work as a headphone amplifier for some phones. I didn't get a chance to give this configuration extensive testing, so it might not work with every situation, but if you buy a MW I suggest giving your phones a test drive while you are at it. It's small enough to carry into the bedroom for some late night listening with your iPod and favorite phones.
More performance
I suppose you could get crazy and mod the heck out of the MW, (and this could be a future article because I have a hard time leaving well enough alone) but an easy upgrade is to spend another $45 and get the "upgraded tube set" from ALO which includes a pair of Russian tubes to replace the 6N1's on the outer left and right, while the two middle tubes are replaced with a pair of vintage Western Electric 403, which is a 7 pin mini pentode tube.
This made a big difference in the overall sound, increasing the soundstage about 25% and eliminating some of the grain that was present in the upper midrange/lower treble range. This is definitely the best $45 upgrade you will ever hear, so I suggest just ordering your MW from Ken with the better tubes, you won't regret it.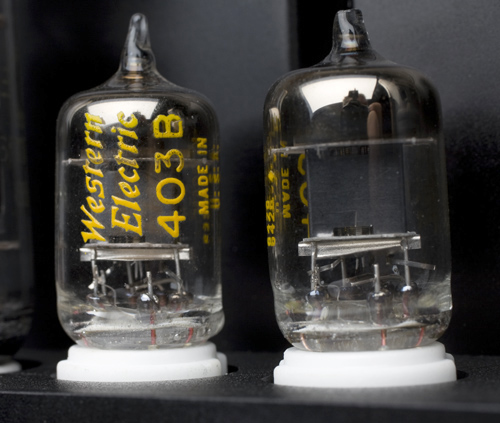 Award winning fun
I am happy to give the MiniWatt amplifier our Product of the Year award in the "Budget Audio" category. This is a great amplifier, period. If you are just starting out in HiFi, you can make a pair of single driver, high efficiency speakers, add a source and be digging music on a pretty tight budget that you will really enjoy and our world definitely needs more products like this. And I can't think of a more fun way to enter the world of vacuum tube audio if you haven't yet.
This little amp is the real deal folks. Highly recommended.
– Jeff Dorgay
The MiniWatt Amplifier
MSRP: $229, updated tubes, $30 additional
USA Importer:
Ken Ball/ALO Audio, www.aloaudio.com
MiniWatt home page: www.miniwatt.com.hk