Ypsilon VPS 100 Phono Preamplifier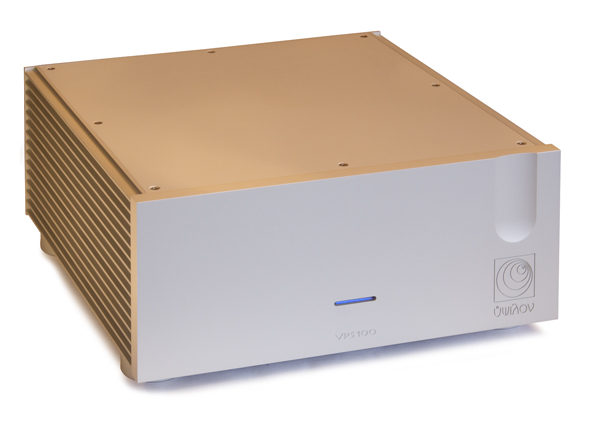 Greece is known for a number of things. It's the origin of western democracy. It was overtaken by the Romans. It's constantly feuding with Turkey. It's got beautiful islands. And most recently, it experienced rioting over its bankruptcy. But stereo equipment? It's no secret that there are hard-core Greek audiophiles, but the last thing I would ever  associate Greece with is the production of high-end audio gear. I couldn't have been more wrong.
Ypsilon electronics, for example, is aiming to become one of the big dogs in the stereo world. It boasts an array of transformer-coupled preamplifiers, phonostages, and amplifiers whose sonic achievements are nearly as staggering as their price, which is to say that both are very high. Based in Athens, the company is headed by technological whiz Demetris Backlavas, as genial a soul as you'll ever meet in the high-end industry.
Past and Present Transformed
Ypsilon, like its importer Brian Ackerman of Aaudio Imports—who is based in Parker, Colorado, and who is an indefatigable audiophile—does not do things by half-measures. The fit 'n finish of its units are impeccable and understated. The most bling you'll see is a steady blue light that emits from the front panel. But inside is a plethora of whiz-bang technology that represents, in many ways, a unique fusion of past and present.
The $26,000 Ypsilon VPS 100 employs a hefty outboard transformer to step up the tiny phono signal. The external transformer is matched in gain to the cartridge you're using. The upside is that the match should be perfect; the downside is that you may need more than one transformer if you're using multiple arms and cartridges. Yet the build quality of the transformers appears to be exemplary.
You may well find yourself using more than one transformer, and if so, you can also use loading plugs with them to change the impedance. Depending on which transformer you're using, the amount of gain varies. I found the MC-16 to be the most versatile. In theory, lower gain transformers mean fewer windings and purer sound. In addition, Ackerman recommends utilizing the Stage III Concepts Analord Prime phono cable from the transformer to the Ypsilon unit itself. I took his advice and discovered that the Analord Prime offers mesmerizing performance. It is fast, spacious, and refined. Unequivocally recommended.
Zero Capacitors
Inside, the VPS 100  has two Siemens C3g tubes for the gain stage and a 6CA4/EZ81 tube rectifier. Ypsilon's main claim to fame is that it doesn't use capacitors in the signal path or anywhere else. Capacitors, you may recall, do two things: store and release energy. A small industry has developed around creating ever-more transparent and fast capacitors that eliminate what sounds like the smearing of music in preamps and amplifiers. But Ypsilon apparently decided to perform an end-run around the capacitor issue. It's returning to the pre-capacitor age when transformers and lots of chokes did the job. Only Ypsilon's transformers are made in-house and feature amorphous cores. In other words, they're supposed to sound superior to any capacitor. Do they? Judging by the performance of the Ypsilon phonostage, the answer is a resounding yes.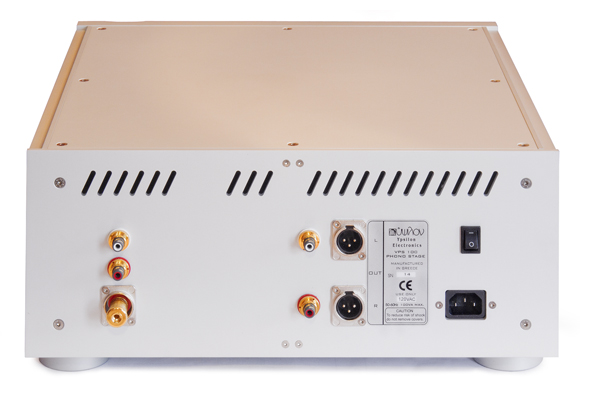 Effortless Sound and Performance
Whether the Ypsilon is flatly superior to any phonostage in or above its price class will always be subject to dispute. But the phonostage, to which I've listened for nearly six months, possesses some remarkable characteristics. Its most notable trait is its transparency to the source—an ability to project back, up, sideways, down, revealing aspects of LPs that, frankly, had never been previously apparent. It also has an extremely organized sound.
Some of these attributes first came to me while listening to a scintillating LP titled The Black Motion Picture Experience, picked up for a cool $20 at Los Angeles' Record Surplus, one of the last major purveyors of used vinyl. Featuring cuts such as "Super Fly," "Freddie's Dead," and "Across 110th St.," it offers a stern test of any stereo system. The Ypsilon passed the exam with flying colors. Perhaps its most striking feature related to the sheer scale it reproduced. The Ypsilon seems to offer another octave of air on top, allowing it to produce a tremendous amount of detail with ease. Soprano voices, choirs in the background, and cymbal strikes all emerged from stunningly black backgrounds. They were also precisely located, no mean feat when you're talking about a 1970s LP with a large cast of characters and instruments. The Ypsilon was never ruffled.
Similarly, on Richard Betts' prized Highway Call, the Ypsilon managed to take a recording that can sound slightly compressed and inject it with a dose of air. In that it beautifully separated the drums and guitars and voices from each other, the Ypsilon gave the sense of a live band playing. It provided a much closer connection to the music, allowing that critical part of the brain to turn off and just enjoy the sound.
Moreover, the size of the soundstage can become almost hallucinatory. For all its transparency, which is as good as I've ever heard, the Ypsilon doesn't thin out the sound at all. On the contrary, drum whacks come through with awe-inspiring heft. So do double basses on orchestral recordings, like Stravinsky's Firebird conducted by Antal Dorati on a legendary Mercury pressing. The union of extreme detail, coupled with massive presence, really has to be heard.
There's an immediacy to the sound, a lack of restraint, and a sense of a time delay having been removed when the Ypsilon is in my system. The Ypsilon, you could say, sounds unencumbered. It allows the music to float out in an ethereal way. Consider the album Sam Cooke at the Copa, an old mono on RCA Victor. The Ypsilon bestows a real sense of the club in which Cooke sings. And the soul legend's voice sounds divinely inspired. Almost—dare I say it?—live. Ditto for the Miles Davis recording of "My Funny Valentine" on the Prestige album Cookin' With The Miles Davis Quintet. The extent to which it sounds as though the muted trumpet, plangent and tinny, hovers in the room is remarkable. The Ypsilon appeared to capture every last nuance and shading.
Tales of Brave Ulysses
The most breathtaking sound that I heard with the Ypsilon came courtesy of an Oscar Peterson and Jon Faddis recording on Pablo. Peterson, the heir to Art Tatum, possesses an incredibly virtuosic style. Notes can spray out like a geyser when he tinkles the ivories. On "Lester Leaps In," the speed and full sound of the piano are simply the best I've experienced. The Ypsilon conveyed the piano's harmonic overtones with astounding fidelity.
These pluses, it must be said, were not immediately apparent. It took months for the phonostage to break in. Some pieces don't seem to require much run-in time. The Ypsilon is assuredly not one of them. At times I wondered whether its performance would ever pick up. But my guess is that the wire in the transformers just takes eons to burn-in. In fact, I'm not at all sure that the unit has finished its odyssey.
Like the ancient Greek hero Ulysses, it's taking its sweet time to reach its home destination. But the path that leads to it is sheer bliss. The Ypsilon is as pure as it gets. It is not a good phonostage. It is a superb one. But beware: If you audition the Ypsilon, you will almost surely be unable to part with it.  -Jacob Heilbrunn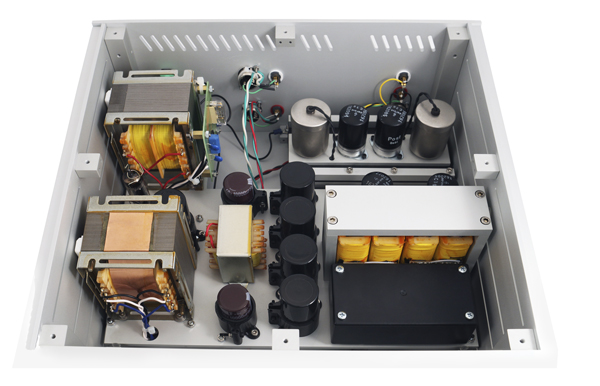 Additional Listening:
To fully understand the enthusiasm put forth in this review, it is important to mention that the reference system used to evaluate the VPS 100 is truly staggering, both in capability and the care spent setting it up. On a recent visit to Jacob's house, I was instantly taken back by the Wilson X-2's and matching pair of Thor subwoofers. You don't see that kind of hardware at the average audio society event. While the four Classe CA-600M monoblocks and Messenger Reference Tube preamplifier were indeed impressive, just behind the system—and in an isolated room—sits a Continuum Caliburn with a pair of Cobra arms. One arm is optimized for stereo playback and features the AirTight PC-1 Supreme; the other is outfitted for mono with a Lyra Titan Mono. To put it mildly, there is no weak link in the reproduction chain.
Having listened to most of the cuts referenced in the review here, I concur with all of Jacob's conclusions. Again, the most impressive aspect of the Ypsilon is the effortlessness of its presentation. The moment the tonearm is lowered onto the record, the concept of listening to a music system disappears from your consciousness, allowing you to enjoy music reproduced without limitation. And that's truly what high-end audio is all about.  —Jeff Dorgay
Ypsilon VPS 100 Phono Preamplifier
MSRP:  $26,000
US Distribution:  Brian Ackerman
(720) 851-2525
Peripherals
| | |
| --- | --- |
| Analog Source | Continuum Caliburn w/2 Cobra tonearms    AirTight PC-1 Supreme (Stereo)     Lyra Titan (Mono) |
| Preamplifier | Messenger |
| Power Amplifier | Classe CA-M600 Monos (two more for subwoofers) |
| Speakers | Wilson Audio Alexandria X-2 w/Thor Subwoofers    Magnepan 20.1 |
| Cable | Jena Labs |
| Power | Isoclean Supreme Focus |
| Accessories | Stage III Concepts Analord Prime Phono Cable |