Octave Phono Module Preamplifier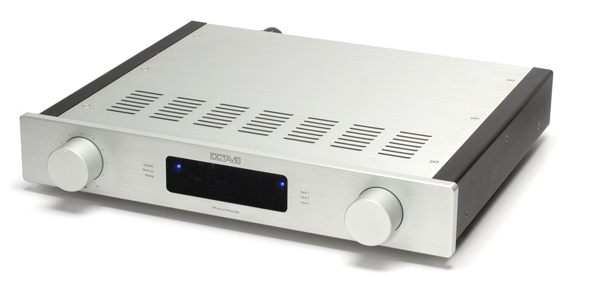 One of the toughest things audio enthusiasts face is knowing when to stop hunting for a different piece of gear. How many times have you planted your feet, determined to stick with your favorite preamplifier du jour, only to fall in love with a new power amplifier that needs XLR inputs where previously, you only had RCAs or vice-versa? Perhaps a second turntable makes sense, but you don't want to abandon your current phono preamplifier for something different that only has one input. And so it goes.
I've always enjoyed Naim's modular concept of adding a larger power supply to increase a system's performance, but German manufacturer Octave takes things even further, allowing you the option of choosing your input sources as well as your output choices. And, like Octave's power amplifiers, there is an external power supply upgrade, which in this case, is a passive device that offers additional capacitance. Old timers may remember this arrangement in the Dynaco Stereo 400 power amplifier.
Many Modules
Octave's Phono Module and power supply sell for $4,500, but the price does not include any input or output modules. One high-level input module can be switched between XLR or RCA jacks, which makes for an extremely versatile option. You get three different choices exist for the phono inputs. The MM module with RCA inputs offers 38db of gain, with 1k and 47k input impedance, and costs $450. Two (RCA and Balanced ) options exist for the MC modules, offering 58 or 65db (switchable) gain along with a subsonic filter that can be enabled, with a 3db cut at 20hz. Loading is adjustable in 13 steps, from 62 ohms to 1000 ohms.  There is one MM module with 38db of gain, with 1k and 47k loading settings. The aforementioned modules sell for $600 each and are preset with the subsonic filter engaged. Finally, the standard MM and MC modules both feature RCA jacks, but there is also an optional module with a set of balanced XLR inputs that provides the best performance in terms of lowest noise—provided you don't mind switching to a balanced input cable for your tonearm.
Should you need a high-level input, add a module. While you can only use one input at a time, this $600 board features an XLR and RCA input that's switchable via a small pushbutton. And, there are three choices for output modules: A standard RCA version is $450 with fixed and variable outputs; two DD (direct drive) modules are designed to drive a power amplifier directly, making the Phono Module a full-function preamplifier. The latter carry an $800 pricetag, and come with a choice of two RCA outputs or one RCA and one XLR.
Take a deep breath and sort your options; these choices make the Phono Module sell for somewhere between $5,400 and $7,500, depending on configuration. Plus, you can always change the setup. For more configuration information, visit this link to the Octave site, with all the specs along with more pictures:
http://www.octave.de/en/htdocs/verstaerker/phonomodule.php
Setup and Configuration
When you've made your final module decisions, remove the corresponding blank panels with a Phillips screwdriver and gently insert the modules. To make things user-friendlier, Octave has given the output module one more pin than the input modules so you can't make a mistake. The pins going into the main circuit board must be tightened down with a jeweler's (or other very small straight blade) screwdriver. Install the tubes, connect the external power supply, and you are ready to roll. The Octave manual is one of the most concise I've had the pleasure of reading, so even a novice audiophile will have no trouble assembling the Phono Module.  And, should you change your mind in the future – the module configuration can be easily changed, that's the beauty of the Phono Module.
Regardless of your configuration, there will be three tubes on the main circuit board. The ECC88 (6922) is used for the output buffer, an ECC81 (12AT7) makes up the main amplification stage, and an ECC83 (12AX7) is used for the input stage. Octave suggests using "a high quality, low noise" tube for the latter position; the Phono Module came with a set of JJs installed. The DD output module in the review unit also had an ECC88 on board, making for a total of four tubes under the hood.
The Phono Module is a hybrid design that uses high-quality, low-noise Op amps for additional buffering where needed. Designer Andreas Hoffman made the decision to keep the output impedance low, but as a side benefit, the overall noise floor is very low as well. A number of manufacturers have taken this approach to incorporate the tonality of vacuum tubes with the flexibility of solid state. The resulting tonal balance is very neutral—perhaps too much so for vacuum-tube enthusiasts that want an abundance of bloom. If you didn't know better, you might not even think the Phono Module had tubes inside. The Octave is close to perfection: It doesn't sound like tubes or solid state, just music, and can be adjusted to your taste.
Thanks to the Octave's wide range of gain and loading adjustments, I easily optimized my plethora of phono cartridges. After a number of trials, I settled on the Denon 103R with the AVID Volvere SP/Triplanar and the SoundSmith Sussurro Paua with the Rega P9.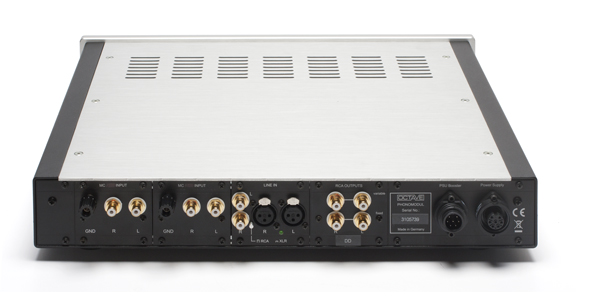 Who Says You Can't Make a Great First Impression?
Listening began with Robert Plant's current LP, Band of Joy. I was immediately taken by the excellent portrayal of space offered by the Phono Module, which kept Plant's voice well separated than that of support singer Patti Griffith, without ever causing her to fall into the background of the mix. Even with the budget Denon cartridge, the sound was spacious, with excellent bass control. While planning to jam some classic Plant (via Classic Records' remasters of the Led Zeppelin catalog), I got sidetracked by the doorbell and our music-loving UPS deliveryman. When he spotted the ORB's Metallic Spheres LP inside a box he handed me, he felt like parking the brown van and hanging out for a while. We traded Pink Floyd stories for a few minutes and he assured me that the bass on the ORB record was killer. "I don't even own a CD player," he proudly said, but I finally convinced him he had to deliver everyone else's packages or else my neighbors would be torqued at what brown wasn't doing for them today.
However, such passion made for a good excuse to pass on Zeppelin and spin the ORB. The UPS dude was right: the record does have excellent bass, and the Phono Module did a fantastic job of capturing the impact of the deep, synth bass throughout. No matter what I played, the Phono Module always had plenty of weight on tap.
Stepping up to the SoundSmith Sussurro Paua proved a good combination even if it offered a bit too much of a good thing for my system. There was resolution galore, yet the overall presentation came across as slightly two-dimensional, sounding remotely digital—almost more like a great 24/96 digital recording rather than pure analog. The AVID Acutus Reference SP with Koetsu Urushi Blue was exactly what I was looking for, a combination of high resolution and a small helping of tonal warmth. It made many a classic rock favorite come alive. MoFi's pressing of Santana exploded with the Koetsu and, as it's already extremely quiet, the cartridge supplied great dynamic contrast.
Great as a Phono Preamplifier or a Linestage
Thanks to the RCA and XLR outputs, the Phono Module worked well with the amplifiers at my disposal, its neutral character staying true with every power amplifier with which it was mated. It's also worth noting that it didn't have any problem driving fairly long (6-meter) interconnects through either the RCA or XLR outputs. And while it achieved more magic with Octave's MRE 130 monoblock amplifiers (as you might expect), you should be able to smoothly blend the Phono Module with your current power amplifier.
The Power Module represents the best choice for the analog lover with two turntables and only one digital source—or even the analog purist who doesn't require a high level input and instead wants to go directly to a power amplifier. Initially, I thought its only shortcoming was its inability to allow adjustment of the three phono inputs (ala the Aesthetix Rhea or ARC REF 2 Phono) from the listening chair. But then I concluded that I was just being a lazy American. Extra microprocessor controls would add to the cost and designer Andreas Hofmann feels that this would degrade the sound somewhat.  In retrospect, Octave made the right choice. At its current price, the Phono Module has few—if any—peers. Pushing it towards $10k would invite stiffer competition.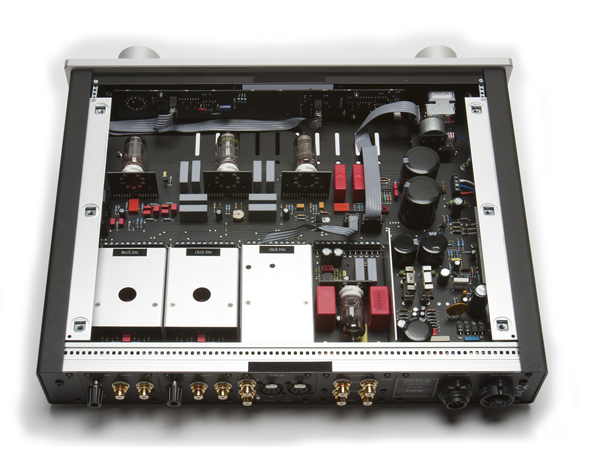 Time to Roll
Excellent as the Phono Module is in stock form, upgrading the tubes brings tremendous sonic benefits regardless of your preference. Variations on the input tube will effect the overall noise floor more than the other tubes (hence Octave's suggestion at using a very low-noise tube here) and the output tube seems to impact the overall tonal character more than the other two. Ditto if you have the DD module installed, using the Phono Module as a linestage as well. The buffer stage did not make as much difference, but in all fairness, there aren't many exotic 12AT7s on the market.
Should you prefer a bit warmer, more romantic sound, the NOS route is the way to go. Your favorite Mullard or Telefunken tubes will give the Phono Module more midrange magic but sacrifice high end extension and even a little bit of bass definition.  There's no free lunch. If you enjoy the character with the stock tubes, but would like more resolution, I suggest the EAT tubes. These are definitely my favorite favorites, offering incredible detail, super low noise, and a big overall sound. If you only feel like buying one $225 tube, replace the input tube—it further drops the noise floor in this already super-quiet preamplifier. A bonus if you have a premium phono cartridge.
The external power supply booster, the only option I didn't explore, is still in the design phase.  If it performs anything like the Super Black Box on the Octave MR 130 monoblock amplifiers currently in for review, it will take the Phono Module another large step forward in performance.
Superlative Performance
Regardless of your needs, if you have more than one turntable or plan on adding more than one in the near future, making the Octave Phono Module the cornerstone of your system won't leave you painted in the corner. Its understated exterior design and overbuilt interior assure that it will perform flawlessly as your system changes. Without question, this is definitely a preamplifier with which you can grow for years to come. We are happy to award it one of our Exceptional Value Awards for 2011.  -Jeff Dorgay
The Octave Phono Module
MSRP:  $5,400 to $7,500 (depending on configuration)
Contact:  www.octave.de (Manufacturer)
www.dynaudiousa.com (US Importer)
Peripherals
| | |
| --- | --- |
| Turntables | AVID Acutus Reference SP w/SME V    AVID Volvere SP w/Triplanar VII    Rega P9 w/RB 1000" |
| Cartridges | Koetsu Urushi Blue    SoundSmith Sussurro Paua    Shelter 501 II    Denon DL-103R |
| Power Amplifiers | Octave MR130 monoblocks   Burmester 911 mk.3 monoblocks     McIntosh MC 1.2K monoblocks |
| Speakers | GamuT S9 |
| Cable | Cardas Clear |
| Power | Running Springs Maxim and Dmitri power conditioners |