REVIEW: Canton Chrono SL586.2DC
A Tough Name to Remember
By Jeff Dorgay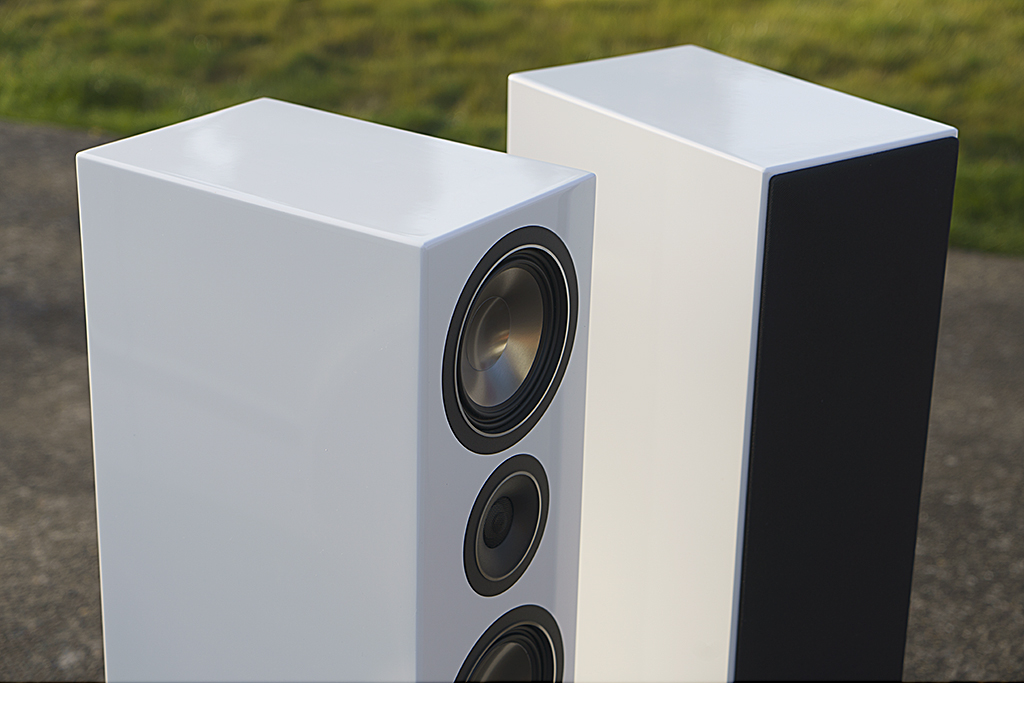 Sometimes, I'm not sure what's worse, products named after the designers child, or an obtuse numbering sequence?
Oh well, look at what Elon Musk named his kid. Weird car names are sure to follow. All kidding aside, these new Canton floorstanders barely tip the scale at $3,495 a pair, and they won't need a pair of stands.
The last time we had a pair of Canton speakers in, about ten years ago, they were unmistakably bright and forward, but the current Chrono's you see here have a much more realistic tonal balance. They are slightly forward, but nothing offensive. The evaluation begins with the Bad Brains self-titled debut album, which is compressed and crunchy. If anything will turn you off to a speaker, it's this record. Even on great speakers, it's not a sonic masterpiece. One more silly but fun track, Sigue Sigue Sputniks' "Hey Jane Mansfield Superstar," is nearly as dreadful in the recording department as the Bad Brains.
You might think it madness and oh, so "un audiophile-y" to listen to naff music when evaluating components, but sometimes how speakers perform with marginal material tells more about them than pristine, audiophile tracks. Patricia Barber and Diana Krall are low hanging fruit. Seriously, even if you can't stand those two, do you ever recall hearing a demo with those tracks that sounded awful?
Digging right in
The Chronos come out of the gate strong, doing a great job on everything, with a little help from our new reference amp, the McIntosh MC1502 (which is slightly on the warm side, and a nearly perfect match for the Chronos). Switching the program material to something smoother and more meticulous in production, Ella Fitzgerald and Louis Armstrong doing "It's a Lovely Day" really shows off these speakers to create a broad soundfield, and a fairly wide dynamic swing.
You can only get so much speaker for four grand a pair, and Canton does a nice job at achieving a high level of balance. There is no particular aspect of their sonic or visual presentation outshining the rest. Made in the Eastern Bloc (Czech Republic) the cabinets offer a few clicks more luxury than the typical Chinese product that is similarly priced. The corners are slightly more complex and finshed to a cleaner standard. The finish is extremely smooth, deep, and orange-peel free. All of the plastics used on the front of the drivers is high quality, and the size of the trim rings is kept to an understated look as well.
Underneath is a solid base/plinth that maintains the proper distance for the bottom firing bass port, eliminating the guess work in setup. Spikes are supplied (and suggested), but should you not be able to use them, you won't alter the low end characteristics of the speakers. Nice. Giving the Chronos a proper workout, a full electronica playlist starts with Nicole Moudaber's "Her Dub Material," and ends with probably too much Massive Attack. At this point, we've got the pair of 6.1-inch titanium coned woofers using all of their excursion. They cross over to a similar sized titanium coned midrange driver at 300 Hz, and then on to the 1-inch ceramic dome tweeter at 3,000 Hz. If you like music that is somewhat in the "bass heavy" side of the spectrum, you will not be disappointed with the Chronos.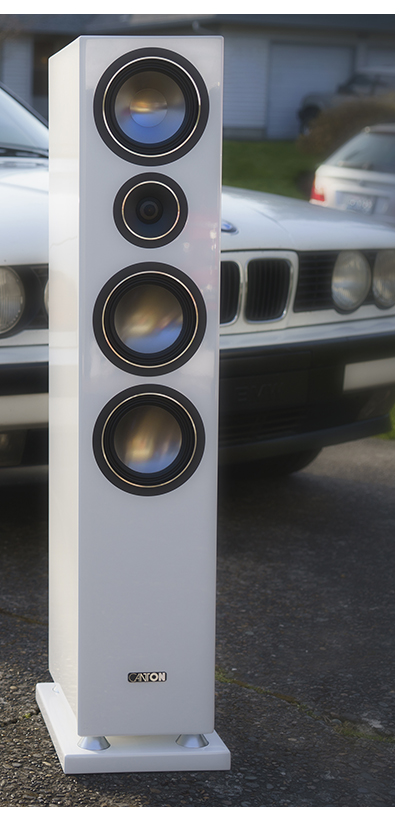 Quick and easy set up
Canton does not claim a sensitivity spec, but the Chronos are very easy to drive with modest power, tube or solid-state. They even turn in an excellent performance with our recently re-capped Marantz 2220B vintage receiver. This important because anything that sounds good with a budget, low-power vintage receiver is probably going to sound good with any entry level amp you might have on hand, or thinking of purchasing to go with.
That bottom firing bass port not only offers a smoother bass response than a number of rear ported designs we've auditioned, it also makes placing the Chronos in your room a lot easier. If your décor dictates that you have to keep your speakers a little closer to the wall than you'd like, you won't get the weird bass anomalies that a rear facing port can cause. Their footprint is small at 9.1" wide (this is the base width, the speaker itself is only 7.5" wide) 11.8" deep (ditto, only 11 inch by itself) and 39.4" tall. Tasteful black grilles are also supplied, but the dome tweeter is behind a grille, so these are very enviro-friendly speakers.
The rest of the setup process is straight forward. Where previous Cantons were so strong in the high frequency range, they almost had to be placed straight on, the Chronos allows for a bit of toe in, which helps evening out the low frequency to upper bass range. In both our small and large rooms, they were making good music in five minutes, and dialed in fully in about 15 minutes total. The Cantons are very user friendly, and even if you aren't a speaker setup wizard, you'll get good sound with minimal effort.
For those that care, the Chronos are bi-wireable, arriving with gold-plated jumpers. We pretty much don't bother with that aspect of speaker cables anymore, so I can't tell you if that makes an improvement. What did make a tiny improvement in the upper mid to treble range was swapping out the factory jumpers for some Tellurium Q Black Diamond jumpers. That was an improvement, so if you don't have speaker cables already terminated for bi-wiring, consider a premium pair of jumpers from your favorite cable manufacturer.
Further listening
Going through a much wider range of program material, I found no shortcomings. The Cantons strike a nice balance (there's that word again) of resolution, and imaging without harshness or fatigue. This is tougher to achieve at the $4k/pair price point than you might realize. There are a number of speakers at this price that offer up more precise imaging, or go down deeper. But the Cantons really excel at doing everything very well.
There's no music that will be off limits to the Chronos, and while they will light up the room with 30 watts per channel, if you've got 100-200 watts per channel, they play incredibly loud before distortion creeps in.
The sound field these speakers create will depend in part on the quality of the upstream components. Again, a slightly more immersive experience was had with tubes, but switching back to the Boulder or Nagra amplifiers provided more impact. Neither was uninvolving, and it's realistic to say these speakers are both resolving and chameleon-like to be a real team player in the context of your system.
Should you care to make these part of a larger 2.1 system or a multichannel setup, Canton does offer a full line of Chrono speakers, as well as matching subwoofers. Those that like everything to match visually as well as sonically will be able to execute this aspect of building their system with ease. Kudos to Canton for keeping the choices minimum – gloss white or gloss black. More finish options means higher cost, and you know the dealer will have every finish but the one you want when it's time to press the go button. Keeping it simple makes it easier for everyone.
At the end of the day, Canton has made a great speaker in the Chrono SL582.DC. The model name won't roll off the tip of your tongue, but they sound great, and will easily blend into your environment – that's the most important thing.
Peripherals
Analog Source Luxman PD-171 turntable/Kiseki Purple Heart cartridge
Digital Source dCS Vivaldi ONE, T+A CD2500, Naim ND555/PS555
Phonostage Chord Huei
Amplification Boulder 866, PrimaLuna EVO400, McIntosh 1502, Nagra Classic
Cable Cardas Clear, Tellurium Q Black Diamond