AVID Pulsus Phonostage
The good news is that a few hundred dollars grants you access to the analog world. But should you become truly obsessed, you'll require a better analog front end. Not to worry. Competition is fierce in the $100-$300 phono preamplifier segment, with fewer great choices in the $500-$800 range. Moving to the $1,000-$2,000 plateau offers not only a huge performance jump, but one of the most intense product rivalries in the high end. If you can stretch to this section of the game board, you will be given much more than a get-out-of-jail-free card. To wit, the $1,895 AVID Pulsus. It's designed, built, and tested at the company's UK facility. Many other units in its price range come from China.
Matching a phonostage like the AVID Pulsus with a favorite turntable and cartridge for a sum total of a couple thousand dollars will yield a very formidable analog source. Better still, it allows many wallet-conscious listeners to steer clear of megabuck turntables. Such a setup offers more than enough resolution to enjoy the best LPs. Plus, you're only one Internet forum post away from a healthy argument.
A compact two-box design, the Pulsus allows you to place the power supply about three feet away from the actual preamplifier chassis, thus eliminating noise concerns. Said power supply connects to the preamplifier via a shielded cable with an XLR connector. Unlike AVID's Pulsare phonostage, which features balanced inputs and a balanced design, the Pulsus is single-ended. Designer Conrad Mas insists that the unit isn't a "stripped-down Pulsare," yet a comparison of both models reveals a remarkably similar tonal balance.
When listening to both side by side with smaller-scale acoustic music, the two AVID preamplifiers sounded far more alike than different. However, the Pulsare's superiority is made evident on symphonic and heavy metal fare. Such traits will appeal to those wanting to "stay in the family." Why? Should you decide to move up to the Pulsare at some point, you will be rewarded with more instead of different—just as you do with the full line of AVID turntables.
Setup
Underneath the chassis, the Pulsus offers a wide range of adjustment, with three gain settings: 48db for MM cartridges, 60db for MC, and an additional 70db setting as well.  Combined with the Pulsus' ultra-low noise floor, even the low-output Dynavector 17D3 cartridge (.23mv output) had no trouble delivering. For MM users, the three available capacitance settings (100pf, 200pf and 500pf) should easily handle most combinations.
I began my listening with a suite of reasonably priced cartridges that included the Shure V15vxmr, Denon DL-103R, and Dynavector DV-20xl. All turned in great performances and, in conjunction with the Volvere SP/SME combination, sounded better than when in my budget setup consisting of the Rega P3-24 and Dynavector P75 mk. 2.  Feeling that the Pulsus was capable of more, I substituted the Sumiko Pearwood Celebration II MC cartridge ($2,499) and discovered the AVID still held its own. Thanks to a removable head shell on the SME309 arm, swapping the Pearwood for the Sumiko Palo Santos cartridge ($3,999) was as simple as opening a beer. The Pulsus still yielded enough resolution to tell the difference between the two cartridges, but distinctions were more easily discernable via the Pulsare. Such performance makes for a phono preamplifier with which you should be able to grow through several rounds of cartridge/turntable upgrades.
Please note: Both of the Sumiko cartridges were optimally loaded at 100 ohms with my ARC REF Phono, yet 2,300 ohms suited the Pulsus. As with any cartridge, experimentation always leads to the best results.
Listening
Unlike the Pulsare, which took a week of continuous play to fully blossom, the Pulsus required just 48 hours to come out of its shell. Only slightly congested upon first turn-on, it quickly became a great performer. And since it draws about 10 watts, leave the Pulsus on to maximize your analog experience.
Blondie's Autoamerican came alive with both the AVID Volvere SP/SME 309 and Rega P9 turntables, each boasting an identical Sumiko Pearwood Celebration II cartridge. While Blondie's 1980 set is fairly dense and somewhat compressed, marginal LPs can sometimes be more telling of a phono preamplifier's capability than meticulously mastered audiophile pressings. In this case, "Rapture" extended more pace and depth than I'm used to experiencing with other similarly priced phonostages.
KISS' Alive! is another LP with very limited dynamic contrast, but again, the Pulsus impressed. The highly processed drum solo during "100,000 Years" actually had life and dimension, effortlessly revealing the differences between the US and Japanese pressings—a revelation that confirms the Pulsus as a serious audiophile tool.
As expected, the Pulsus shined when playing pristine recordings. Classic Records' remaster of Crosby, Stills and Nash's self-titled debut had so much depth, it prompted one of my audiophile pals to look behind the equipment rack to be sure that the Volvere wasn't plugged into the adjacent Audio Research PH6. "Are you sure it doesn't have at least one tube inside?," he repeatedly asked, inspired by the natural presentation. The PH6 is similar in the sense that it does not sound overly tubey. Akin to its more expensive Pulsare, AVID managed to create a solid-state phonostage that's both resolving and quiet, and yet not at all harsh.
The Pulsus' wide dynamic range is another welcome treat. Music Matters' recent pressing of Sonny Rollins' Newk's Time pinned me back in the listening chair. As Rollins' sax blasted from between the speakers, felt like I was the dude in the famous Maxell ad. With the turntable already in 45RPM mode, there was no reason not to blitz through my growing 12-inch maxi-single collection. Spread onto the whole side of an album, the Scorpions' "Rock You Like a Hurricane" volunteered crushing guitars that convincingly approximated the live experience. In addition to verifying that there are many well-produced hip-hop tracks, Eazy-E's "We Want Eazy" proved that the Pulsus indeed goes deep and advances a highly convincing bass groove.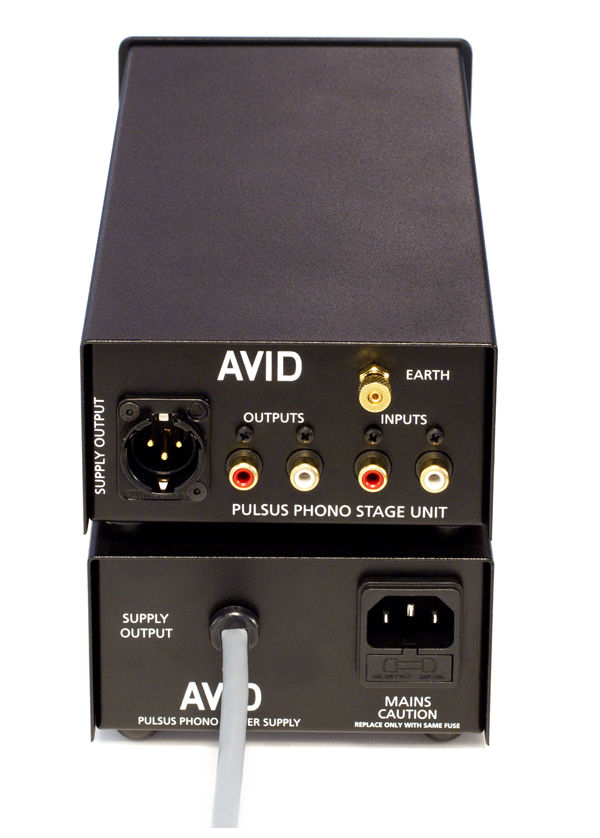 Comparisons
The Pulsus holds its own amidst a sea of comparably priced products. The Lehman Black Cube SE, a previous favorite in the $1,500-$2,500 solid-state category, doesn't claim the AVID's bass grip or expansive soundstage. Another favorite, the EAR 324P, is almost the polar opposite of the AVID. Whereas the EAR puts a warm, romantic feel on everything—great if you have an overly forward-sounding cartridge/system—the AVID gives you what's on the recording, with an excellent sense of pace that leaves the valve unit, by comparison, sounding slow.
On a related note, the Pulsus' best aspect is its overall natural tonal balance, which makes it painless to integrate it into any system. By merely revealing the nature of the equipment to which it's connected, it has neither a forward, etched character nor a warm, embellishing one.
The Verdict
The AVID Pulsus builds on the Pulsare's success, offering high performance at a more accessible price, and combining neutral tonal balance with excellent resolution and a high degree of dynamic contrast without going so far as to become harsh. Moreover, its low noise floor and ease of adjustability put it at the top of its respective price class.
If you'd like to skip the pointless Internet banter and get down to the business of listening to records, head to your dealer and sample the Pulsus. I'm guessing you'll take one home.  -Jeff Dorgay