Icon Audio PS2 Valve Phonostage
If you were to step back into time to the 1950s and look at the decade's small-scale manufacturing, you'd likely find companies that valued resources, hand-built products, viewed quality over consumerism, took simplified approaches to design, and supplied customers with a most precious commodity: time. Specifically, time to provide support, repair products new and old, and stage face-to-face consultations.
David Shaw's UK-based Icon Audio follows such a manufacturing philosophy in 2011. Utilizing valves as a mainstay in its products, Shaw constructs products to last. "I'm not a keen environmentalist," he says, "but I hate to see resources wasted where transformers, chassis, and the like are buried in land-fill. If they're designed correctly in the first place, it's economic to fix them. We like hardwiring in our design, which makes repair [easy]."
At heart, Shaw's designs are socialist—hi-fi for the working classes, as it where. In fact, you could dress Shaw up in miner's clothes polluted with coal dust or watch him emerge grease-caked from underneath a repaired car and find his deportment, speech, and manner genuinely believable. Primarily offering amplifiers as well as the odd CD and speaker product, Shaw designs luxury products for the rest of us. The approach has resulted in Icon Audio forging a reputation for providing outstanding sound quality at very reasonable prices.
"I realize that if someone has a family and other commitments, their disposable income is often limited. Yes, I'm here to make money, but I wanted to fill the space, providing products for them," he claims.
The PS2, a moving-magnet phono amplifier, is one such product. Created as a simplified one-box version of the company's two-box PS1 phono amp, it plugs a budget-model gap in Icon Audio's lineup.
"We used a simplified power supply and a lot of jiggery pokery to try and get the transformer in there so if won't cause too much of a problem with noise," comments Shaw. "It uses the same circuits as the more expensive PS1. I used Mullard valves (ECC 803) or the American equivalent—the 12AX7."
Valve Selection
Choosing valves is critical. They must be as sympathetic as possible with the typical RIAA curve found on a majority of vinyl albums in order to detract the focus away from pops, clicks, and surface noise. According to Shaw, valves also remove the distortion effects found within a typical solid-state phono amplifier that, when compared to a valve's infinite margin, has limited signal headroom.
"These valves are also used in the PS1 phono amp," adds Shaw, "and the power supply is designed sympathetically but simplified so the performance is not degraded to any extent. The construction is completely metal. I used to work in the plastics industry for a time and know that plastics degrade relatively quickly. So I use solid aluminium for the chassis and a solid-steel bottom."
In keeping with Shaw's design tenets, the chassis is suitably simple. Spanning 10.5" x 5.5" x 27.5" and weighing in at 5.5 pounds, the front provides a power switch and light indicator. The input/output phono sockets, ground connector, toggled earth lift (to reduce possible hum), and fixed power cable are found along the rear.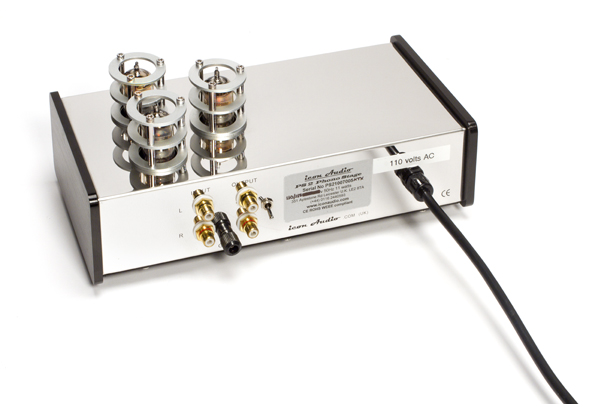 Sounding off
Spinning Mobile Fidelity's edition of the Pixies' "Where Is My Mind?" from Surfer Rosa, the PS2 exhibited a airy midrange and sparkling treble espoused by Frank Black's often-cutting vocal delivery and Joey Santiago's acerbic, soaring guitar wails. It all transpired within a beautifully constructed 3D soundstage.
Before I went any further with listening, I ran the PS2 alongside a solid-state phono amp in order to provide technological contrast. Enter the well-regarded A.N.T Kora (£325). One aspect immediately became apparent. The PS2's gain was notably higher, by a factor of six or seven notches on my preamp. Even at low volumes, the Kora yielded a high degree of bass drive, with a slight midrange recess that contrasted with the PS2's cleaner upper frequencies and slightly slimmer bass array. The PS2's reduction of inherent distortion on LPs encouraged me to increase the volume, a decision that, in turn, enhanced vinyl's musicality and brought forward more information. In addition, the Icon provided an enhanced instrumental separation that successfully improved clarity and boosted transparency.
Moving onto Kate Bush's "Mrs Bartolozzi", a challenging solo piano track fromAerial, told me even more. Despite the A.N.T.'s admirable detail retrieval efforts, the PS2 did a superior job conveying the emotions behind the words, adding consistency and weight, as well as showcasing greater depth and nuance. The PS2's bass output lacks some depth but feels more truthful to the ear. In addition, when experienced through the PS2, bass possessed more body and structure. The piano danced around Bush with a rhythmic lucidity that dodged in and around her singing.
Contrasting the largely organic noises of the Pixies and Kate Bush came courtesy of the synth-based noodlings of electronica group Autechre's Circhsuite. Putting the busy, cacophonous electronic output into an orchestral-like arrangement, the A.N.T displayed admirable clarity and enhanced bass. The PS2, however, offered more pizzazz, extra sparkle, and greater sense of life. Upper frequencies were extended, and the bass felt cleaner. Moreover, the PS2 ably separated the conglomeration of electronic noises into recognizable tones, enhancing the musical interaction.
Conclusion
Since the PS2 is stuffed into a single box, noise is slightly higher than that of a phono amp within a two-box configuration. But it's not intrusive, and quality is maintained in both construction and sound that, for the price, is impressive. And the £450 cost is important: Users can now go valve without having to shell out for an outrageously expensive design that doubles as a piece of object d'art. The PS2 allows you to discover what all the fuss is about and realize just what a valve-based phono amp can do. – Paul Rigby
Icon Audio PS2
£450
Peripherals
| | |
| --- | --- |
| Analogue Source | Pro-ject Essential turntable |
| Preamplifier | A.N.T. Kora 3T Special Edition MM phono stage    Aesthetix Calypso Preamp |
| Power | Icon MB845 Monoblocks |
| Speakers | AE Revolution One |
| Cables | Avid SCT    Avid ASC |