PMC DB1i Loudspeakers
By Todd Sageser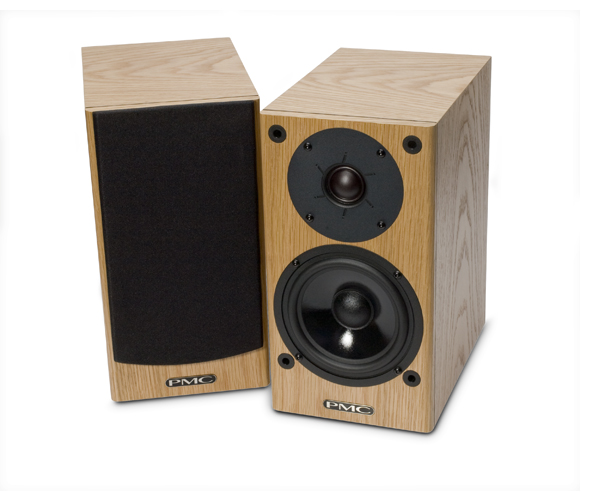 Having listened to large electrostatic speakers for the past 20 years (Acoustat 2+2's and now MartinLogan Summits), it was a new challenge to evaluate a pair of mini monitors; I had to recalibrate my thinking.  Unpacking the PMC DBi's, my heart sank a bit when I saw these pint-sized speakers.  They are the smallest speakers in the PMC line and carry an MSRP of $1,995.
Somewhat atypical for an audio engineer, I use my home reference system (with MartinLogan Summits) for final mixing and mastering my recordings.  The full-range capability of the Summits really comes in handy, yet they are still enjoyable speakers to use for personal listening.  With my current list of projects out of the way, I installed these tiny speakers and prepared for some extended listening sessions, putting my biases to the side.
Setup
The DB1i's have substantial binding posts, so the jumpers on my current speaker cable had to be spread slightly with pliers to fit properly.  Unfortunately, these larger binding posts are spaced closely together, so it took a bit of fiddling to tighten them down adequately.  I did not use the PMC Tube 104 stands, which have a height of 41 inches, but the stands I had at my disposal were barely an inch taller, so the DB1i's stayed close to the factory-suggested height.
PMC's well-written instruction manual got me up and running quickly, along with a bit of the company's history and a short list of some of the albums produced with their speakers. They suggest at least 15 hours of break-in time so that the speaker surrounds can "reach their optimum compliance," and I found this to be accurate.  During the first few days of casual listening, I experienced the stereo image getting wider and deeper as the hours piled up.
Background and construction
Before we talk about the results of listening, let's look at the speakers themselves.  PMC is a well-established brand offering a full line of speakers for both recording-studio monitoring and audiophile listening.  Their list of users is like a who's who of performers, professionals and studios.  Just a few examples are Stevie Wonder, Coldplay, Tony Bennett, the BBC, Sony, the NFL and EMI.
The line encompasses active and passive designs, sizes range from six-foot tall floor-standing models to smaller bookshelf models, center and surround speakers, and subwoofers.  Models generally use soft domes for high and mid frequencies and cones, pistons or "Radial™" drivers for low frequencies.  To enhance bass response, most of the full-range speakers include PMC's ATL (Advance Transmission Line) technology.
The woofer is at one end of a "tunnel" that wraps up and down within the cabinet. It is heavily damped to absorb high and mid frequencies, while leaving the lowest bass frequencies in phase able to exit the cabinet through a large vent, acting as a second low-frequency driver.  In my early days as an audiophile, I used a pair of ESS AMT-1 monitor speakers that utilized a similar transmission-line concept.
The DB1i is no exception.  This transmission-line box has a 140 mm (5.5 inch) doped cone with a cast-magnesium chassis low-frequency driver and a 27 mm (one-inch) Sonolex™ domed fabric soft-dome tweeter and is ferro-fluid cooled.  The ATL is four sections (effective length of five feet) and exits on the upper rear of the cabinet.  Frequency response is 50Hz to 25KHz (with no + or – limits specified.)  The crossover is at 2KHz.  The speakers weigh a hair under 10 pounds each and are 11.4 inches high, 6.1 inches wide and 9.2 inches deep, plus grille.  Impedance is 8 ohms and sensitivity is 87dB, one watt at one meter.
The cabinets have four wood-veneer finishes available:  oak, walnut, black ash or cherry.  Grilles are black fabric and removable.  The speakers also offer four bolts on the back to which optional mounting brackets may be attached.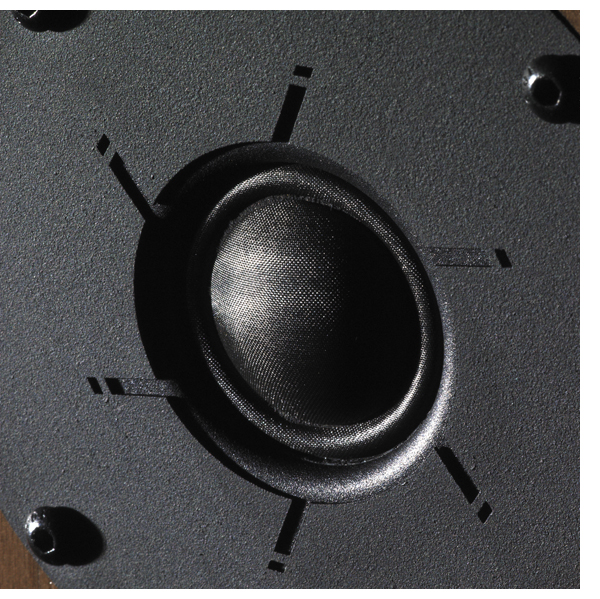 Listening results
I immersed myself in the DB1i's for about 10 days.  They became my only source of playback and I came away highly impressed.  It was easy to forget about their diminutive size when I closed my eyes and listened.  With eyes opened, my mind kept trying to convince me that there were bigger woofers hidden somewhere in the room.
The first thing I noticed was that the rhythm section in any recording was just so clear and clean.  The small woofers combined with the transmission line design really made the electric bass pop, too.  The bass had a very rich quality, and in most instances, I didn't miss the extra bottom octave or so that my Summits are capable of reproducing.  The bass drums were crisp and quick, yet all retained their characteristic sounds.  Snare drum and cymbals were extremely fast, but not harsh or edgy.
Most importantly, these speakers sound good at low levels, they really sing at mid volume, yet they can play LOUD when called upon to do so.  There was no listener fatigue when I pushed the DB1i's to the extreme. If you are a drummer, bass player or just love the sound of a good, tight backbone in your listening and don't have room for big speakers or a lot of cash, the DB1i's could definitely satisfy you.
In general, I noticed that vocals were solid and centered, and the DB1i's had a neutral character of a great studio monitor, never edgy or clinical.  The stereo image was wide and deep; I loved hearing the ambience and reverb on a wide variety of program material and often heard instruments three-to-four feet outside the speaker boundaries.  Trumpets and brass in general felt as if they were in the room with me.
All the strengths of a great monitor
One of my favorite John Mayer tracks, "Neon" from his Room for Squares album, adds guitar layers to each verse.  This effect was easily heard, with the side-panned tracks staying in place, while Mayer's lead vocal was solidly center stage.  Again, the tiny PMC's sounded much bigger than I expected.
Elvis Costello is always a "go to" when I want to hear how a male vocal sounds.  This was a perfect opportunity to listen to the new MoFi release of Armed Forces.  Track after track, the vocals were incredibly detailed, very focused but not edgy.  Listening to the Painted from Memory CD by Elvis and Burt Bacharach, the dryer vocal was haunting, very up front but lacking any of the harshness that I have heard on some other speakers.  The drums were recorded dry but again, they just jumped out on these little speakers.  Brass was sweet and high strings were smooth, with low strings being very revealing in tone and texture.
One of my new favorites, Jamie Cullum's The Pursuit, has an almost endless pallet of cool sounds, including Jamie playing every part of the piano in every possible way and a slew of different spaces and ambiences.  On "We Run Things," the loops and synth programming offered a very wide, three-dimensional image. But I did miss the low synth bass on this one.  I wouldn't have known it, though, if I hadn't heard it a bunch of times on the Summits.
The snapping sounds of the electronic percussion had incredible transient response that was almost startling.  Tom fills were "in your face" as I believe they were intended.  On "Not While I'm Around," the bass drum and associated ambience were clear and tight.  I rarely missed the absent deep bass unless things went subsonic, but the quality of what was present was always top notch.
Continuing my musical journey with the DB1i's, I spun some Alison Krauss and even revisited the Beach Boy's classic, Pet Sounds. PMC's emphasis on their monitors accurately reproducing vocals was always apparent; no matter what type of music I listened to, the vocals were very natural – one of my hot buttons as an engineer.
Taking the opposite ends of the musical spectrum, going all the way from Van Halen's first album to some of my favorite classical pieces, I remained impressed with the dynamic abilities of these speakers.  Whenever I stopped listening critically, I kept forgetting just how big the soundfield was from these small speakers.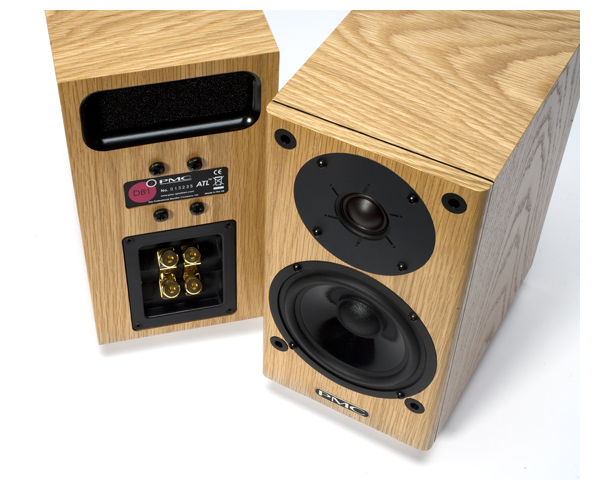 Small but powerful
After a wide range of test tracks, my conclusion is that the PMC DB1i's are diminutive power houses that work well with any type of program material.  They are equally at home as part of a high-quality two-channel system as they are sitting on top of the monitoring console. Should you want to make these part of a compact multichannel surround system (PMC's are very popular in the movie soundtrack studios as well), PMC also makes a horizontally oriented DB1i center channel speaker with magnetic shielding.  And of course, PMC makes a full range of subwoofers, from small to large.
If you enjoy a wide range of musical tastes, and don't want to give up dynamic ability in a modestly priced system, the PMC DB1i is a major contender.  While this is the point in the review where the reviewer often comments on buying the speakers, I did exactly that, but for my recording studio!
The PMC DB1i speakers
MSRP:  $1,995 per pair