Penaudio Sinfonietta Loudspeakers
By Rob Johnson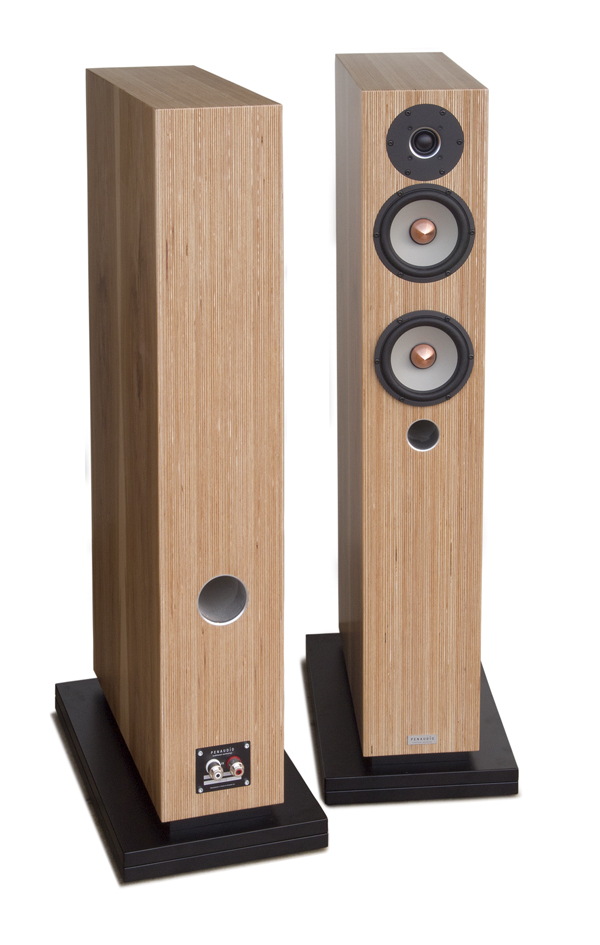 Growing up with a Finnish grandma, the word "sisu" became part of my vocabulary at an early age. According to her, there isn't a perfect translation into English since the word represents a guiding philosophy — a mindset — rather than one specific thing. Loosely translated, the term embodies qualities of perseverance, determination and resilience.
The Finnish speaker manufacturer Penaudio embraces sisu in their constant efforts to evolve great products into even better ones. New for 2013, Penaudio's Sinfonietta loudspeaker makes its debut. As you might guess from its name, it's a direct descendent of their flagship Sinfonia and looks like, well, the bottom half of one.
TONEAudio reviewed several Penaudio speakers over the years and are a perennial staff favorite, yet the Sinfonietta takes the lineage to the next level.
More than a pretty face
Listening to the Mobile Fidelity Sound Labs' Sinatra at the Sands on vinyl it's hard not to chuckle at Sinatra's banter between songs. As he jokingly describes his own childhood appearance to the audience, "I was born a very skinny kid…So skinny my eyes were single file. Between those two and my belly button my old man thought I was a clarinet."
That album rendered through the Sinfoniettas brought an unexpected moment of irony as I looked at the speakers' narrow, seven inch front baffle. Below the fluid cooled dome tweeter are two vertically stacked, five inch drivers separated by a few inches. As the Sinfonietta's single-file "eyes" centered by copper-colored pupils stare back at the listener, the small port on the front is vaguely reminiscent of the navel Sinatra joked about.
A slender "clarinet", however, the Sinfonietta is not. Looking head-on the speakers disguise the muscle behind their narrow face with a 21-inch cabinet depth. Each speaker sports a 10 inch, paper-coned, side-firing woofer on one side near the bottom. With a depth three times its width each Sinfonietta has a wide base which creates additional stability and facilitates insertion of spikes.
Available in several equally attractive wood finishes, our sample pair showcase the Rowan wood option. Regardless of the finish Penaudio creates a unique look to their speakers as if they were made entirely of many parallel, thin wood sheets. The subtle gradients of the natural wood color provide a beautiful, organic quality to the speaker which is understated, but hard not to admire. The fit and finish on this speaker is well executed and with so many veneer options the Sinfonietta complements a room's décor rather than dominating it. Beautiful sound may be the primary goal of any speaker design, but equally beautiful looks never hurt!
Dancing with Sinfoniettas
My usual speakers moved aside to accommodate my temporary Rowan wood-veneered roommates, and to provide a starting point for optimal Sinfonietta placement in my 17'D x 20'W x 10.5'H listening area.  After a full hour of scooting the 110-pound Sinfoniettas around the room in an effort to eek every last drop of sonic benefit from them, it's clear they are not simple to place. I'm also fairly certain the neighbors below my condo will have concern about my mental state given all my apparent pacing back and forth between the speakers and my listening position.
Subtle movements of these speakers prove meaningful sonically and so the investment of time for proper placement is critical for getting the most musical enjoyment from your audio investment. For example, at some locations the bass overpowers my room, but small adjustments of speaker placement bring it back into check.
Ultimately the Sinfoniettas sweet spot is 3.5 feet from the ASC Tube Trapped back wall and about 8 feet apart. This combination offers the reward of an exceptionally wide soundstage – one which extends well beyond the speakers themselves – as well as great bass extension and depth.
Trying many different angles of toe-in requires experimentation too. Starting with the speakers toed at a fairly aggressive angle, crossing in front of the listening position, moving them outward a few degrees at a time helps identify the optimal placement angle. In my case the Sinfoniettas offer the greatest combination of resolution and depth of soundstage with small amount of toe in and their theoretical target well behind my listening seat.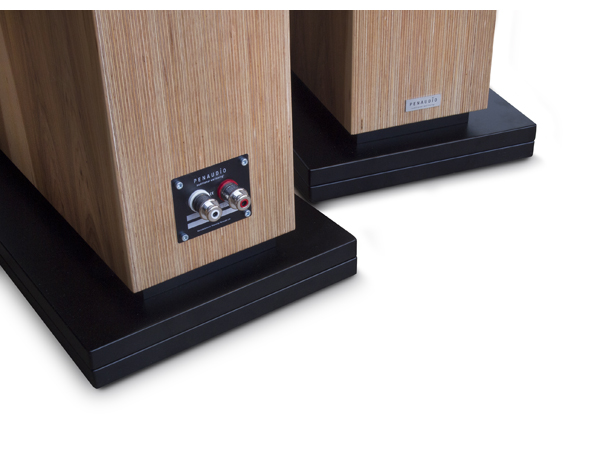 What's Shakin'?
Penaudio suggests minimum power for the Sinfoniettas to be 50 watts into 8 ohms. Fed 250 watts though, you might be advised to add a seatbelt to your listening chair. The powerful voice of these speakers emerges as a single, cohesive experience despite the many drivers and crossover points which comprise the Sinfonietta's design.
Other than transparency what first stands out when listening is the Sinfonietta's bass presence. During songs like Massive Attack's "Angel" or Bill Laswell & Jah Wobble's "Subcode" very low bass notes produce a resonant ratting of the glassware in my kitchen cabinets! The Sinfoneittas are easily capable of filling a much larger room than mine with sound. Based on the vibration in my sofa (and my kidneys) while listening, a smaller room might find itself overly-consumed in bass.
Smooth Operator
String instruments like those presented in "Sleep Will Come" by Bliss and the upright bass rendered in Dave Brubeck Quartet's "Blue Rondo a la Turk" are portrayed with deep and woody delicacy.
Sia's emotive voice on "I Go To Sleep" proves captivating each time I hear it. However, the recording's vocal crescendos can be a bit overpowering on some equipment where highs go beyond "extended" and into the realm of stridency. Mated with complementary electronics upstream, the Penaudios strike a well-voiced balance by providing non-fatiguing, natural-sounding highs without the often-accompanying side effects.
With the Sinfoniettas, the width of the virtual soundstage and the specific placement of the various instruments and vocals within it are revelatory. Air's "Venus" and Ray Lamontagne's "Be Here Now" provide stellar examples of the Sinfonietta's sound-staging prowess as notes and voices wrap around the listening room.  Lyle Lovett's "Church" is a challenging image portrayal, given multiple instruments and a choir behind the singer. The Penaudios handle the layering with finesse.
In larger group performances, like Pink Martini's "Let's Never Stop Falling in Love", the physical speakers blend seamlessly into the virtual width and depth of the performance in such a way that, with eyes closed, it's difficult to point out the speakers. Sound seems to emerge from all around the Sinfoniettas including the trumpet nestled in the rear stage behind them.
Other strong suits for the Sinfoniettas include detail and nuance. The gravel in Leonard Cohen's voice on "Be For Real" is not just audible, but tangible. Listening to Stevie Ray Vaughan's rendition of "Little Wing", the guitar's strength and delicacy both emerge with aplomb. The speakers also portray fast, realistic sounding percussive strikes followed by gentle decay, regardless of who's on the drum kit.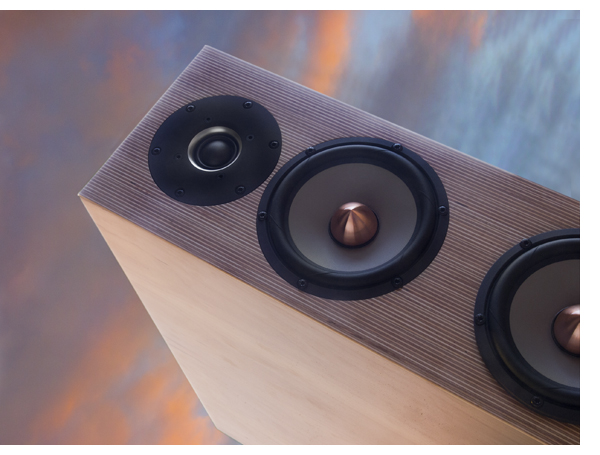 Rock On!
One of the Sinfonietta's greatest strengths reveals itself as ability to rock when compelled to do so. Rage Against the Machine's "Bombtrack" pack ample, visceral punch. Electronica like "Juanita/Kiteless" from Underworld's Everything, Everything Live proves equally invigorating. At medium-to-higher volumes, the Sinfonietta's drivers demonstrate their ability to move air – sometimes quickly and forcefully enough to generate a noticeable pop in my ear, even from a distance of 11 feet. I've had this experience plenty of times before, but usually only in the presence of live drums.
In my listening space, the Sinfoniettas had the potential to produce the same physical impact with many types of music when played at a moderate volume. Listeners craving this level of tangibility, will find it in spades with the Penaudios. Those preferring a more relaxed, warm, musically-emotive presentation from their loudspeaker could find the Sinfoniettas a bit intense in some systems. As such, room size and upstream equipment synergy are important considerations for the full enjoyment of these speakers. There is no right or wrong answer here. Some people like bourbon, some prefer wine. Both can be excellent.
Conclusion
With the Sinfoniettas, Penaudio creates a speaker which commands, and even demands, active listening. Those seeking an energetic, detailed, and accurate portrayal of music will certainly embrace it through the Sinfoniettas. If my grandma were still alive I think she would agree they bring the sisu of their Finnish heritage to the listening room.
For those in the market for a speaker in the $20,000 range, the beautifully designed Penaudio Sinfoniettas prove worthy of your consideration.
The Penaudio Sinfonietta
MSRP:  $20,000/pair
Peripherals
| | |
| --- | --- |
| Speakers | Piega P10 |
| Amplifier | Mark Levinson 335 |
| Preamplifier | Coffman Labs G1-A |
| Digital Sources | Audio Research CD3 MKII    dCS Purcell processor    EAD 9000 MKIII DAC   Genesis Technologies Digital Lens |
| Analog Source | Marantz TT-15 with Clearaudio Virtuoso Cartridge |
| Cables | Jena Labs Valkyrie and Symphony interconnects    Jena Labs Twin 15 speaker cables |
| Power Conditioner | Running Springs Audio Haley |
| Power Cords | Cardas Golden and RSA Mongoose |
| Accessories | Mapleshade SAMSON racks and shelves    ASC TubeTraps    Cathedral Sound room-dampening panels |