Dynaudio Xeo 3 Wireless Speakers
Releasing the Tether
By Rob Johnson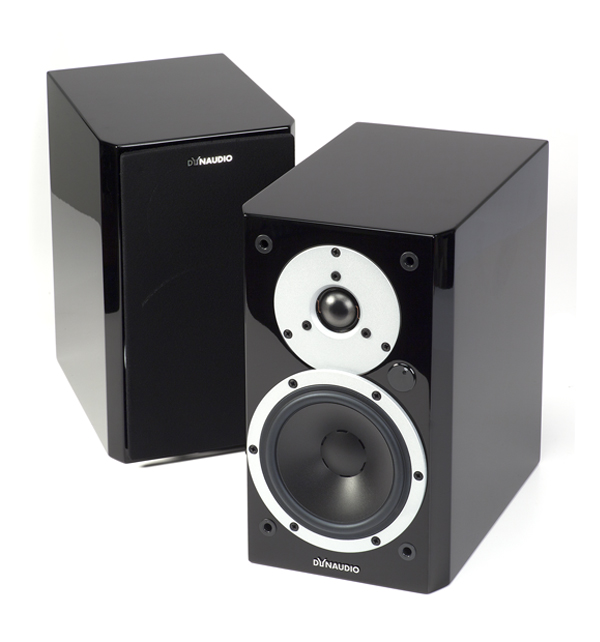 Dynaudio's reputation for coaxing great sound from a small cabinet remains intact with the Xeo 3 speakers, which add wireless operation to the mix, as do the floorstanding Xeo 5s.  This is indeed an exciting prospect for those not wanting to deal with a traditional amplifier-preamplifier-DAC setup, or the looming cable mess.  For Dynaudio's Xeo speakers, the term "wireless" is only slightly misleading, as AC power is still required and you still need to connect a small interface to your computer, but you can kiss interconnects and speaker cables goodbye!
Pre-flight Check
The modestly sized Xeo 3s are 7 inches wide, 10 inches deep and 11 inches tall, and are available in white or black, with either glossy or satin finishes.  The front grilles disguise a 5-inch woofer and 1-inch soft dome tweeter derived from Dynaudio's Excite X12.  This small size allows for multiple placement options.  Our art director has been using them as near-field desktop speakers for some time now with excellent success.  (I received a Marge Simpson growl as I pried them away from her for this review.)
Those preferring to mount the speakers on stands will have the best results using 24- to 30-inch-tall stands, which will keep the tweeter close to ear height.  The speakers' rear-firing port does not interfere with operation when close to the wall, so placement on a tabletop or desktop also works well. Dynaudio offers its Stand 3X matching stands (available in gloss black, gloss white, matte black or silver finish), which feature cable management for the Xeo power cord and retails for $350 per pair.  If using the speakers on a tabletop, desktop or shelf, I advise placing something small, soft and squishy beneath the speakers to act a buffer between the woofer and said surface. Dynaudio markets its SF1 speaker foot base for $85 per pair as a solution for such applications.
The Xeos have an MSRP of $1,950, with the wireless transmitter costing an extra $350.  It's worth noting that operating the speakers does not require interfacing them with your current Wi-Fi setup; they have their own direct 2.4-GHz wireless connection from the transmitter to the speakers.  Plugging the transmitter directly into your computer eliminates the need for the provided power supply, which further minimizes desktop clutter.
While a nearly $2,000 price tag might seem high at first for a pair of compact speakers, the Xeo 3s are each equipped with a pair of 50-watt onboard power amplifiers – one for the woofer and one for the tweeter.   Because the digital amplifiers integrated into the speakers is a PWM (Pulse Width Modulation) design, it recalculates the incoming digital signal data in a way that the drivers see the data much like an analog sine wave.  This offers the least amount of signal conversion loss, but does limit the files that can be played to 24 bit/48khz.  Dynaudio's well-written manual will take you through the full setup in just a few minutes.  I run Windows 7, and my initial trepidation melts away, as the Xeo 3s' setup requires just a few mouse clicks; our art director concurs that the Mac side is equally trouble free.
Setting a Course
There are a few switches on the back of the speaker boxes with which you will need to familiarize yourself.  The power switch activates the 50-watt built-in amps; once the speakers are on, the remote puts them in low-power standby mode when the speakers are not in use.
The speakers also sport a few other switches, which enable various usage scenarios.  You can designate each speaker as either a right or left channel module in a stereo setup, or you can use them both in mono mode.  When using the Xeos as a main stereo pair, or as rear speakers in a home-theater setup, one left and one right speaker are the obvious choice.  For those wishing to fill a larger space with sound, or those not worried about stereo imaging, the speakers can be set to mono—a cool feature if you need sound reinforcement for a party.
Note that each pair of Xeos has one speaker with a small blue LED light behind the grille, which blinks to acknowledge that the remote signal is active.  While the speakers communicate with each other to preserve the same volume level, there is no volume control on the speakers themselves—so don't lose the remote!
Multiple pairs of Xeos offer enormous versatility for those wanting sound throughout their listening space.  A second toggle switch on the rear panel of the speakers assigns one of three zones—A, B or C—and each transmitter can be assigned to any of the zones.  All speakers can be set to receive the audio signal from one transmitter and one source, thereby playing the same content on all of them.  Alternately, you can plug different sources into different transmitters (purchased separately) and assign that audio signal to any speaker pair.
These scenarios facilitate, for example, playing computer-based music on one pair of Xeos in a bedroom, while the main room hosts a movie from your DVD or Blu-ray Disc player.  The volume of the Xeo pair in each room can be adjusted independently by their respective remotes.  Again, refer to the well-illustrated manual for setup assistance.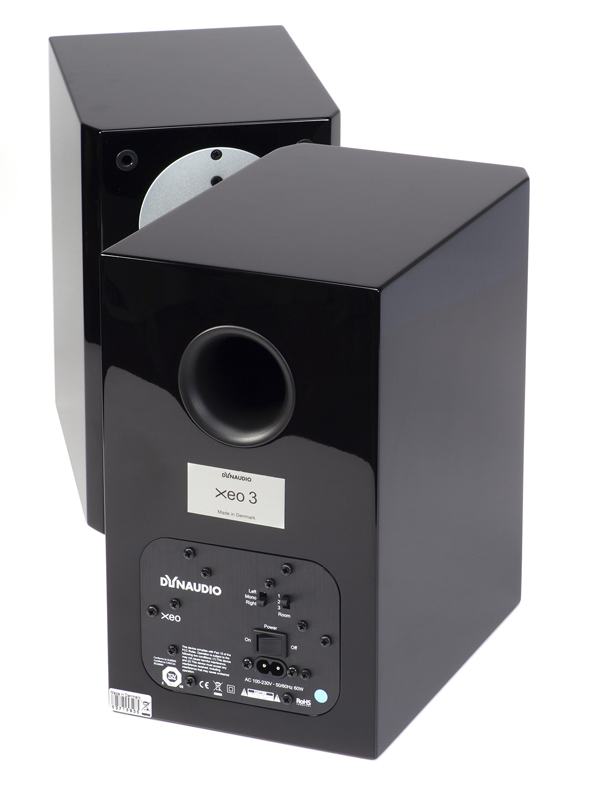 Born to Fly
The Xeo 3s perform beyond what their small size might initially suggest.  The internal amplifiers are well matched to the speakers, optimizing the sound produced and ultimately offering great value.  As with all the other Dynaudio speakers I've experienced, the hallmark ease and midrange clarity of the brand is well intact here.  The richness of Anjani's voice on the title track to her 2006 album, Blue Alert, alongside the delicate and tuneful rendering of piano and saxophone notes, demonstrates just how well the Xeo solution works to create a satisfying musical experience.
Waldeck's "Slowly" illustrates the Xeo 3's ability to generate solid, dynamic bass, despite its small enclosure.  Magma's "Horn Antenna" further reveals the low-frequency capability of these speakers.  Again, table mounting will add a little bit of LF gain and grunt, but at a slight loss of imaging finesse.  The speakers reproduce the other end of the spectrum with equal ease and precision.  The cymbal strikes in Norfolk & Western's "Letters Opened in the Bar" illustrate a gentle ring and delicate decay.
Further listening with recent Blue Note releases on XRCD confirms the ease with which the Xeo 3s handle acoustic instruments.  The gentle vocal styling present on Jakob Dylan's first solo effort, Seeing Things, combined with the acoustic guitar on the opening track, "Evil is Alive and Well," demonstrates the large sound space these speakers can reproduce without losing the delicacy of the track to wireless transmission.
The only restriction to the Xeo system is the 24-bit/48-kHz limit of incoming files; for now, those with major high-resolution music collections will not be able to enjoy full-bandwidth audio with a Xeo system.  The Dynaudio Xeo 3 speakers present great value, fantastic sound and excellent build quality to the music lover who is perhaps not ready to go for a full-blown audiophile system, but who is dissatisfied with the similarly priced wireless offerings from Sonos, B&O and Bose.   In this respect, the Dynaudio Xeo 3 is miles ahead of the competition in terms of its natural delivery and tonal finesse.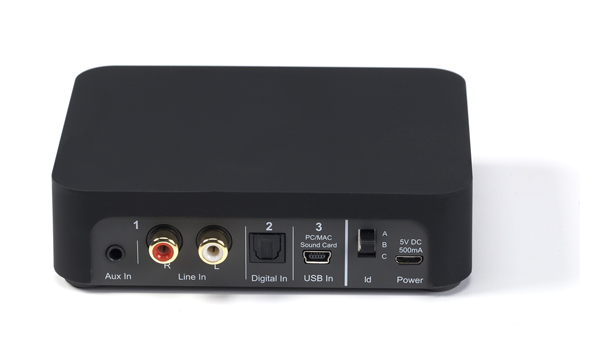 Addidional Listening
By Jeff Dorgay
Of course I had to torture these speakers with some Iron Maiden, Slayer, Van Halen and Zeppelin just to see if they could take it.  And like the Confidence C1 IIs I've been using as a reference in room two for a year now, these tiny Danish marvels rock the house—or in this case, my desk.  Using the Xeo 3s on either side of my 30-inch Apple Cinema Display makes me wonder why anyone would ever want a pair of headphones.
The mix is immersive, with the stereo image unfolding between me about a foot in front of my head, as I blast David Lee Roth's "Ice Cream Man," and then quickly segue to Maiden's "Powerslave."  The small, wireless Dynaudios provide fatigue-free listening during long photo-editing sessions, and underline just how much they have in common with the Confidence series.  This is where you can really reap the benefit of a compact speaker produced by a major speaker company that builds its own drivers, and that possesses extensive research and design capabilities.  The technology trickle down is tough to ignore.
Even if the Xeo 3s don't turn you into a sound-crazed audiophile right away (but they just might), don't forget that analog input.  It's a great way to augment the sound of your television, or perhaps sneak a turntable into the mix.  Plugging the Pro-Ject Debut Carbon table (paired with the Ortofon 2M Red cartridge and Lounge MM phonostage) into the Xeo expands my desktop/small-room experience tremendously.  Spinning some of my favorite albums in this space has me forgetting all about the high-res files on my Mac mini.
Everyone on the TONEAudio staff who had a chance to play with the Xeo 3s agrees that they are excellent in every way, from their subtle aesthetics to their ease of setup and use.  We are happy to award them one of our Exceptional Value Awards for 2013.
The Dynaudio Xeo 3 Wireless Speakers
MSRP: $1,950 per pair; $350 for the Xeo wireless transmitter; $350 per pair for optional Dynaudio Stand 3X; $85 per pair for optional Dynaudio SF1 speaker foot.
Dynaudio
Peripherals
| | |
| --- | --- |
| Speakers | Piega P10 |
| Amplifier | Mark Levinson 335 |
| Preamplifier | Coffman Labs G1-A |
| Digital Sources | Audio Research CD3 MKII    dCS Purcell processor    EAD 9000 MKIII DAC   Genesis Technologies Digital Lens |
| Cables | Jena Labs Valkyrie and Symphony interconnects    Jena Labs Twin 15 speaker cables |
| Power Conditioner | Running Springs Audio Haley |
| Power Cords | Cardas Golden and RSA Mongoose |
| Accessories | Mapleshade SAMSON racks and shelves    ASC TubeTraps    Cathedral Sound room-dampening panels |