Lounge Audio Phonostage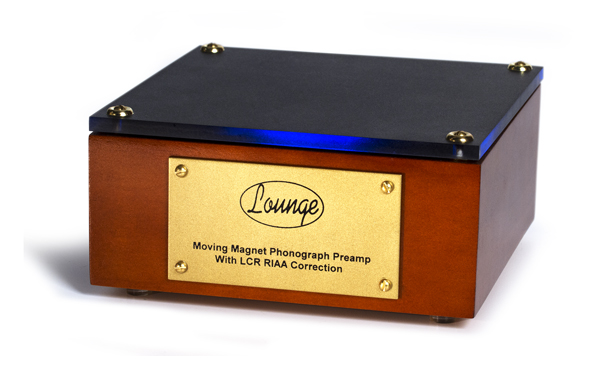 A $200 Miracle.  The prudent audiophile always has the DIY path as a reasonable alternative to the ever-increasing cost of hi-fi equipment.  While the option is certainly a valid one, if you don't really know what you're doing, it's all too easy to spend the cost of a factory-assembled unit and still have a pile of wires that sounds like hell—though, as some of my obsessed DIYer friends say, "That's the fun."
Over the years, companies offered kits to help bridge the gap, allowing you to save on labor costs and keep uniform quality of parts, in addition to giving you the emotional reward of actually building your own component.  The best companies even had technical support, offering repair services if you strayed too far off the path.  The famous Dynakits of the 1960s are a perfect example of this, and many of these components are still playing today.
But what if you just aren't good at being a backyard engineer or soldering components to a PC board?  Having more knowledge than a mere hobbyist is especially important when it comes to producing a phonostage, whose high gain and delicate signal makes it even easier to screw up than wiring a power amplifier.
Enter, Robert Morin, who after working for Harman, Alesis, and Hovland, decided to design his own phonostage—one that wouldn't break the bank.  He explored the LCR option for phono equalization, consisting of an inductor (L), capacitor (C) and resistor (R) network.  As this was often used on some of the early cutting lathes to achieve the proper RIAA curve when making the record, it made perfect sense to mirror this on playback.
(For those not familiar with any of this, click to this Wikipedia article for a decent explanation of how the RIAA curve works)
To make a long story short, when a record is made, the treble is boosted and the bass is attenuated.  Upon playback, the opposite of this equalization curve is applied to level the frequency response back to flat—at least in theory.  The better job a phonostage can do with this, the more lifelike and musical your records sound.
Morin claims that his tenure at Alesis gave him the "design-for-the-common-guy bug."  His Lounge phonostage succeeds beyond measure on so many levels.  It's even packaged in a nice wooden case, with a cool, glowing-blue LED placed in the Plexiglas top plate.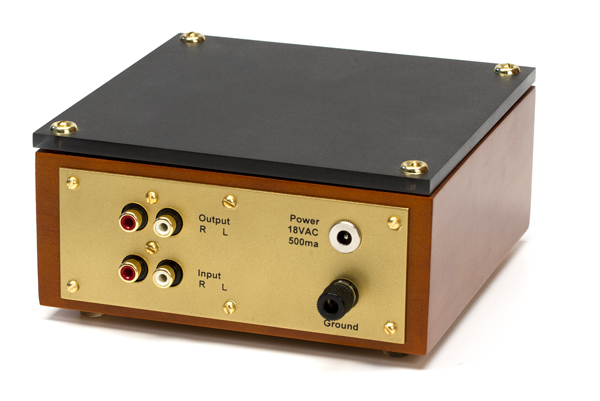 A LOT of Music in a Little Box
Morin mentions that when he was on the final design stage of this project, a few of his colleagues mentioned that the Lounge had a "nice, rich sound."  The Lounge reminds me of the Thorens TD-124, which I'm currently using it with, via a freshly refurbished SME 3009 tonearm and NOS Ortofon VMS 20 Mk II cartridge.
I was not immediately floored when I put the tonearm down on the first record; but once powered up for 48 hours, the Lounge really blossoms.  Listening to the MoFi remaster of Elvis Costello's Imperial Bedroom is utterly fantastic.  This little preamp has pace in spades, with a nice solid bottom end, which is something budget phonostages always lack.
Revisiting the Doors box set proves equally illuminating.  I start with the original self-titled album.  The organ on "Twentieth Century Fox" floats between my recently refurbished Acoustat 1+1s, powered by the Octave Jubilee monoblocks.  The driving bass line is reproduced with a texture that sets me back in my listening chair.  That's right, I'm using the Lounge in the context of a six-figure system, and it's delivering the goods in a major way.  The soundstage is expansive in both directions, with a delicacy that belies its modest price.  This is just way more music than you'd ever expect from a $200 box.
Even in a modest system, the Lounge excels.  We've set up a great "real world" system, consisting of a used Pass Labs Aleph 3 power amplifier ($700), used Conrad Johnson PV-12 linestage ($600), a pair of KEF LS50 speakers ($1,500) and Rega RP3 turntable with Exact cartridge ($1,200).  Compared to a handful of phonostages in the $200-to-$500 range from Cambridge, Rega, Naim and Lehmann, the Lounge is miles ahead in every way: dynamics, tonality and frequency extension.  It's on par with the rest in terms of having a low noise floor, as they are all solid-state designs.
What really separates the Lounge is the ease with which the music just flows.  There isn't a hint of grain anywhere.  The big-bucks phonostages at my disposal certainly have more dynamic slam, with more HF extension, etc., but the Lounge gives you such a big slice of the pie that you won't be sitting in your listening chair feeling like you're missing out on anything.
It also performs well with a wide range of cartridges.  While the VMS 20 Mk II is one of my favorite go-to MMs (and can be had for about $150 with a little luck), I also use the Ortofon 2M Blue, Grado Master moving-iron and Shure V15mxVr cartridges with equally good result.  Sumiko's Blue Point and Blackbird high-output moving-coil cartridges, which have a lower 2.5-mV output (all the others are in the 5-mV range), still prove excellent matches for the Lounge.  It's worth noting that the Blackbird can sound a little thin with the wrong phonostage combination, but it gives a robust performance with the Lounge—one of the best I've experienced.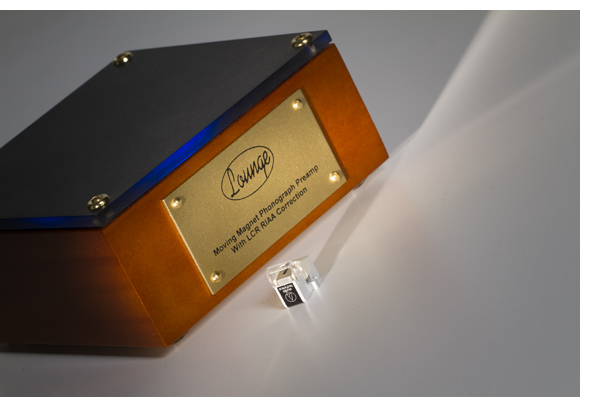 The Analog Bargain of the Millennium
Here's where you get to take advantage of a single man's passion.  The average $200 phonostage has about fifteen bucks worth of parts under the hood.  Add casework, shipping, a cool box, overhead, dealer network, etc., and pretty soon you're looking at 200 clams.
As I've got nothing against the mainstream manufacturers for earning their dues, the Lounge cuts out all the middle steps and essentially gives you what you'd have to pay $1,000 for, because Morin doesn't have a distribution network or the overhead of a big manufacturer.  And God knows how many hours of development lurk in this little box that will probably never be amortized.
Of course, Mr. Morin is only one man, and he's only going to produce so many of these, so companies like Cambridge Audio won't be shuttering the plant anytime soon.  But for those of you in the audience that truly love music and are on a tight budget, this one will blow you away.
The bad news is that I might just be spoiling all of this by telling you about it.  Should Morin ever take this to the next level, you'll never be able to buy a Lounge for $200.  If this were packaged in a little bit fancier case and on the rack at your favorite dealer with a $1,500 price tag, you'd still be telling your Internet-forum friends what a killer deal the Lounge is.  I originally purchased the Lounge with the intent of making it a Facebook contest giveaway, but I'm keeping it as a permanent reference in room two.  This is one of the most enjoyable hi-fi components I've listened to in a long time.  Buy one now, while you still can. -Jeff Dorgay
The Lounge Audio Phonostage
MSRP: $200
Lounge Audio
The Lounge Store on eBay