Cary Xciter DAC
Understated Excitement
By Rich Kent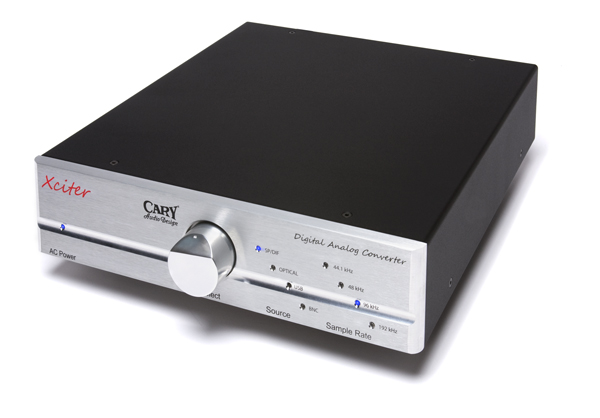 At first glance, the Cary Xciter doesn't seem so exciting. It's a simple, silver or black, 3.5 x 11 x 13 inch box weighing 12 pounds. It has a single round dial in the middle of the front panel with a handful of LED indicators for power, input source and digital resolution.  This polished dial is nicely weighted with a smooth, notchless feel and functions as the input selector. Analog outputs are single-ended RCA only.  But a quick listen reveals that there is definitely some excitement under the hood.
The true excitement is how far digital has come in almost 30 years.  It seems like only yesterday, I was waiting to get into the Consumer Electronics Show, intent on seeing Sony's latest development that was going to make my turntable obsolete – the Compact Disc.  This was Sony's first generation CDP-101 player, which carried an MSRP of $1,000 at its introduction. According to one of the "inflation calculators" found on the internet, this is equivalent to $2,125 in 2010.  The Xciter DAC has an MSRP of $1,499.
While CD players were single-box components in the beginning, as digital technology ramped up in the '90s, the transport and DAC became separate components; much like the way the phono preamplifier and line stage had become individual parts of your system.  Around 2000 or so, many high-end CD players started to become single-box components once again, but with the advent of so many people using their computers as a source, the standalone DAC has come full circle.
Enter the Cary Xciter
Part of Cary's new compact Xciter series of components, consisting of an integrated amplifier (vacuum-tube powered, of course) and a music server, these components are geared towards the desktop user.  Though small in size, the Xciter DAC is a full-featured DAC with RCA and BNC SPDIF inputs, a TOSLINK optical input and a USB input.
All inputs, regardless of resolution, are upsampled to 32bit/192khz and passed on to the new AKM 4399 32-bit DAC chips along with new output devices from National Semiconductor that were designed specifically for Cary. As a photographer, I view the oversampling process as akin to taking an old black-and-white photo, scanning it, processing it in Photoshop, and printing out a copy that is better than the original.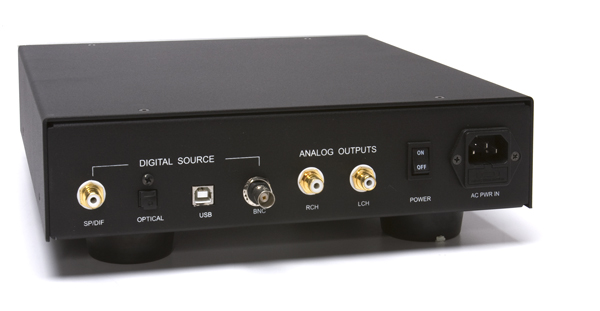 System integration and comparison
The Xciter spent time in my main reference system, consisting of a McIntosh C2200 preamplifier, MC 275 power amplifier and a pair of MartinLogan CLS speakers.  The entire system features various cables from MIT.
I wanted to investigate the Xciter both as a potential upgrade for someone with an existing CD player and the audiophile starting to enter the world of music server or computer playback.  Initially, I used my vintage Krell KPS 20i player and the more current OPPO BDP-83 player, utilizing the SPDIF outputs of both.
I started my listening comparisons with some of my original issue 1987 Beatles' CDs, and with a firm picture of both the OPPO and the Krell, brought the Xciter into play.  Using the Cary DAC reminded me of the difference between movies that have been shot digitally versus filmed. The harshness and compression present on the players by themselves was palatable, but not as good as when played through the Xciter, and the new, remastered CDs were even better.  The Cary presentation always sounded more lifelike, and while this DAC would not overcompensate for mediocre-sounding recordings, it did pull more detail and depth than I was getting from either of my other players.
Compared to my reference DAC, the PS Audio Perfect Wave, the Cary is somewhat on the warmer side of neutral, which seems to be a characteristic, albeit a pleasant one, of all their gear.  Again, this helped when listening to less-than-perfect digital files.  At times, my PS Audio DAC feels like an LCD TV that has the contrast and saturation cranked up; upon first glance it's tremendous, but after a while it sinks in that it is not accurate.  But as most audiophiles know, "accuracy" is a relative term indeed.
Be aware though, that while the warmth in the Cary Xciter's presentation can be a plus on certain recordings, it can be detrimental with others, especially in a system like mine that is already a touch on the warm side.  I found many of my favorite jazz female vocalists to sound slightly huskier and at times too deep.  This was an area that the Perfect Wave excels in my system.
I did appreciate the touch of warmth with most of the classical music in my collection, however. Symphonies with large string sections tend to sound strident and massed together in poor recordings or systems.  The Cary Xciter was able to separate the individual violins and give them a rich tone that was more akin to what I've experienced in a live performance.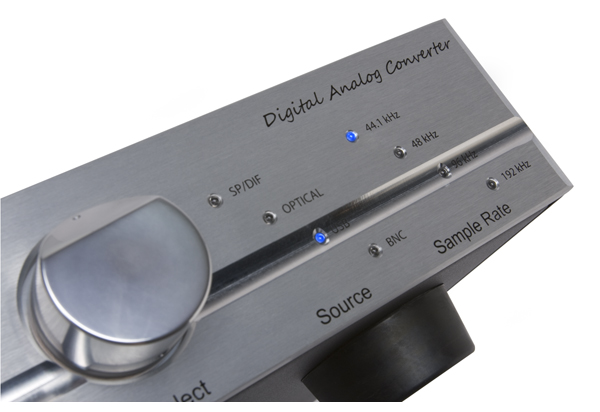 Investigating HD playback
As a recent convert to high-resolution audio files, I was pleased to see that the Xciter had so many inputs and would work with 24/96 files through its USB input.  With more and more high-res music becoming available all the time, 24/96 seems to be emerging as the standard, at least for now.  I've been streaming some of my high-res files through the Squeezebox Touch, so I began my listening sessions with the SB's analog outputs for a baseline comparison.
A quick trip to the HD Tracks music store added a few favorites from John Coltrane and Diana Krall, and I was ready to roll.  Again, the difference going from the analog outputs of the Squeezebox versus using its digital output to drive the Xciter was a big step up in fidelity.  While listening to Krall's Quiet Nights disc, her breathing and tonal inflection were reproduced with much more realism.  The standard 16/44 tracks now sounded flat by comparison.  I had the same experience with Coltrane, his sax taking on a much more three-dimensional perspective in my listening space.  Even at this level of hardware, the difference between standard and high-res playback was clear.
I could easily notice another jump up in resolution and fidelity upon returning to my reference PS Audio DAC, but it costs twice as much as the Cary.
Conclusion
As music moves further away from disc-based physical media and to downloadable, hard-drive-based media, the DAC will continue to become the heart of your audio system. The Cary Xciter stands as a great option to dramatically improve any of these sources while allowing you the convenience of accessing your entire music library on a digital network.
For $1,500, the Cary Xciter offers solid value and performance. It will breathe life into an older CD player and point you in the right direction to start enjoying HD file playback. The Cary Xciter DAC is a component that is allowing CD digital media to finally realize and live up to its full potential that was touted in the '80s – and that's exciting.
Cary Xciter DAC
MSRP $1,499