Benchmark DAC2 DX
Delivering Delightful Digital
By Rob Johnson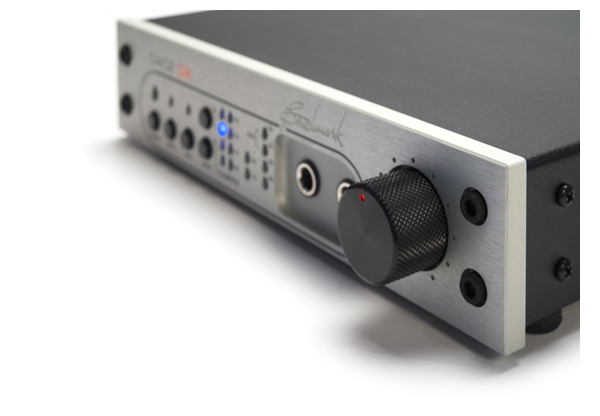 Building upon the successes of their DAC1, Benchmark is not resting on their laurels. The release of the DAC2 series of products extends the capability and sonic performance of the product line with several different versions, offering a wide range of functionality to suit different owners' needs.
While it might be easy to get confused by so many variations on the DAC2 theme, it's important to note that all contain an improved digital engine. The primary differences are inputs and outputs, headphone capability and home theater pass-through. Two versions of the DAC2 come equiped with headphone outputs: DAC2 HGC and the DAC2 DX. DAC L and DAC HGC incorporate single-ended analog inputs for use as a preamplifier. The DX model we tested for this review includes an AES/EBU digital input, but no analog inputs.
Like its Benchmark ABH2 Amplifier we just reviewed, the DAC2 comes in a small enclosure with a lot packed inside. Measuring a scant 9.5 inches (249mm) wide, 9.33 inches (237mm) depth and a 1.725 inches (44.5mm) in height, the DAC2 is small enough to place anywhere easily, even on the most crowded audio racks. Plus, at a mere 3 pounds in weight, it's easy to lift with one hand when placing it – a real joy after helping our publisher crate up the 274-pound Boulder 2160 the other day!
Internal Innovations
Under the hood, digital processing prowess is provided by SABRE DAC chips to decode 32-bit PCM and DSD files. Feeding these converters the best possible signal, Benchmark utilizes its new jitter-reduction technology via their UltraLock2™ system – a dramatic improvement over the original version in the DAC1. Focusing on lowering the noise floor and distortion level, the latest changes prove highly effective. The variable output makes the DAC2 more versatile than a DAC without, and makes it easy to become the cornerstone of a compact, yet high performance system, eliminating the need for a standalone linestage.
The back panel of the DAC2 reveals a plethora of connections fit to this tight space. Inputs include USB, two coaxial digital, and two optical connections. For analog output, the options depend on the DAC2 model chosen. All models have two pairs of single-ended outputs, and one pair of XLR balanced outputs. With the analog input equipped HGC and L models, the DAC2 features a HT pass through too.
You might not earn carbon offset points with your stereo system, but as a tree-hugging Oregonian, I appreciate that the DAC2 only draws half a watt at idle.
Snappy Setup
The DAC2 is extremely easy to set up. My Mac Mini instantly recognizes it, only requiring a few quick tweaks in the Mac OS sound settings to be ready to play music. Benchmark promises the same ease on the Windows side. While we did not have a Windows-based system on hand for testing, Benchmark has worked to make that experience just as seamless. For high resolution playback on Windows, an easily downloadable driver is needed.
Tight real estate on the rear panel is the only issue that has always plagued Benchmark DACs. As such a small unit, with so many input and output choices, the DAC2 rear panel is a bit crowded. If you have thick audio cables be aware that you may find it a bit of a stretch to get them connected. Lastly, those utilizing 24/192 or DSD files via USB will need to hold down the USB button on the remote for three seconds (a one-time setup operation) to engage USB 2.0 mode for the best performance.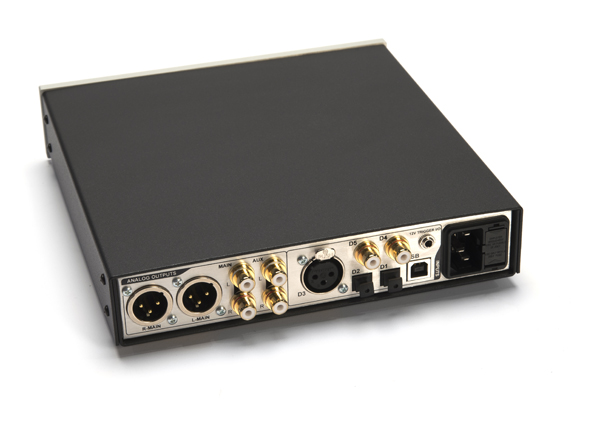 Locked-in listening
When I'm anchored into my listening seat, the beefy aluminum Benchmark remote proves a couch potato's dream come true. The ability to change inputs, volume, and mute leaves little need to get up.
After several days of burn-in, it's exciting to give this DAC a chance to sing. From the first listen, DAC2 provides a treat for the senses with a highly resolving, yet forgiving nature. Regardless of music type, DAC2 performs as a sonic chameleon rocking and rolling when it needs to, but is equally at home with the delicate nuances of jazz and classical recordings.
Cat Power's Jukebox illustrates how the DAC2 picks up every pluck of the guitar, keeping them appropriately separated from the vocals, which reside in a different vertical plane parallel to the first. The resonance and decay of acoustic guitar notes are easily discernible across several other recordings too, like Elliott Smith's XO – his vocals retaining a smooth, organic quality. While DAC2 may not recreate quite the level of transparency reproduced by more expensive DACs I've heard, I really like the voice Benchmark engineered into the DAC2. Overly transparent and revealing equipment can tend toward stridency, sibilance and a wince-factor that takes away from the musical experience.
The DAC2, on the other hand, allows a listener to dissolve into the music and enjoy big, beautiful sound rather than getting bogged down in the minutia. For example, several songs on Portishead's album Dummy have a glare that draws attention to those sharp edges rather than the rounded musical picture. With the DAC2, those sonic artifacts are not removed, but the entire album is much more listenable.
DAC2 also throws a huge soundstage and mines a lot of ambient detail from high-resolution recordings. The perceived stage width and depth easily exceeds the speaker boundaries in all directions. Also, DAC2 projects a sonic image that reaches from floor to ceiling. Many DACs I've heard do a good job of this, but so far, I have not heard one under $2,000 that does it so well.
Hearing Headphones
Rather than tossing a headphone amplifier into the unit as an afterthought, Benchmark took great care in delivering a high quality headphone amplifier in the DAC2. Those considering a Benchmark DAC for headphone listening should consider taking advantage of the company's special pricing offer which bundles a reduced-cost set of Sennheiser HD-650 headphones with some versions of the DAC2 . Those headphones are among my own favorites, and a reduced-cost package through Benchmark is an added bonus for a DAC2 owner, not to mention a great place to start your headphone journey.
With a set of HD650s on hand, listening begins with the Benchmark-recommended cans. While very resolving, the Sennheisers are a bit to the warm side of neutral. As expected, the quality of the DAC2's sound proves revelatory with any music being piped out. Especially enjoyable are the ease and naturalness of the sound. Electronica like Phantogram's "Black Out Days" has plenty of punch and detail, but not at the expense of the bigger sonic picture. As an older recording, guitar on Albert King's Born Under a Bad Sign can have some sting, but the DAC2 pulls the best from it.
When I switch to a set of Audeze LCD-X headphones, the DAC2 demonstrates plenty of power to drive them, delivering the bass punch these headphones are capable of producing with the right setup. Sonically, these headphones are like stepping forward several rows in an auditorium, getting up close and personal with every bit of the performance. For me, this action-packed delivery was perhaps too close and personal, and I found myself preferring the Sennheisers for the bulk of my listening. The HD-650s indeed seem a perfect match for this setup, and I can see why Benchmark recommends them.
In the end, excellent
$1,895 is not a small price tag, but in a hobby offering mega-buck DACs, it's a modest sum for a component of this caliber. The DAC2 is a very easy component to live with sonically and aesthetically. Its versatility takes the value to another level, making me nominate this one for an Exceptional Value Award and give it an enthusiastic recommendation.  -Rob Johnson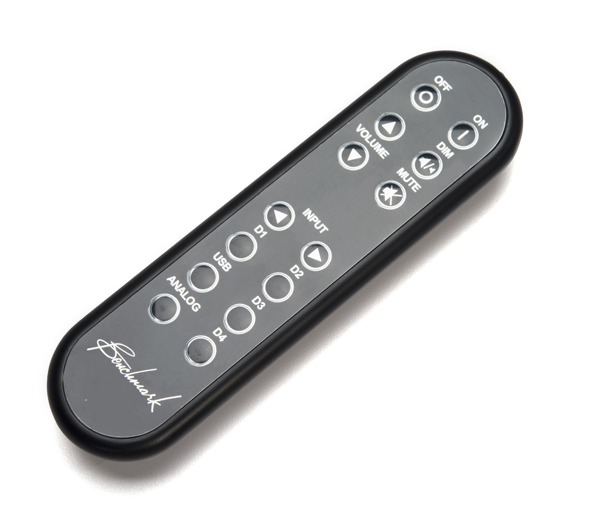 Additional Listening
You have to go back almost seventy issues of TONE to our third issue for our first encounter with Benchmark. The original DAC1 was $995 and garnered our first Exceptional Value Award. It was a class leader then and it remains so today.
Staff member Jerold O'Brien still has his DAC1, so it was enlightening to compare it with the DAC2 alongside. Much like what we found comparing the Nagra PL-P to the current Jazz, the compact exteriors, as well as the overall sound, are very similar. Benchmark gear has always been very neutral, and like Nagra, because they supply so much equipment to the studio world, has little room for embellishment.
The trademark lack of sound that is Benchmark comes through instantly, but stepping up to the DAC2 immediately reveals more music and a deeper insight into recorded material, standard or high resolution. Remember, ten years ago we weren't even talking about high resolution files, let alone DSD, so moving on to that realm is even more enlightening.
I've always loved using Benchmark DACs as a linestage and again, the DAC2 does not disappoint. Auditioning it with everything from a 35 watt per channel PrimaLuna ProLogue 4 up to the mighty Boulder 2160 reveals just how good this component truly is. The DAC2 is perfect for a primarily digital user who wants to put the preamp up on the shelf and run some interconnects to a power amplifier elsewhere in the room – the DAC2 drives long interconnects with ease.
So, ten years later, Benchmark continues to create an awesome DAC in a compact case. I'm guessing I'll have to arm wrestle Mr. O'Brien for it again. -Jeff Dorgay
Benchmark DAC2 DX
MSRP: $1,895
PERIPHERALS
| | |
| --- | --- |
| Digital Sources | Mac Mini with jRiver and Roon playback    dCS Debussy |
| Amplification | Burmester 911 mk3 |
| Preamplification | Coffman Labs G1-A |
| Speakers | Sonus faber Olympica III |
| Cables | Jena Labs |
| Power | Running Springs Audio Haley, and RSA Mongoose power cords |
| Accessories | ASC tube traps    Mapleshade Samson audio racks    Coffman Labs Equipment Footers    AudioQuest Jitterbug |